Mayweather vs. Ortiz Knockout: Why Mayweather Really Isn't So Undisputed
September 18, 2011
Al Bello/Getty Images
Last night's fourth round knockout of Victor Ortiz once again proved that Floyd Mayweather is one of the best boxers ever.
There is no taking that away from him. The man is an undefeated boxer.
An undisputed champion is a different thing altogether.
Last night he was able to knock out Victor Ortiz (29-3-2, 22 KOs) with a cheap shot that was entirely legal, but a cheap shot all the same.
An undisputed champion who claims to be the best ever like Mayweather (42-0, 26 KOs) would not have to resort to a move like that to get his win.
Mayweather's actions have put boxing further into the hole.
If Mayweather is an undefeated boxer and a superstar in the sport actions like that are at the forefront of it also.
This means that people who are first watching the sport or get to only see the highlight are exposed to something that makes boxing look bad.
Floyd Mayweather is a great boxer.
He is one of the best defensive boxers ever. He makes fighters go at his tempo and he exposes them by using their style against them.
He is a great boxer to watch when he is at his best.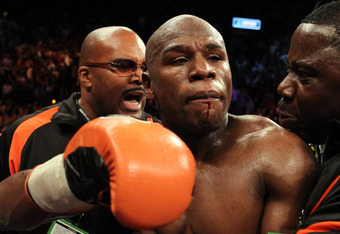 Al Bello/Getty Images
After over a year out of the ring though, Mayweather was certainly not at his best and instead had to resort to a cheap shot.
Floyd Mayweather is certainly not so undisputed. Numbers don't lie but neither do actions and Mayweather did not look like his true self.
Maybe it's his age or maybe it's his time spent out of the ring. No matter what it is, Mayweather knew he was not going to win that battle without the cheap shot.
Until Floyd Mayweather gets into the ring with Manny Pacquiao nothing will be resolved and he will not be able to be called undisputed.
The worst part is—that match will most likely never happen even though it is detrimental to the sport of boxing.