Michael Vick: Would a "Safer" Vick Translate into a Better QB?
September 19, 2011
Kevin C. Cox/Getty Images
I'm not sure if the Eagles will suffer a worse defeat than 35-31 loss at the hands of the Atlanta Falcons on Sunday Night Football.
Actually, I don't even know if I can say it was at their hands. It felt more like self-inflicted wounds and missed opportunities.
But when the madness finally ended in the Georgia Dome I couldn't help but think about the health of Michael Vick. The franchise quarterback went down with some sort of neck/head injury after he bashed his helmet into teammate Todd Herreman's helmet in the third quarter,
It was an injury many people will call a freak accident because there is no way you can prevent something like that from happening.
There is one way for Vick to protect himself and ultimately the team: Slide.
It blows my mind that Vick, who possesses an incredible amount of athletic ability, does not have the physical ability to slide.
I'm not trying to say he can't slide because it's not in his competitive nature to do it. I'm literally saying he doesn't know how to do it.
To make it clear allow me to give you a couple examples and then a quote.
Alex Henery can't kick an 80-yard field goal, DeSean Jackson can't run over Ray Lewis and Andy Reid can't run a sub-five 40.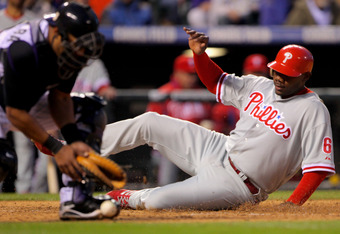 Doug Pensinger/Getty Images
In case we're not crystal clear, here is a quote from Yardbarker.com:
"I don't know how to do it," Vick said.  "I don't know how to slide, so I won't get into that right now.  I either go head first or dive or just fall."
The article also mentions that baseball coaches have tried to teach him how to slide and yet he still can't do it.
So what does this all mean?
If Vick wants to remain a premier quarterback in the NFL, he needs to learn how to slide.
You read that correctly. I'm not talking about Vick being more accurate, making better decisions or showing an ability to bring a team back in the fourth quarter. I'm seriously talking about Vick being able to tuck one leg under the other in a figure four formation and sliding.
It sounds kind of outrageous to make such a claim, but listen to me for a second if you're not sure where I'm gong with this.
If Vick continues to dive head first or flop to the ground he will expose himself to injuries and turnovers. And if he's injured he will either miss games or not be able to make plays that ultimately make him a top-10 quarterback in this league.
Look at some of the elite quarterbacks in the league: Tom Brady, Peyton Manning, Philip Rivers and Drew Brees. All have shown an ability to stay healthy over long periods of time in their career.
In those cases, they did not stay healthy by sliding. They preserved their health by making quick decisions and moving around in the pocket effectively to avoid hits. And when they are healthy, they stay on the field, win games and remain in the discussion as being among the game's best.
I know Manning is out with a neck injury right now, but I think it's safe to say he knew how to stay healthy considering he made 208 consecutive starts. And yes, Brady missed a season due to a knee injury, but that came by a dirty hit from Chiefs safety Bernard Pollard.
Vick did not have a great game against the Falcons Sunday night as seen by his three turnovers. If he stays healthy though? Well maybe the Eagles find a way to win the game.
Obviously the injury was not preventable as I stated earlier. I'm only proving if Vick goes out with an injury the outcome of any game the Eagles play in can be significantly altered.
Vick may lose a couple highlight-reel plays by giving up on a play, but the long-term payoff could result in a highlight package with him hoisting hardware.