Jacksonville Jaguars vs. New York Jets: Live Commentary and Analysis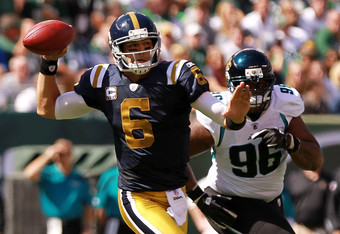 Nick Laham/Getty Images
Jags at Jets Final Update: Jets win 32-3, as McCown gives way to Gabbert.
The beer is properly chilled, pizza delivery has been called, church is starting to let out on the East Coast and fantasy owners across the nation are at critical stress threshold.
It must be football Sunday!
Our Week 2 matchup features the perennial AFC powerhouse New York Jets (1-0), hosting the upstart Jacksonville Jaguars (1-0).
The Jets are coming off a thrilling and emotional home victory on 9/11 against the Dallas Cowboys in Week 1, as the Jets trailed 24-10 in the fourth quarter before rallying for a 27-24 win. Mark Sanchez threw for 335 yards and 2 touchdowns, and Darrelle Revis turned the game on a late interception with the game tied.
The Jaguars defeated the Tennessee Titans in Week 1, 16-14, supported by a stout defensive effort that limited Chris Johnson to only 24 yards rushing on nine carries.
I'll be updating you frequently with news and notes, analysis and play-by-play action. So, sit back, relax, tune in, stay for a while and enjoy coverage of this Week 2 matchup on Bleacher Report!
That's all from New York, as the Jaguars fall to 1-1 and the Jets improve to 2-0.
A completely dominating performance by New York, and Coach Jack Del Rio has a decision to make this week as his team travels to Carolina.
It might be some time for "Sunshine" in north Florida.
We'll see you next week, Jacksonville
Brock Bolen runs for 4 yards on the last play of the game.
Jets run on 3rd and 7 with a minute remaining. New York is set to punt after a 4-yard gain.
2 minutes left in New York, Jets still leading, 32-3.
Gabbert throws a nice pass in the flat to Deji Karim, who picks up 10 yards on 3rd and 23.
Gabbert is 5 of 6 for 52 yards, but the Jaguars will punt with three minutes remaining.
Jets bring the house and sack Gabbert, who couldn't even finish his dropback.
Napolean had a better chance at Waterloo than Jacksonville had today.
Gabbert completes a nice ball on a slant to Mike Thomas. It was 3rd down and that moves the chains for Jacksonville
Mark Brunell is in the game as the Jets go three-and-out.
If Luke McCown can only complete screen passes, and throws interceptions when he throws downfield (which was the case today), the Jaguars are stupid to not turn the car over to Gabbert.
Jags go for it on 4th and 2.
And, in the surprise call of the century, Jacksonville runs it between the tackles for a loss of a yard.
Jets' ball.
Gabbert is DRILLED, and completes an 8-yard pass to Zach Miller on a tipped ball.
3/4, 32 yards.
Gabbert hits Zach Miller on another screen for 14 yards, and the Jaguars are moving.
Ball on the 33.
Mike Thomas gives up on the route as Gabbert throws deep.
2nd down and 10.
Gabbert hits MJD for a screen and a 12 yard gain.
1/1, 12 yards.
2 carries, 15 yards for MJD, as the Jags have 2nd down and 7.
I'm happy to be the first to say this...
Blaine Gabbert is about to take over at quarterback for the Jacksonville Jaguars.
32-3, Jets lead, as Nick Folk hits his third field goal.
3rd and goal for the Jets at the 5-yard line.
End of the 3rd quarter, as the Jaguars are getting dominated by the New York Jets by the score of 29-3.
Keller has it at the 5-yard line.
1st and Goal, Jets.
It's official folks, Blaine Gabbert is warming up.
You won't believe this....
McCown throws to the first green jersey he can spot, as the Jets' intercept him for a 4th time.
Gabbert just put his helmet on, and the Jets have it at the 18.
Gabbert still holds a clipboard as Deji Karim kneels down for a touchback.
On 2nd down, Shonn Greene plunges in from a yard out.
The extra point will make it 29-3, Jets.
Replay shows Cromartie was out of bounds inside the 1-yard line.
1st down Jets, still 22-3.
This article is
What is the duplicate article?
Why is this article offensive?
Where is this article plagiarized from?
Why is this article poorly edited?

Jacksonville Jaguars: Like this team?