New York Jets Rout Jacksonville Jaguars, 32-3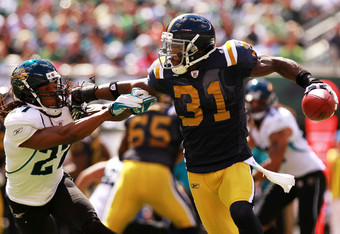 Nick Laham/Getty Images
Final Score: New York Jets: 32 - Jacksonville Jaguars: 3
Both teams entered today's game at 1-0 but only one left 2-0. As you can tell by the headline, said team was the New York Jets as they jumped out to an early lead against Jack Del Rio's squad ad never looked back.
It started off with an early touchdown pass to Santonio Holmes, a safety, some field goals, a few more touchdowns and that is how the Jets built their lead. The biggest headline that will come from this game though is on the Jacksonville side of things, which is Blaine Gabbert.
After a terrible three quarters, Luke McCown was benched after going 6/19 for 59 yards, 4 interceptions and a quarterback rating of 1.9. With the departure of McCown, rookie Blaine Gabbert entered the game and completed five of six passes. There is no doubt that Jack Del Rio will be asked about Gabbert and who will start next week against Carolina.
The Jets defense really stood out this week as they were able to intercept McCown four times and hold him to 59 yards, and they were also able to contain Maurice Jones-Drew as he rushed for 88 yards on 18 attempts.
It will be interesting to see how each team follows up their performance today as the Jets will travel west to Oakland to take on Darren Mcfadden and the Raiders, which will be the beginning of a long 3-game road trip that also includes the Ravens and Patriots. Meanwhile, the Jaguars will try to rebound by traveling to Carolina to face rookie Cam Newton and the Panthers.
And that is it folks, the Jets leave Metlife Stadium with a 2-0 record as they will travel to Oakland next week to take on the Raiders while the Jaguars fall to 1-1 and will travel to Carolina to take on Cam Newton and the Panthers.
And the seats are almost empty at Metlife Stadium as the Jets will just run out the clock.
Looks like Nick Mangold's injury has slightly taken a turn for the worse as NFL Network's Albert Breer reports on Mangold's ankle injury on twitter.
@albertbreer: Jets C Nick Mangold has a sprained ankle. It'll be interesting see where this one goes from here. And real important for that team.
Jets make another stop, this time on 4th and 2 as Maurice Jones-Drew tried to pick up the first down for his team. The Jets are probably going to try and run out the clock as much as they can, Joe McKnight will get some snaps now that the Jets have a 29-point lead.
Blaine Gabbert comes onto the field as Luke McCown gets benched. Gotta feel bad for Luke, after three quarters he leaves the game completing 6/19 passes, for 59 yards, sacked for a safety and had a quarterback rating of 1.8.
Nick Folk is 3/3 on the day as he extends the Jets lead to 32-3.
3rd and Goal coming up. Obvious passing situation, look for Plaxico to get another target.
For the first time today, Mark Sanchez targets Plaxico Burress, but overthrows him.
Luke McCown throws fourth interception of the day to linebacker Josh Mauga who was in for David Harris. Looks like Blaine Gabbert may be getting some playing time in the fourth quarter.
On the second attempt, Shonn Greene crosses the plain. This is the Jets first rushing touchdown of the season and now the lead is 29-3.
Cromartie's return is not a touchdown because he had the ball in his left hand as he jumped over the line of scrimmage, the Jets will try to pund it in with Shonn Greene. And after the first down attempt they will try again as Greene is kept from crossing the plane.
Cromartie has second interception of the day as he runs it back for a touchdown, extending the Jets lead to 28-3. But before Nick Folk can kick the extra-point the play is now being reviewed, just like any other scoring play with the new rule change.
Dustin Keller continues to shine today as he makes his fifth reception for a touchdown (his second of the season). The Jets finally put together a complete drive since the first quarter, with the help of a few penalties, as they take a 22-3 lead.
Two plays on this possession that Mark Sanchez has been able to thread the proverbial needle and throw a bullet to Santonio Holmes, putting the Jets in the red zone. Look for Plaxico Burress to get a target or two...
The Jaguars continue to forget about Sanchez as he extends another drive by converting a 3rd 4 on the ground.
Both teams struggle on 3rd and long as Luke McCown and the Jaguars now fail to convert on a 3rd and 13, giving the Jets the ball on their own 7 yard line.
Where was Darrelle Revis on the Mike Thomas incompletion? Maybe he should have been watching more film on Thomas instead of talking trash about the Jacksonville receivers.
Maurice Jones-Drew continues to get big gains this half, even when they are making it obvious that they are going to run, the Jets as a whole need to wake up.
Jaguars were able to beat the offensive line and crush Shonn Greene in the backfield, forcing to limp off to the sideline. The injury to Nick Mangold is obviously making a very negative impact on the Jets offense. By the way the trainers are looking at Shonn Greene on the sideline, it looks like it could be a shoulder injury.
According to the Jets twitter feed, Nick Mangold will probably not return to today's game.
@nyjets "C Nick Mangold (ankle) - return doubtful."
At the end of a sloppy first half the Jets lead the Jacksonville Jaguars 15-3.
After a rough pre-season, Nick Folk has not disappointed as he makes a 45-yard field goal with 26 seconds left in the first half.
Jets should be able to come away with a field goal as they have great field position. They had over a minute left when they got the ball, they should have been more agressive if they really wanted to put the Jaguars away; they have the weapons to do so.
As soon as the Jaguars decided not to continue running the ball, Luke McCown throws an interception to Eric Smith. I guess third time's the charm.
Wayne Hunter continues to cause problems for the Jets as his poor pass blocking almost caused Mark Sanchez to get sacked, he will definitely be given a talking too in the locker room at halftime as he has also caused 2 penalties resulting in a loss of 35 yards.
This article is
What is the duplicate article?
Why is this article offensive?
Where is this article plagiarized from?
Why is this article poorly edited?

New York Jets: Like this team?