Houston Texans vs. Miami Dolphins: Live Score, Highlights and Analysis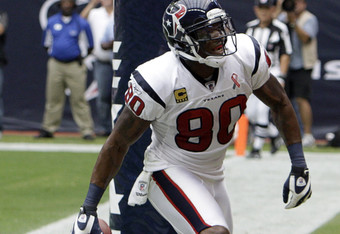 Bob Levey/Getty Images
The Houston Texans travel to take on the Miami Dolphins this afternoon in hopes of proving that their 34-7 rout of the Peyton Manning-less Indianapolis Colts was no fluke. Dolphins quarterback Chad Henne will be under the spotlight again, despite passing for over 400 yards in a crushing 38-24 loss to the New England Patriots on Monday Night Football.
The Texans attacked the Colts on both sides of the ball, despite being without their stud running back Arian Foster who led the league in rushing just a season ago. However, second year back Ben Tate performed well, gaining 116 yards on 24 carries while scoring one touchdown.
The Texans have a balanced offense, allowing a lot more play action plays than the Dolphins saw against the pass-happy Patriots a week ago and will certainly present a similar challenge to that of what they faced last week.
The Dolphins on the other hand, are looking to improve on their rush offense and get rookie running back Daniel Thomas more involved in the offense, as he was sidelined for the duration of the Week 1 game against the Patriots.
Houston Texans 23- Miami Dolphins 13
And just like that the Houston Texans bolster their lead with a beautiful touchdown pass from Matt Schaub to Andre Johnson to cap off a five play, 63 yard drive. Ben Tate led the drive with his powerful running, and has averaged six yards per carry this afternoon, splitting carries evenly with Arian Foster.
Houston Texans 16 Miami Dolphins 13
Again, the Dolphins failed to find the endzone after a long 11 play, 75-yard drive, settling for a 34-yard field goal by Dan Carpenter. Miami has now scored 10 unanswered points and is in striking distance to tie the game or take the lead.
Former Dolphins cornerback, Jason Allen is getting beat regularly by Brandon Marshall. First Marshall bull rushed him into the endzone, and now he is making him look silly on simple routes. Head Coach Tony Sparano needs to keep attacking that secondary.
Towards the end of the third quarter, Chad Henne has more rushing yards than Reggie Bush, with 20. Bush needs to be incorporated into the gameplan more to keep Houston's defense on it's toes. Five touches for 12 total yards won't cut it if the Dolphins hope to earn their first victory of the year.
So much for my last statement on Daniel Thomas being so amazing. After a tough run for a first down, he failed to protect the ball, and the Texans forced a fumble and jumped right on it, giving the ball back to the Texans close to the 50-yard line.
Houston Texans 16 Miami Dolphins 10
After a long drive led by Daniel Thomas, the Miami Dolphins finally found the endzone, as Chad Henne connected with Brandon Marshall for a 12-yard touchdown. Thomas has been a strong, in-between the tackles runner throughout the game, gaining 86 yards on 15 carries. Marshall has also been Henne's favorite target thus far, catching five passes for 74 yards.
The Dolphins offense simply can't sustain drives. The Houston defense is bringing a bunch of different looks, and pressing the 'Fins wideouts, holding them to minimal gains. Another punt to give the Texans the ball back.
Houston Texans 16 Miami Dolphins 3
The Dolphins defense was strong this drive, and brought a strong pass rush led by Jason Taylor and Cameron Wake. Taylor disrupted a play action play that forced Matt Schaub to throw a quick out to Andre Johnson. On a key third down, Cameron Wake sacked Schaub to force a field goal attempt right before halftime.
What an incredible grab by Andre Johnson for a 40 yard gain on third and 10. Johnson was covered but "The Beast" still managed to reel in Matt Schaub's bomb, bringing the Texans into scoring distance.
Houston Texans 13 Miami Dolphins 3
After another solid drive, Dan Carpenter missed a crucial field goal, giving the Texans the ball back. Let's see if the Dolphins defense can keep Matt Schaub in check.
Its ridiculous how terrible the Dolphins pass protection has been, yet their offensive linemen have been dominating the Texans defensive line in the run game. Daniel Thomas is gaining 3-4 yards per carry with ease.
Interesting to see Brandon Marshall lining up inside on a lot of plays, with Davone Bess and Brian Hartline on the outside. Possibly due to his strong run blocking, allowing Daniel Thomas to keep it churning.
Dolphins defense strong again, forcing a much-needed punt after that blocked field goal.
Houston Texans 13 Miami Dolphins 3
After a long drive led by Dolphins rookie running back Daniel Thomas, the Houston defense was relentless in getting to Chad Henne on passing downs. After an inside blitz that forced Chad Henne to throw the ball away, a short field goal was blocked, giving Houston the ball back in their own territory.
What a floater by Chad Henne to Brandon Marshall for 29 yards. The Dolphins set up that pass after Daniel Thomas rushed three times in a row, bringing in Houston's defense.
Houston Texans 13 Miami Dolphins 6
And just like that, the Houston Texans finally found the endzone, as Matt Schaub connected with his tight end, Owen Daniels, for a four-yard touchdown pass on the first play of the drive. Schaub was forced out of the pocket, scrambling until he found Daniels, who was uncovered. Turnovers killed the Dolphins last year.
Ah, ugly interception by Houston's Jonathan Joseph as a strong pass rush forces Chad Henne into a throw inside his own ten yard line. The ball was batted in the air by a defensive yardline, setting the Texans up with a first and goal.
Ben Tate seeing the field now, and showing he wants the rock with a 13 yard burst on his first carry. I guess coach Kubiak wasn't kidding when he said "This is a league of opportunity."
Houston Texans 6 Miami Dolphins 3
After that nice completion from Chad Henne to Davone Bess, the Dolphins offense couldn't get anything going, and had to settle for a 42-yard field goal by Dan Carpenter to cut the Texans lead in half.
Houston is bringing the heat on defense, as the Dolphins don't have a threatening rushing attack. As bad as it may be, the Fins need to keep the Texans' defense honest and start pounding the rock, before Mario Williams & Co. start wreaking havoc.
That Miami offensive line doesn't look to good at all, despite Chad Henne connecting with Davone Bess over the middle for a huge gain. The interior got beat badly, and Henne is going to be on his toes all afternoon. Really needs to get the ball out quick.
Wow. That overhead shot of Sunlife Stadium shows how unhappy Fins fans are without their "savior" Kyle Orton. Looks like a Florida Marlins game is going on there!!!
Houston Texans 6 Miami Dolphins 0
The Texans marched down the field again, connecting with Bryant Johnson and Andre Johnson for some big gains. However, the Dolphins front seven stood strong in the redzone, containing Arian Foster and holding the Texans to another field goal.
The Dolphins offensive line looked absolutely out of position on their first drive, going three and out. Chad Henne had absolutely NO time to throw. The line needs to start gelling before this potent Texans defense beats him up.
Houston Texans 3 Miami Dolphins 0
Wow. The Texans just marched down the field, capping off a 12 play, 75 yard drive with a field goal, putting Houston up 3-0 early. Arian Foster's hamstring seems to be fine, as he has already carried the ball five times for 25 yards.
This article is
What is the duplicate article?
Why is this article offensive?
Where is this article plagiarized from?
Why is this article poorly edited?

Miami Dolphins: Like this team?