Floyd Mayweather vs. Victor Ortiz: Breaking Down the Peculiar Victory and Drama
September 18, 2011
Ethan Miller/Getty Images
Floyd Mayweather Jr. fought Victor Ortiz tonight and delivered a good performance, but the way he won will be debated for quite sometime. After getting hit with a blatant headbutt, Floyd knocked Victor Ortiz out while he was talking to the referee and trying to apologize. The drama in the post-fight interviews were almost as entertaining and controversial as the fight itself.
The Start of the Fight
The first three rounds were very entertaining. Floyd started out aggressive with lead right hands, and was very accurate. When he started throwing left hooks, he was increasingly effective. Mayweather was able to dodge the majority of Ortiz's big shots, and certainly had Victor looking for answers of how to crack Floyd's defense.
Victor Ortiz was scrappy. He had Floyd against the ropes a number of times, and was able to land a few clean shots. He was getting beat, but kept coming forward for most of it. He showed that he was a worthy opponent.
The Headbutt
Victor Ortiz started throwing a flurry of punches in the fourth round, and had Floyd pressed into the corner. He kept throwing punches that were hitting Floyd, and then seemingly jumped up and smashed his head into Floyd's face.
I do believe that Victor tried to do it. He looked visibly angered at the time, and thrust his head forward, clearly to cause some damage.
I think that it was a heat-of-the-moment type strike. Mayweather is probably the best in the world at getting under opponents' skin out of any athlete in any sport. It's very plausible that Ortiz got agitated for a moment, and lashed out with an illegal blow.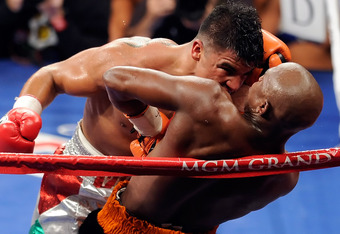 Ethan Miller/Getty Images
The End of the Fight
The ref pulled Victor back and deducted him a point. After the ref had finished telling the judges to drop the point, he got the fighters back together.
Ortiz immediately walked over to Floyd, and was apologizing for the headbutt. At this time the ref was looking out of the ring somewhere, but the fight was clearly on. Victor continued to try and apologize more, but Mayweather would make his move.
Legally, during the apology, Floyd cracked Ortiz with a quick left and then a straight right hand. During this time Victor was trying to speak with the ref. The punches were accurate, and dropped Ortiz immediately.
Victor Ortiz was counted out and the fight was over.
Breakdown of the Fight 
The fight didn't end the way that anybody wanted it to; except maybe Floyd Mayweather.
Victor Ortiz showed a lot of heart, and it looked like he was going to make a fight out of it. It certainly wasn't the blowout that many expected.
This isn't a fight that anybody will use to describe Floyd Mayweather's greatness. Floyd loves his haters, and doesn't care at all what people think of him. If I was Ortiz I would have swung first, because he might be the only person in the world who would have slept on "Money."
Morally speaking, what Floyd did was wrong and he should feel bad about it.
Legally speaking, heads-up win. Great awareness to capitalize on your opponent not paying attention.
To some people, winning is everything. It doesn't matter how it happens, just that your name is in the W column at the end of the night. Floyd Mayweather is certainly one of those people, and this is the last time any fighter will make that mistake against him.
Post-Fight Interviews
Perhaps what happened after the fight was more entertaining than the fight itself.
As I expected, Floyd Mayweather didn't even begin to apologize or acknowledge that he did something wrong. When Larry Merchant went into the ring to interview Floyd about the strange ending to the fight, Floyd turned the blame to Merchant and HBO Sports.
Floyd said that Merchant didn't know anything about boxing, and that HBO was after him and had a personal vendetta with the superstar boxer (Floyd used some different "choice" words).
The best part of that interview was that Merchant told Mayweather he would "kick his a--" if he was a lot younger.
Floyd did add in his interview that he would be open to a rematch with Victor. Due to all of the drama surrounding the first encounter, I would be intrigued to see the second saga of Mayweather vs. Ortiz.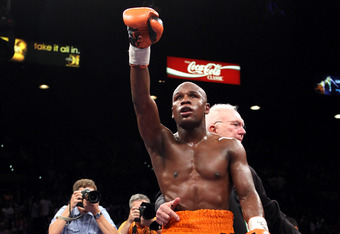 Al Bello/Getty Images
After that interview, Larry went over to Ortiz. Ortiz had nothing bad to say about Floyd, and was humble about the whole thing. He handled it like a professional, and certainly gained some fans with that interview, including myself.
In Conclusion
This fight did nothing to cement Floyd Mayweather's legacy as he said it would in HBO's 24/7 series.
We learned that Victor Ortiz certainly has some fight in him. It will be interesting to see him next time he's in the ring. He didn't show frustration after the fight in the interviews, but is definitely venting right now in his locker room.
Floyd's poor handling of the post-fight interview might have all been a tactic. For once after a fight, he didn't have to hear any mention of the name Pacquiao.
Larry Merchant will probably have to give an apology, or something of that nature. I doubt HBO will allow him to walk away unscathed with some of the comments he made after the fight.
Now it's time for Floyd Mayweather to fight Manny Pacquiao. A rematch with Ortiz would be nice, but it's just another consolation prize.
Bring on the fight of the century.