Syracuse Orange Find Some Small Victories in Loss to USC
September 18, 2011
Stephen Dunn/Getty Images
Everyone knew this game was going to be ugly. Everyone knew that USC was far more physical, athletic, and ready for a prime time game than the Syracuse Orange.
However, Ryan Nassib and the rest of the Syracuse team didn't seem to know what we all did. Nassib looked like the All-American-caliber player Syracuse fans know he can be as he shredded USC with roll-outs, screens and runs on the first drive. When Syracuse was forced to settle for a field goal, there was optimism in the eyes of many.
However, as the game progressed, USC showed why they are USC.
Matt Barkley had a career night, throwing five touchdowns to five different receivers and ultimately showing the weakness in the Syracuse secondary.
The final score of 38-17 showed that while USC may be suspended, they took the field competing for the national title and national respect. While the statistics showed that USC dominated (501 to 331 total yards, 175 to 73 rushing yards, plus-seven minutes of possession), the game itself revealed an Orange team with promising potential.
First and foremost, Ryan Nassib can and will win all Big East honors at the end of this season. Nassib looked cool and collected, even while under pressure, and was able to finish the game with 230 yards, a touchdown, and no interceptions. Gus Johnson called Nassib the "Drew Brees" of Marrone's offense and each week, Nassib emulates the NFL star more and more.
Secondly, Alec Lemon showed that when healthy, he can and will be a star. Lemon made some tough catches and even threw for a score off a trick play. He would finish the day with 72 yards receiving and a touchdown while also throwing a 28-yard score.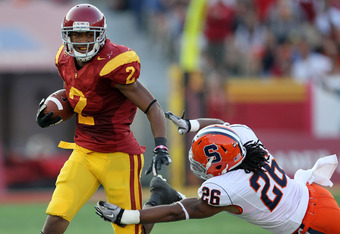 Stephen Dunn/Getty Images
Thirdly, the offensive line looked much improved this week. They were opening holes, providing protection, handling blitzes, and essentially ensured the offense had time to make a play happen.
Finally, Antwon Bailey looked settled in as an every down player, effective on both screens and runs as the game played out. Prince Tyson Gulley had a few solid runs, but Bailey is going to be the workhorse out of the backfield.
Moving forward, the Orange have two critical areas to address.
First and foremost, the secondary was picked apart. Syracuse struggled to consistently stop Barkley's 324-yard performance and the USC wide receivers were just far more athletic than Syracuse. Led by Robert Woods, USC receivers burned the Syracuse secondary on a few occasions; other times they just used superior size to play better angles. The secondary did its job well early but Barkley and the backfield were able to make the Orange pay in the flats.
Secondly, Syracuse needs a deep field threat. USC was able to play aggressively when they realized that Syracuse could not effectively stretch the field against them. The short passing game worked early, but USC made the right adjustments and brought more pressure in order to make this game plan ineffective.
Overall, the score indicates a blowout and saying anything otherwise would be a lie. However, this game felt a lot closer, had small SU victories, and the Orange came out ready to play; all good trademarks of a rebuilding program.