Arsenal's Real Problem in This Dismal Start Is a Lack of Leadership
September 18, 2011
Laurence Griffiths/Getty Images
So far this season, the biggest disappointment in the Premier League has been the play of Arsenal.
Going into this season, Arsenal were cautiously optimistic with the transfer saga's of both Cesc Fabregas and Samir Nasri both hanging over the club like a cloud.
Inevitably, both players left Arsenal in late August and since their loss, the Gunners have been one of the worst sides in the entire league.
So far, Arsenal have suffered losses to Liverpool, Manchester United and yesterday they lost 4-3 to Blackburn in what was an extremely disappointing performance.
Throughout the match, Arsenal showed mistakes that should not be expected of a club of their caliber. From the beginning of the match, there was little teamwork that existed on the defensive end.
Altogether, Arsenal conceded two own goals and also allowed two goals as a result of set pieces.
But it was more than just conceding goals. The positioning and communication that existed between the defensive players was nonexistent.
This problem was also apparent during Arsenal's 8-2 loss to Man United. Throughout that match, the defense allowed huge holes for United to work in and lacked any real communication.
It was believed that acquiring players such as Per Mertesacker to join their side during the closing days of the transfer window would help the Gunners. But so far it has been proven that it takes more than just adding some new players to the squad to improve Arsenal.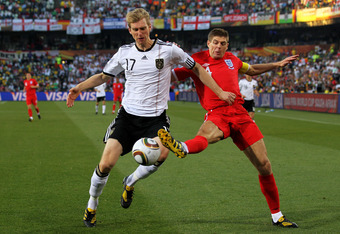 Clive Rose/Getty Images
What is needed is a leader who has a sense of direction for Arsenal.
Right now Arsenal have very few players who can claim that they are true veterans. Back when Fabregas was on the squad, he proved his worth as a captain in key situations.
But now, there are no players that can claim that they have that leadership that Fabregas possesses.
That was apparent during their losses against Liverpool and United and also in last week's Champions League match against Borussia Dortmund. At the end of the match, Arsenal did not take a strong approach to defense, which gave Dortmund the chance that was needed to tie the match.
That porous defense has caused Arsenal to fall to 15th in the league table concede 14 goals, more than any other side in the league.
This start to the season is the worst in Arsene Wegner's 15 years with the club.
However, this loss will give Arsenal a further chance to have a player to step up and lead this club back to where it should be. 
But if no player uses this opportunity to show their leadership ability, Arsenal will finish this season in the middle of the table or even lower.
Follow me on Twitter! @Andrew_Jordan