Will LeBron James Find Redemption by Leading the Miami Heat to a NBA Title?
September 19, 2011
Ronald Martinez/Getty Images
When all is said and done in the career of LeBron James, a lot of his legacy will rely on his ability to win championships. So far things haven't look so peachy for James as he has failed to win a single title, but just one won't bring him redemption.
With his size, speed and overall athletic ability, James was supposed to be the heir to Michael Jordan's throne of greatness. While the talent has always been there, his ability to be a winner and complete player have not.
Ever since James was drafted by the Cleveland Cavaliers in 2003, no one has ever had as many expectations. James was donned as the "Chosen One" even before his NBA career started. However, years later, James is left without the most important thing in a player's career: a ring.
Give James some credit, he showed promise young in his career by taking the Cavaliers to the NBA Finals in 2007. Unfortunately for James and Cleveland, they failed to win a single game. However, James shouldn't receive all of the blame.
During the reign of James, Cleveland management never made the right moves in putting talent around him. Honestly, who was the best role player to play with LeBron?
Mo Williams, who has proven to be just another player without James?
Shaquille O'Neal, who was well out of his prime?
Put it anyway you want, but it was unfair to blame James for every bit of disappointment.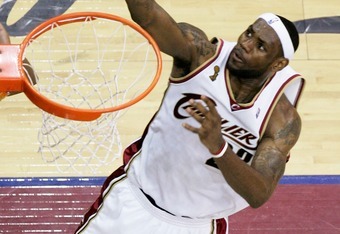 Gregory Shamus/Getty Images
Years later after being drafted by his hometown team, James has taken his talents to South Beach to join the Miami Heat.
Expectations are still through the roof for the Big Three. James and company started things off big after guaranteeing "not one, not two, not three, not four, not, five, not six, not seven" championships. Remember this?
Ok, maybe seven championships is a tad unrealistic, but winning multiple championships and becoming a dynasty is not out of the question. Actually, I would say it's highly inevitable.
Now that James teams with superstars Chris Bosh and Dwyane Wade, things have changed. The excuses are irrelevant and so is the sympathy from supporters. So far, not the greatest start for the Big Three. After losing to the Dallas Mavericks in the 2010-11 NBA Finals, James adds another disappointment to his resume.
Now 0-2 in his Finals appearances, James has a lot of climbing to do. If James wants to be in conversations with Michael Jordan and Kobe Bryant for all-time greatness, he has to start winning now.
In his six NBA Finals series, Jordan never came up short. While Bryant has been defeated in two NBA championships, he still has five rings in his collection.
If James wants redemption, he has to win multiple titles. To be more specific, without losing another Finals series, LeBron must win three rings.
Winning half or even fewer than half of his Finals appearances won't be acceptable for most fans and critics. James must prove he can come out on top more often than not, and with the situation he is in now that shouldn't be a problem.
James has the most talent of any player in the NBA but should be concerned with his focus. Don't bash haters, thrive off them. While becoming possibly the biggest NBA villain in history, James must realize he will be remembered more for what he has done on the court than off.
James must show he has a killer instinct and a knack for big-game situations. No more accusations of choking or quitting in playoff games. Instead, James needs to remember where his talents are and smash defenders.
Midway through his career, James has had a roller coaster ride. Since starting as a beloved savior of Cleveland, a lot has changed.
For James to redeem himself, the truth is he must win. The two MVPs are nice, along with the many All-Star and first-team All-NBA nods, but his career is empty without a championship.
This Miami Heat team is poised to do big things, but without James living up to his potential, it could be a rocky road ahead.
Look for James, Wade and Bosh to win a handful of NBA championships, along with LeBron finding redemption along the way.