NFL Picks Week 2: The Indianapolis Colts, San Francisco 49ers Come out on Top
September 17, 2011
Ezra Shaw/Getty Images
It's NFL Week 2 and it's time for some picks. 
I'm going to go against some of my previous decisions and go out on a few limbs here. 
Raiders at Bills: Buffalo had a great season-opener, punishing Kansas City. I'm going to say, at home, they keep the energy up and knock over Oakland.
Pick: Bills 
Chiefs at Lions: There are a whole lot of questions in Kansas City right now, and I am going with what I said all last season: Beware the sleeping Lion.
Pick: Lions
Ravens at Titans : The Ravens looked dangerous in their season-opener, and I see no reason why that's going to stop in this game. Tennessee just can't hold up against Flacco and co.
Pick: Ravens 
Browns at Colts: This is probably a surprise to some; to others, probably what they're picking.  This game is sort of a toss-up, but I'm going to say that Indy, having almost been shutout in their season-opener has made some serious game adjustments.  
Pick: Colts
Buccaneers at Vikings: Despite losing to the Lions in the season-opener, I think the Bucs have a good future this season. The Vikings, on the other hand, simply have a mess on their hands. I see McNabb having another slow game.  
Pick: Buccaneers
Bears at Saints : New Orleans didn't look bad at all in the season-opener despite the loss. In fact, if they hadn't been playing Green Bay, it was a guaranteed win. Chicago looks good, but not Brees good.  
Pick: Saints
Jaguars at Jets : New York is easily the luckiest team in the league; they seem to crawl out of holes every time they play. I don't see the Jags being able to fend off the Jets, but here's to hoping they will! 
Pick: Jets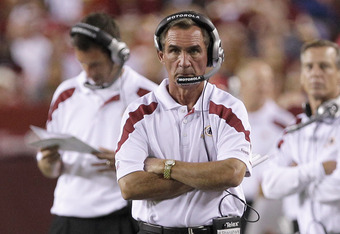 Rob Carr/Getty Images
Seahawks at Steelers : The season-opener for the Steelers looked horrible. They couldn't seem to get on any groove. Having said that, I can't bring myself to say the Seahawks could actually beat Big Ben here. If they do pull off the unimaginable though, Pittsburgh better start worrying.
Pick: Steelers 
Cardinals at Redskins : Washington shocked us all by knocking off the Giants in the season-opener. I say that Shanahan was down last season, but as we're seeing now, he's by no means out.  
Pick: Redskins
Packers at Panthers
Pick: Panthers…just kidding, Packers

Cowboys at 49ers: This is a real tough one for me. I'll say that in my pick 'em contests, I have the 49ers right now. I didn't like the way the Cowboys played against the Jets, and I've never been a fan of Romo. It's a home game for the 49ers, so I say that gives them the edge to win it. 
Pick: Toss-up 
Edge: 49ers
Bengals at Broncos : I'll agree, Denver looked pretty bad in their season-opener, but let's be honest—if they can't beat the Bengals at home, they might as well scrap this season early.  Of course the Bengals shocked everyone with their season-opener.  
Pick: Broncos
Texans at Dolphins: Even though Miami fell apart in the second half of their games against my Pats, they didn't look all that bad when they were in control.  Tom Brady's hurry up offense completely tore apart their D.  I don't see Houston doing the same damage.  
Pick: Dolphins
Chargers at Patriots : Tom Brady had an amazing game last week. The Chargers will come to town looking to beat up on their old rivals, but I can't see Rivers and co. having enough juice to derail the New England freight train.  
Pick: Patriots
Eagles at Falcons : I'm going to go against the dream team here and say the Falcons beat them in a hard-fought win. Vick throws a few mistimed balls, and the game comes down to turnovers. 
Pick: Falcons
Rams at Giants: Manning didn't look anywhere near flawless in their season-opener, but I see Eli and co. being able to handle the confused Rams. 
Pick: Giants
There you have it! Look for The Point After on Sunday night for a breakdown of every game for each team.