Michigan State vs. Notre Dame: Live Score, Highlights and Analysis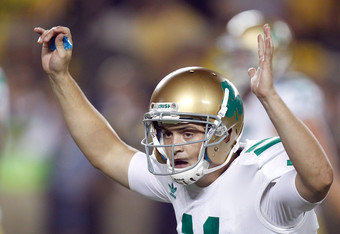 Gregory Shamus/Getty Images
7:00 P.M. Final Update: 31-13, Notre Dame
This isn't how Notre Dame's season was supposed to start. The Irish faithful were targeting a return to glory in 2011, but saw their hopes derailed in two consecutive heartbreaking losses. Now Michigan State is rolling into South Bend, and the Irish desperately need a win.
Michigan State, meanwhile, is trying to prove they belong among college football's elite. A fantastic last season and co-Big Ten championship lost some of its luster after being crushed by Alabama in the Capital One Bowl. Now the Spartans are 2-0, ranked no. 15 in the country, and trying to improve upon last season's success. Toppling the Irish in South Bend is absolutely vital to that cause.
Lest we forget how this game ended last season, by the way. The 'Little Giants' game in East Lansing was one of the highlights last season, ending with an overtime fake field goal and a literal heart attack. Can the 2011 showdown possibly top 2010? It's time to find out!
It's been fun, folks. Hope you had a good time following along here, and make sure to keep reading Bleacher Report for all your college football updates and analysis.
I know it's only one game, but I think it's pretty safe to say after this one that MSU is not an elite team. The Big Ten has Nebraska (who's whooping Washington right now), Wisconsin (who are legitimately in the national championship discussion) and not much else.
The Irish are better than an 0-2 team, but are they better than mediocre? More turnovers, more mistakes, and more missed opportunities in this one should put a fair amount of doubt into fans after beating a top-25 opponent.
4th down incompletion for MSU, and that will officially seal the deal. ND will take a knee. 31-13 win for the Irish.
Yes, it's been really sloppy a really sloppy afternoon, but there has been at least one unit in this game that really stood out. That's the Notre Dame defense, which has given up just 13 points to a top-15 team with an explosive offense. It hasn't always been pretty, but at least the Irish defense has redeemed itself for last week's disaster.
Notre Dame gets the field goal after three running plays that were nothing more than kneel-downs. Nothing to see here, folks.
WOW! That'll do it! Cousins throws a pick at the goal line which is returned by Robert Blanton 82 yards into the Michigan State red zone.
Is it possible for both teams to be simultaneously imploding? Brian Kelly may be relieved when this one's over, but there's no way he'll be happy.
Ha! That's why! It's a muffed return and MSU falls on it.
These are not good football teams today. Michigan State doesn't look like a top 25 team, let alone a BCS contender, but Notre Dame is giving them every opportunity to win anyway.
Cousins forced to go long twice after the holding penalty, and ends up with two lucky incompletions. Put a fork in the Spartans, they're done.
Also, there are just over 4 minutes remaining in a 15 point game, why is MSU punting?
One more holding penalty on the Spartans? Sure, why not. Second and 17. This is getting laughable.
Oh good, a 15-yard hands to the face penalty on Notre Dame. Wouldn't want one of these teams to run away with the 'silliest penalties' title in this one.
It's a freshman mistake from Aaron Lynch, and it gives MSU new life.
Awesome job from these NBC announcers. The twitters, the YouTubes, etc. -- these guys don't understand any of it. That said, the Kirk Cousins viral video allegedly has '110 views'! So... there's that.
Another holding penalty from MSU. Spartans are having a ton of trouble containing Aaron Lynch.
Another sloppy mistake. MSU converts a first down and has it called back for holding. Will one of these teams step up already?
Another chance to ice the game wasted, but a perfect punt from Ben Turk pins the Spartans at their own goal line. Notre Dame's not sealing the deal, but Michigan State is going to have to earn it.
Stupid throw into coverage from Rees is intercepted, but he's bailed out by a pass interference call. Yes, the call was probably correct, but the whole play was just silly. Notre Dame may win this one (though it's not quite over), but the Irish faithful will have plenty to think about even in victory.
It's no wonder the Irish keep losing games. There's 11 minutes left, they're about to have possession with a big lead and a chance to run clock, and their freshman returner fumbles. Luckily for Atkinson he was able to fall on it, but that would have been an enormous turnover had the ball bounced differently. Lucky, lucky, lucky.
Good field goal from Conroy, and it's now a two-score game at 28-13. Still, Michigan State was moving the ball at will until it got to the red zone. Another missed opportunity.
Michigan State's offense has been absolutely bizarre today. They've made it look easy on certain drives, only to completely collapse on three consecutive plays. Like this one. A bad pass, a false start, and all of a sudden it's a tough 3rd down which they don't come close on.
These Spartans keep shooting themselves in the foot.
Welcome to Irish territory, MSU. Will you be staying for a little longer, this time?
Yuck. That was an awful 3-and-out to end the 3rd quarter. Very conservative play-calling, and MSU was all over it. If MSU starts mounting a comeback, the Irish will wish they ahd these last 2 possessions back.
I guess that was much ado about nothing. 3 weak plays and the Irish get it back.
After the punt goes for a touchback, Notre Dame now has another chance to ice this game. We'll see if Kelly's boys can capitalize this time.
Easy 20-yard gain on the first play of this MSU drive. Are the Irish already going into the prevent-victory defense? If so, they deserve to blow this lead. There's 17 minutes left, keep being aggressive!
Hopefully it was a one-off play. The Irish defense has been too good to fall apart now.
Great job keeping that 3rd down play alive by Tommy Rees on the rollout, but the pass just barely falls incomplete.
It's a huge stop for MSU, but a wasted opportunity for the Irish.
Question: Why is MSU blitzing the corner covering Michael Floyd? That was way too easy for the Irish.
Notre Dame forces a punt, and now has a fantastic chance to ice this game. A touchdown here would make this a four-score lead going into the fourth quarter, which is probably too much for Dantonio and crew to handle. Pivotal possession coming up.
Is it just me or is MSU trying too hard? They've gotten away from what makes them a good team and Notre Dame is killing them because of it. Where are the high-percentage passes? Where's the physical running game?
Between those two wildcat plays and the silly fake field goal, this team is being coached like a heavy underdog instead of a member of college football's elite. There's still a lot of time left, but the Spartans aren't doing themselves any favors.
This article is
What is the duplicate article?
Why is this article offensive?
Where is this article plagiarized from?
Why is this article poorly edited?

Notre Dame Football: Like this team?