Ohio State vs. Miami: Scandals Make Both Teams Losers No Matter Who Wins
September 17, 2011
Jamie Sabau/Getty Images
Ohio State and Miami, two of the biggest, most successful college football programs in the nation, have been beset by scandals and accusations of NCAA violations in the last year. In fact, when they met on the field nearly 10 years ago, it was a matchup of the No. 1 and No. 2 teams in the country.
This time, it's a little different.
It's being called the Corruption Bowl, the Scandal Bowl and the "Ineligi-bowl," and none of them would be inaccurate.
"Free tattoos on one side, free food on the other, that's how it all started," says the Associated Press. "Memorabilia sales in Columbus, cover charges in Coral Gables. Things that seemed relatively unimportant at the time to those involved now hang like a dark cloud over the Buckeyes and Hurricanes."
And though the Buckeyes stand at 2-0, ranked 17th in the polls, it's hard to say that the scandals aren't weighing heavily on Saturday evening's tilt in Coral Gables. 
"It does kind of take away from it," Miami quarterback Jacory Harris told the AP. "That's all you see, the suspensions here, the suspensions there and it kind of takes away from the actual game and the players and the fans and basically the history of this game. There's a lot of other things that are involved in this game rather than suspensions. You've got [2002] when they beat us and last year they beat us. There's a lot of things we want to go out...and play for."
From a player's perspective, sure, that makes sense. But from a fan's? It's hard for the game not to be overshadowed by the scandal and how each team has been affected.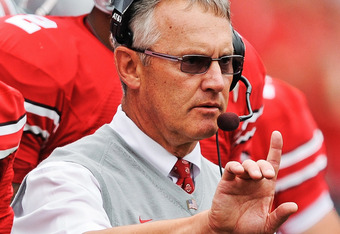 Jamie Sabau/Getty Images
The Buckeyes will be without four suspended players—including running back Dan Herron and wide receiver DeVier Posey, starters from 2010—against the Hurricanes on Saturday because of the players' roles in allegedly trading OSU memorabilia for money and tattoos. Ohio State also lost coach Jim Tressel, who resigned in the midst of the investigation, and Heisman candidate quarterback Terrelle Pryor, who left school for the NFL in an attempt to avoid his ban.
On the Miami side, Harris is one of five players coming back from one-game suspensions after they were found to have taken extra benefits from former booster Nevin Shapiro, a convicted and now imprisoned Ponzi scheme architect.
Three other Miami players will remain sidelined until next month for more serious violations, also involving Shapiro, all during their recruiting periods. Shapiro has said he gave 72 Miami players and recruits money and gifts over an eight-year span, and the university and the NCAA are combining on a widespread investigation of the athletic department's actions, policies and compliance practices.
Also returning this week is Hurricanes linebacker Sean Spence, D-linemen Adewale Ojomo and Marcus Forston and wide receiver Travis Benjamin.
How the investigations play out and how the players, coaches and teams are affected remains to be seen. But there's no denying the scandals will affect both teams and the players in the game on Saturday.
But as the AP suggests, "The Hurricanes say they're not thinking about anything but the Buckeyes. The Buckeyes say they're not thinking about anything but the Hurricanes."
"We've both had some missteps here that we're trying to overcome," suggests Miami coach Al Golden, "but that's not going to erase that tradition. That's not going to erase all the great players that have played here. That's not going to erase what the institutions mean and certainly not going to diminish what it means to our fans and to our alumni and football fans in the city of Miami and South Florida."
If only the fans could see it that way. But we can't. And we won't until these scandals are long behind us.