Conmebol 11: The Best Possible Team of South American Players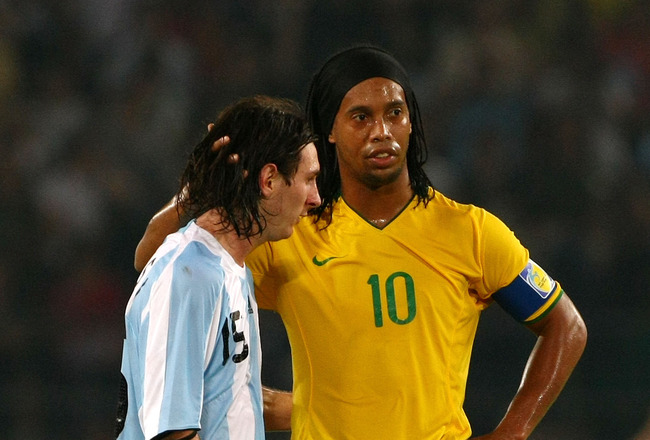 Clive Rose/Getty Images
South American football is known to have the flashiest, most entertaining and, some would argue, the best players in the world. Both in the past (Pele, Maradona) and present (Messi, Ronaldinho), they have managed to produce quality stars who have gone on to have memorable careers. This slide show doesn't focus on creating the team with the best players but rather the team that can play best together. The formation for this team will be a 4-3-3 (4-1-2-3 to be more exact), and it will be a 23-man squad with 12 bench players.
Bench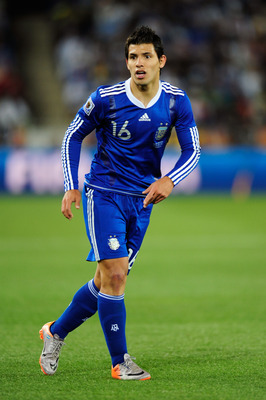 Stuart Franklin/Getty Images
Goalkeepers: Raul Fernandez and Justo Villar
Defenders: Maicon, Andre Santos, Acasiete and Alvaro Pereira
Midfielders: Kaka, Gargano and Isla
Forwards: Farfan, Neymar and Aguero
Goalkeeper: Muslera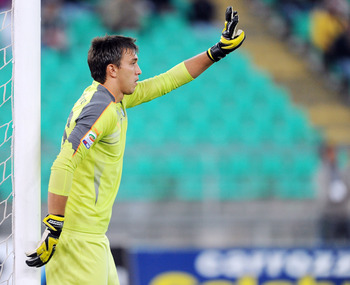 Giuseppe Bellini/Getty Images
Muslera has made some big saves for Uruguay over the last couple of years, and his performance in the Copa America has possibly solidified him as the best goalkeeper in South America.
His big penalty saves against Ghana and Argentina in the quarter finals of the World Cup and Copa America respectively, have allowed his team to move up to fifth in the FIFA rankings. His good distribution is a major asset and the determination he shows on one-on-ones and close range shots make for some critical saves.
Centre-Backs: Vizcarrondo and Lugano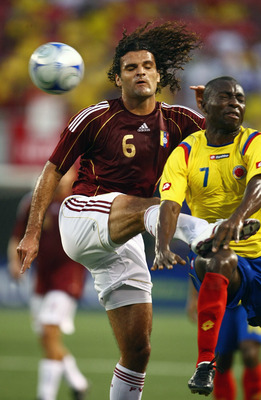 Chris McGrath/Getty Images
Vizcarrondo looks like a freak of nature, and he is also a force to be reckoned with. His ability to win balls in air isn't just good for dealing with crosses, but also good for scoring goals of set pieces. Because of his size he can hold off just about any attacker. He is also surprisingly fast for his size and can tackle pretty well.
Lugano isn't too shabby himself, seeing as he managed to captain Uruguay to a Copa America win, and he's my choice for captain. Similar to Vizcarrondo, Lugano can also get into the box and score goals as well as show heart and determination in defence (something you want out of your captain).
Right- and Left-Back: Dani Alves and Marcelo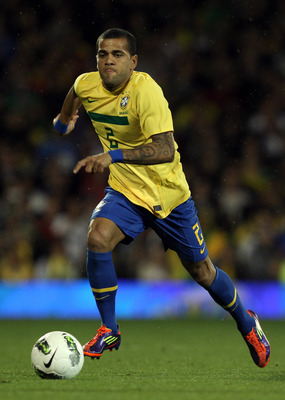 Clive Rose/Getty Images
For right- and left-back I picked the Brazilian duo of Dani Alves and Marcelo.
Dani Alves is a decent defender who can also help in the attack. His big kick can be used to create chances from long-range free kicks and shots. He barely gets the nod over Maicon because of his speed, which could come in handy when trying to start an attack or when trying to get back and defend.
Much like Dani Alves, Marcelo is a very strong defender that can help in the attack. Marcelo has many of the same qualities that Dani Alves has, although he may be a bit better at defending.
While it may seem like too much to have two offensive-minded players in defense, there's really nothing to worry about as I have come up with two solutions. The first is that if one of them pushes up too much, there is always a good defender on the other side. This means the team can temporarily switch to three defenders.
The second, you will see in the next slide.
Defensive Midfielder: Javier Mascherano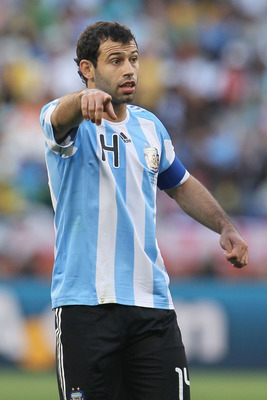 Chris McGrath/Getty Images
A good word to describe Mascherano is versatility. The other option to the problem from the previous slide is that Mascherano can come back and play defender (which he often does for Barcelona) if one of, or both, the right- and left-back help in the attack. When the team is building up, Mascherano will be the first choice as he can start things up quickly with his distribution, or he can slow things down and help the team slowly move towards the opponent's goal.
Right and Left Midfielder: Juan Vargas and Ramires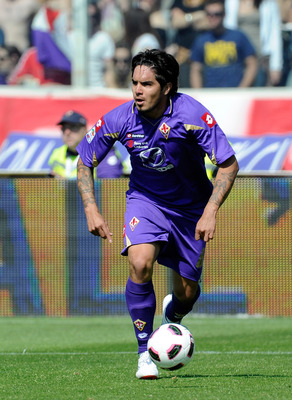 Claudio Villa/Getty Images
If you saw the Copa America, you could see just how determined Juan Vargas is. He made several dazzling runs and was clearly the heart and soul of Peru's national team. He also has a great shot and can slip in some nice passes into the box, which could produce several scoring opportunities for the team.
Although Ramires won't make as many spectacular runs as Vargas, he will find his teammates. He is the main playmaker for both Chelsea and Brazil. For this team he would be the second choice of playmaker after Mascherano. Should Mascherano receive attention from the opposing team, Ramires is more than good enough to be able to step up and take his place as the main playmaker.
Wingers: Messi and Alexis Sanchez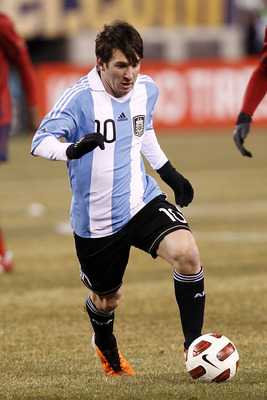 Jeff Zelevansky/Getty Images
Putting Messi on this team is a no-brainer. He is the best player in the world.
He can score goals at an incredible rate, and he still manages to be unselfish enough to produce a high number of assists. He would be one of the focal points for this offense and would surely attract a lot of attention from the opposing team, which would free up the other forwards and give them more freedom in the attack.
On the other end is Alexis Sanchez. The young Chilean is the main attacking option for Chile, and he would get many opportunities to shine as Messi draws the defenders away. Sanchez's speed also allows him to draw defenders away when making a run. By making runs on and off the ball, he could produce a big spark and give passing options to Mascherano and Ramires.
Striker: Luis Suarez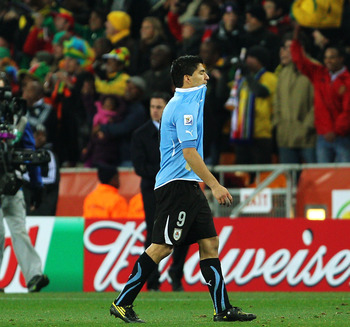 Clive Rose/Getty Images
Suarez is one of the best strikers in the world right now. He consistently scores goals for Liverpool and Uruguay.
Imagine how many he would score with Messi and Sanchez getting a lot of attention. He would be virtually unmarked the whole game. He was given the award for best player in the Copa America, and you can see why as he provides a great option in attack. He won't let too many opportunities slip past him.
Keep Reading