BCS Conference Realignment: The 8 Programs Dragging Down Realignment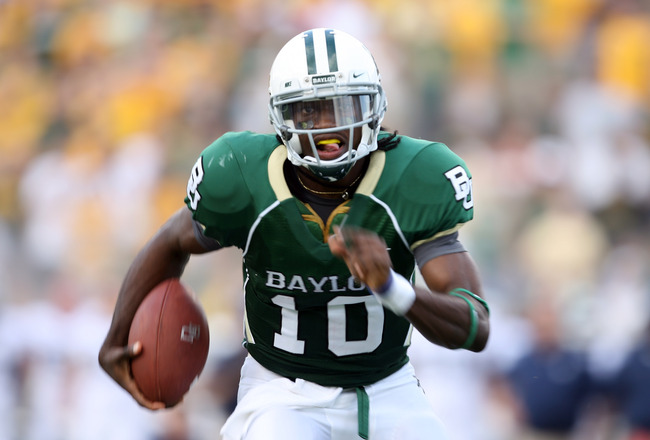 Baylor University Photography

The super-conference talks are starting to heat up, especially with Syracuse and Pitt applying to the ACC early this morning.
It looks almost inevitable that if this goes through, the Big East will be disbanded, and the Big 12 will surely follow.
Then there are those teams that are holding these realignments back because they will be left in limbo. These teams probably don't belong to a BCS conference, but feel they are in a position to get recruits and represent their BCS conference respectively.
Here are eight teams that are holding the super conferences back and have the most to lose, and the teams that are dragging the conferences down.
Vanderbilt Commodores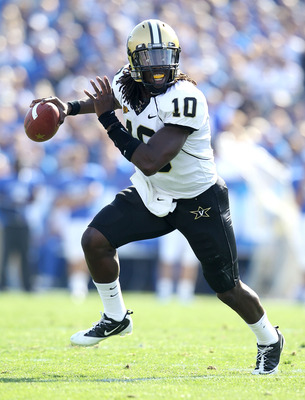 Andy Lyons/Getty Images
Alabama, LSU, Arkansas, Auburn, Florida, Georgia, Tennessee, South Carolina.... and Vanderbilt?
Something doesn't match up here. Of course, every conference has the little brother that all the big brothers love to beat up on.
In the SEC, that little brother is Vanderbilt. Vanderbilt is the laughingstock of the SEC.
No disrespect to new head coach James Franklin, who at least seems to have Vanderbilt going in a good direction, but Vanderbilt is never going to steal recruits from the big boys of the conference.
The SEC could add Texas A&M and possibly another big-name school to even out the competition, but Vanderbilt won't be asked to leave and will continue to be at the bottom of the conference.
Washington State Cougars
Ezra Shaw/Getty Images
Washington State used to be a good program. That is a distant memory.
Washington State will fire its head coach by season's end, even if it manages to win three or four games.
The Cougars simply aren't a good program, and with the Pac-12 looking to expand to the Pac-16, Washington State will resume its position at the very bottom.
It's hard to believe that their cross-state rival, Washington, which didn't win a single game in the 2008 season, seems to be progressing at a faster rate than Washington State.
Duke Blue Devils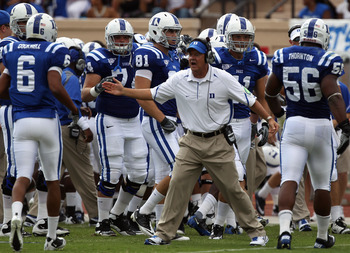 Streeter Lecka/Getty Images
David Cutcliffe has done wonders for the Duke Blue Devils football program. He has the offense putting up good numbers. But the defense is the same old Duke defense, a stepping stone.
Unfortunately, Duke is the one program the ACC can count on to be bad every year. Sometimes Wake Forest takes that mantel, but for the most part that position belongs to Duke.
With Syracuse and Pitt trying to join the ACC, it looks as if the ACC will look to keep up with the Pac-12 and the SEC. Those two teams may not be the best options, but they are certainly better than Duke and will provide more competition in the ACC.
Baylor Bears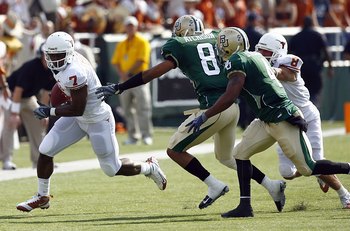 Tom Pennington/Getty Images
Baylor has a strong hold on the fate of the Big 12, or so they think.
Texas, Oklahoma, Texas Tech and Oklahoma State are all bolting, and Texas A&M has already made up its mind.
Baylor has a chance to do something special this year. They could end up having a 9- or 10-win season, although that could be a stretch.
The problem is that Baylor will not have these type of years consistently, and that's the problem in the Big 12. If it's worth keeping together, the Big 12 will add more teams to keep up with the other conferences, but it simply isn't worth it anymore.
Texas is looking for greener pastures, and Oklahoma will follow them wherever they go—leaving the Big 12 with nothing.
Temple Owls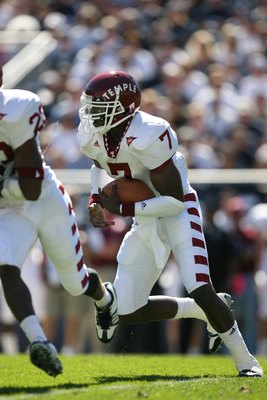 Hunter Martin/Getty Images
In the Mid-American Conference, Temple is the big dog. Are they looking to join one of the super conferences, and can they last if they get the nod?
Temple isn't exactly a big-time program, but they are good enough to advance up to another conference.
If they are to join a conference like the SEC or the ACC, they would have some years to adjust, but then would be expected to help out the conference.
TCU Horned Frogs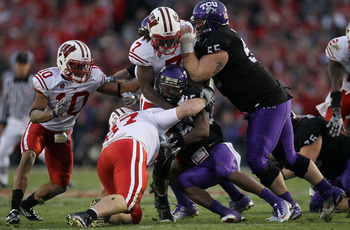 Stephen Dunn/Getty Images
Make no mistake, TCU is not a program that is going to bring any conference down. They are an up-and-coming team that is ready for consistent tough competition. That is why they chose to go to the Big East next season.
But what if the Big East isn't there?
Syracuse and Pitt are jumping ship, West Virginia and Rutgers will be next, and the Big East will be left with four teams looking for new homes. TCU will be one of those teams.
Where will they go? If they join the ACC, another team will need to be added to avoid an odd number. If they join the Big Ten, another team will need to join.
TCU could end up providing some problems with realignment, and that was not their intention from the beginning.
Boise State Broncos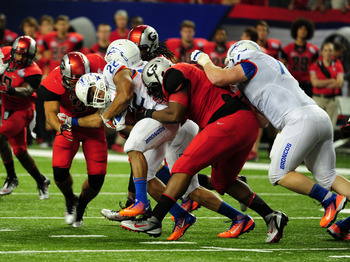 Scott Cunningham/Getty Images
Boise State will have a decision to make. Stay in the Mountain West, or accept an invitation to a better conference?
The Pac-12 will surely come calling if the Big 12 teams don't come over. And if the Pac-12 doesn't invite them, the Big Ten certainly will.
The Broncos have proven that they can play in a bigger conference and that they can make some noise while they're at it.
Boise State will be left in the dust if these super conferences get formed. There will be no chance for them to be a BCS-buster playing in a no-name conference when the super conferences will send two-loss teams to the BCS championship.
Iowa State Cyclones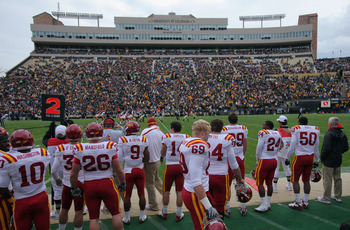 Doug Pensinger/Getty Images
The Iowa State football program has been laughable for practically its entire existence in the Big 12. The Cyclones have been trounced by the likes of Nebraska, Oklahoma, Oklahoma State, Texas, Texas A&M and Missouri.
The Big 12 is getting dismantled, and the teams will go their separate ways, leaving Iowa State looking for a new home.
The Cyclones could join the Mid-American Conference or even the Mountain West, but either way they are holding the Big 12 back. They are one of the teams left in the conference that forces the other teams' hands and makes them want to leave for better competition.
Keep Reading