National Football League: Week One Post-Dictions by a Weak One
September 17, 2011
Rob Carr/Getty Images
Week one of the National Football League 2011-2012 season has come and gone. I've never considered myself clever enough to make predictions and, since hindsight is 20-20, here are a few week one "post"-dictions. This is not to be confused with a cheap excuse for blogging material that I used to do on a previous site. It's not to be confused because it's exactly the same thing.  Of the opening weekend's games there were eight games between divisional rivals, five games that featured teams from the same conference and two games that were between teams of each conference. Here are my thoughts on a few of the week one games.    
The Pillsbury Bowl: Baltimore Ravens 35, Pittsburgh Steelers 7: Six of the last seven games between these two teams have been decided by 3 points or less, so the Ravens drilling of the Steelers was quite a surprise. Pittsburgh committed almost as many turnovers as Pillsbury, and that's hard enough to overcome at home, but the Steelers were on the road, which makes it even more difficult to get past.  
The Orange Bowl: Bengals 27, Browns 17:  Being in the same division, the AFC North, these two teams play each other twice a year. The highlights of this game gave me a headache. Both teams' uniforms feature a strong measure of the color orange. How much is a strong measure? I believe the technical term is "too much". Every time these teams play it looks like an intrasquad scrimmage. I suggest the coaches of both teams need an intervention—The NFL's version of "What Not to wear". Where's Stacey London when we need her the most? Oh well, there is one consolation: at least neither team's color is "burnt" orange.
The MVP Bowl: Houston Texans 34, Indianapolis Colts 7: The MVP in this case is the "Most Valuable Peyton" because the Colts just simply are not the same team without Manning in the game. Here are some observations by a Texans fan:
Firstly, although he's been responsible for the majority of the Texans misery over the last decade, I just can't dislike Peyton Manning. I have tried, mind you, but I just can't. He's a great quarterback, and he seems like a pretty decent guy off the field too. As long as he's not playing against Houston, he is just flat-out fun to watch play. That's why if I could I would send him an open letter asking that he just retire. 
Not because the Colts play in the same division (well, there's a little bit of truth to that) as my Texans, but because the human neck is fragile and not to be trifled with. I'd much rather see Manning retired than in a wheelchair.
Secondly, Kerry Collins looks like Brett Favre's older brother. The gray in the beard and the short hair makes him actually look like he could be kin to Favre, only as the older brother he moves much slower.
Thirdly, is the Texans defense that good, or is the Colts offense that bad (without Manning)? Some Texans web sites and Facebook pages are touting a Super Bowl run, but I think we should not put the cart before the horse. Let's get enough wins to make the playoffs first, shall we?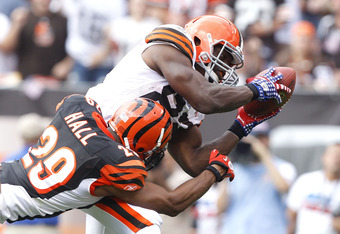 Matt Sullivan/Getty Images
The Baldwin Brothers Bowl: San Francisco 33, Seattle 17: I was looking over the stats from this game and noticed that the leading pass catcher was a player named Doug Baldwin. Who? When I first saw this I thought to myself (I've found that it's better to think that way otherwise people can hear you) 'The Baldwin Brothers are everywhere!" Alec, Billy, and the third one, whatever his name is, are all actors and now a fourth one is in the NFL? My mistake. This Baldwin is a rookie wide receiver from Stanford.
The French-Irish Bowl: Philadelphia 31, St. Louis 13: This game featured the Eagles running back LeSean McCoy as the leading rusher with 122 yards and 2 touchdowns. With a name like "LeSean McCoy" both the French and the Irish get some pub. Way to strike a blow for the minorities LeSean.  
Well that's about all I have for week one's game observations. I don't know if I'll do this every week, but as my warped mind moves me I will put something up when I can. I suppose a subtitle to this piece could be "Observations about week one by a weak one".  Thanks for reading.