Mayweather vs. Ortiz: Why Mayweather Is Best Villain in Sports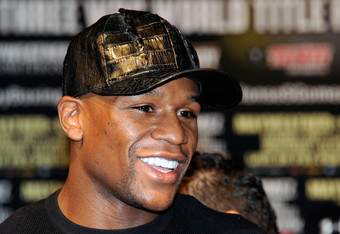 There isn't a single better villain in all of sports than Floyd "Money" Mayweather.
Throw anybody out there you want—LeBron James, Ron Artest, Bill Belichick. Tom Brady, Nick Saban, Chad Ochocinco, Michael Vick, Terrell Owens—anybody. You and your nominee will forever lose to "Money."
"Money" breaks the bank every year because he is the most polarizing villain we've seen in recent years.
He's taken his villainous status to new heights in recent years, especially since Manny Pacquiao emerged as a threat.
No matter who you are or what you do, you know Mayweather—and you have an opinion. Floyd will eat away are your very being. He'll ether your soul. He has the innate ability to draw an intense reaction from anybody.
Whether it's flaunting his lifestyle, lighting $100 bills on fire in a club, mastering his craft to dominate the opposition, flexing or grinning, he legitimately pisses you have better than anybody out there right now.
Mayweather's time spent in Vince McMahon's WWE Universe and his friendship with 50 Cent did a world of wonders for his career. He learned from professional wrestling and the greatest villain in the music industry how to capitalize on the public's hatred.
That's what it's all about—capitalizing on the hate. Most of Mayweather's stunts are designed to increase his hatred and have worked flawlessly.
Just as important, like any true villain, Mayweather continues to dodge his arch-nemesis. Whether you think Mayweather is ducking Manny Pacquiao or not, the fact of the matter is the people hate him even more for not fulfilling their dream. This is a classic villain tactic as it increases interest in the fight and draws a bigger reaction from the fans. Mayweather will only fight everyone's favorite hero when he deems it necessary.
It is impossible for any other sports figure to control their own destiny and future matchups like Mayweather can in the boxing world.
Mayweather has everything working in his favor as the No. 1 villain in all of sports. He pulls it off flawlessly and continues to thrive more than anybody could ever imagine because of it.
We can hate all we want—and that's exactly what Mayweather and the boxing industry wants.
Most recent updates:
This article is
What is the duplicate article?
Why is this article offensive?
Where is this article plagiarized from?
Why is this article poorly edited?