WWE Night of Champions 2011 Predictions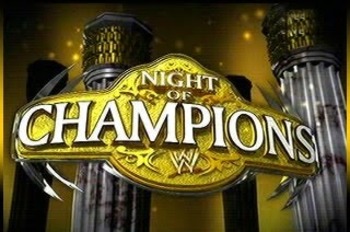 Hey Bleachers!
It's Eyve here, bringing you my predictions for this Sunday's Night of Champions PPV.
There are seven matches on the card that I will be talking about:
1. Kelly Kelly vs. Beth Phoenix
2. Bourne/Kingston vs. Miz/Truth
3. Cody Rhodes vs. Ted DiBiase
4. Dolph Ziggler vs. Jack Swagger vs. Alex Riley vs. John Morrison
5. Randy Orton vs. Mark Henry
6. CM Punk vs. Triple H
7. Alberto del Rio vs. John Cena
So please enjoy my slide and leave your comments below; they are all welcomed!
Kelly Kelly (c) vs. Beth Phoenix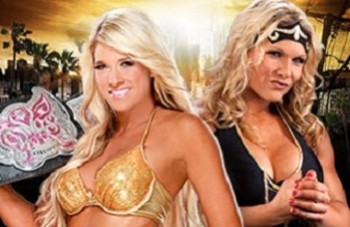 Let me get straight to the point on this one; I honestly don't really care for this match. But if I HAD to make a decision, I'd say that Kelly Kelly might retain. Then again, I don't care who wins or loses.
Why?
Well firstly, the Divas Championship has never stood out to me as a prestigious title like the Women's Championship did, so I really don't care for it.
Secondly, I seem to be the only one that feels like it should be Natalya going after the belt and not Beth. She already had her chance, and since they're both aiming for a change in the Divas division; they both should get a chance.
Then again, if Beth wins, there's hope for a feud between the two of them so I guess all isn't lost. I'm more of a Natalya fan so maybe my choice doesn't really matter.
Bourne/Kingston (c) vs. the Awesome Truth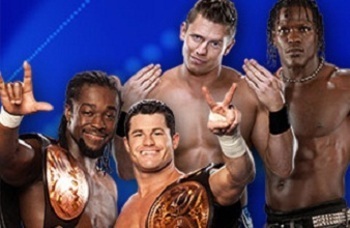 Before I go into my prediction; let me say that as long as Evan Bourne and Kofi Kingston are teaming up; I refuse to call them "Air Boom". That is by far the lamest tag team name that I've ever heard.
Anyway, as much as I love me some Evan Bourne, I'm going with The Miz and R-Truth on this one.
I mean, I'm glad that Evan finally has some type of gold around his waist, but why does it have to involve Kofi's boring behind? *sucks teeth*
I really don't like Kofi Kingston, you guys just don't understand.
But to put it in even simpler terms: Bourne and Kingston bore me. There you go.
Cody Rhodes (c) vs. Ted DiBiase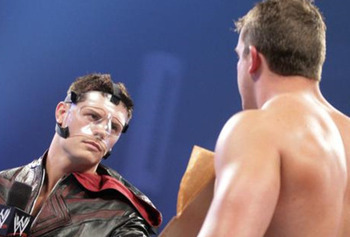 I'm on the fence about this match for one reason: I like both Cody and Ted.
But if I had to go with my gut; I want Ted to win but I have a feeling that Cody may retain.
This match is a little too premature in the first place. There wasn't enough time to build up DiBiase as a face, and there wasn't enough time for people to get behind him.
All anyone knows at this point is that Ted is no longer Cody's lackey and, if pissed enough, he can start shaking uncontrollably (see last Friday's SmackDown).
I, along with a lot of the members of the IWC, have been waiting for DiBiase to get some type of push for almost a year now, and with this match being so early I have a feeling that the WWE is going to blow it somehow.
I'm praying to God that I'm proven wrong because DiBiase has a lot of potential, and there's no reason why he shouldn't be used to his full capacity.
Dolph Ziggler (c) vs. Jack Swagger vs. Alex Riley vs. John Morrison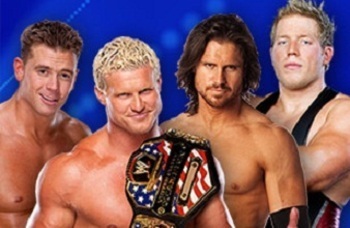 Seeing as how the US Championship means as much as the Intercontinental Championship does; my choice for this match shouldn't be difficult, but it is.
I want Riley to have a little decent reign, but then there's Swagger who desperately needs something to do so, either one of these guys can take the belt of Ziggler and I'd be happy.
Despite all of that; I have a feeling that Dolph will retain because of one thing: Vickie Guerrero.
But on another hand, she could try to help Dolph or Swagger, and Riley could sneak in a win or vice versa, so I'm going to try and stay optimistic.
I personally just don't want Morrison to win. I just don't like the kid. Sorry guys.
Oh and don't worry; I'm fully prepared for the slander and questioning I'm going to receive because of that last statement.
Randy Orton (c) vs. Mark Henry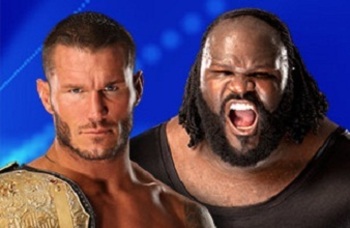 This is another match I really don't care for, but it's obvious who's going to win so I won't even bother writing it.
But I will say this; I give Mark Henry a lot of credit because he has been an impressive heel as of late.
Other than that, I can't stand him or Randy Orton being the champion.
CM Punk vs. Triple H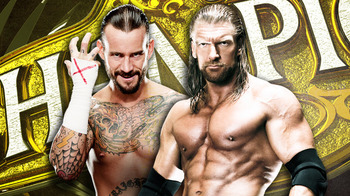 My pick may make me seem bias and, it should—because I am.
I absolutely love Punk and have been following him his entire career. But in retroverse, I could say the same about Hunter because I also like him.
I can't help it, I like them both. BUT I LOVE Punk so I'm going with him.
Although I'm going for Punk, I know that Nash will somehow get involved so Hunter has a huge chance of winning…or losing. This is another match that I'm going to stay optimistic about.
Even though I really want Punk to win.
Just saying.
Alberto Del Rio (c) vs. John Cena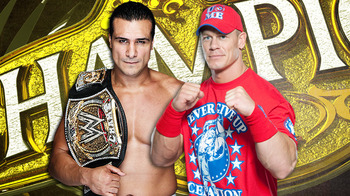 I don't like nor care about either one of these guys, but since I'm supposed to be making a decision—I'm going with ADR.
Normally I would have said John Cena, because he's in the match and because I would rather him have the belt than ADR, but with how predictable the WWE is; ADR will most likely get himself disqualified to retain, or have Ricardo Rodriguez interfere on his behalf.
Either way, he keeps the belt and I'm once again disappointed.
Life goes on, right?
Thanks for reading and I hope you enjoyed!
Leave comments, have a safe weekend and I'll see all of you this Sunday!!
Keep Reading