Drew Bledsoe to Be Inducted into the Hall at Patriot Place on Saturday
September 17, 2011
Jonathan Daniel/Getty Images
It's an unwritten maxim that a quarterback doesn't lose his starting job because of injury. But that's what happened to QB Drew Bledsoe in 2001.
A sheared blood vessel in his chest sidelined Bledsoe for nine weeks. When he was ready to come back, head coach Bill Belichick benched Bledsoe and rode Tom Brady's hot hand. There wasn't even an open competition for the job.
Bledsoe was incensed by the decision. What he did next was remarkable. As angry as Bledsoe was, he didn't tank it for the rest of the season. Instead, he turned his attention to mentoring Brady through the rest of the season.
Even though Bledsoe never saw the field in Super Bowl XXXVI, he contributed to that championship, even if Bledsoe didn't feel that way at the time.
Time heals wounds and the anger in Bledsoe's heart has melted away since then. With a new perspective, Bledsoe has an appreciation for what he did with the Patriots.
Fans didn't give Drew the credit he deserved while he was with New England. But just like Bledsoe, fans have a greater appreciation for what Drew did years later.
That's why the fans elected Bledsoe to the Patriots Hall of Fame. He will be inducted on Saturday with former center Jon Morris, who was elected by the Veterans Committee.
In his nine years with the Pats, Bledsoe rewrote the record books and became the most prolific passer in team history. Yet, at the time, it didn't satisfy his detractors.
People moaned that Bledsoe wasn't mobile enough. Others critiqued his leadership style, complaining that Drew wasn't fiery and emotional.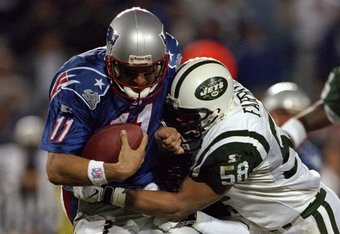 Andy Lyons/Getty Images
Somehow they ignored what Bledsoe brought to the Patriots. Well before the term "The Patriot Way" was coined, Bledsoe represented what it meant. Selflessly supporting the quarterback that took his job is the kind of sacrifice that set the standard for all Patriot players.
His sacrifice helped complete the franchise's transformation from league joke to the model for all NFL teams.
Changing the Patriots' fortune began when Bledsoe was drafted first overall in the 1993 NFL Draft. His 1994 season opening duel with Hall of Famer Dan Marino let us know that Drew was special.
Bledsoe slung the ball around like few passers could. That arm was otherworldly. A flick of the wrist lasered pigskins over the middle. Bledsoe threw arguably the best spiral in the game at the time.
Enough isn't said about Drew's toughness. Bledsoe played piñata for New England 262 times, suffering uncounted bruises and feeling dull soreness week after week. The blame is shared between Bledsoe, who had a penchant for holding on to the ball for too long, and a porous offensive line.
It's a heck of a statement that Bledsoe always got back up, even after getting blasted regularly by the likes of Buffalo's Bruce Smith and Miami's Jason Taylor.
Even more amazing is Bledsoe never threw his offensive line under the bus, even after 100 sacks combined in 1999 and 2000. That kind of leadership endeared him to his teammates and is something Brady has done with the Patriots, as if Drew passed that practice down to Tom.
Toughness is often measured in playing while hurt. We never knew from Bledsoe because he never complained. But in two weeks in 1998, he couldn't hide it.
Bledsoe broke a bone in his index finger when he hit his hand on a helmet during the follow-through on a pass. Bledsoe didn't miss a snap and on that same drive threw a 25-yard touchdown pass to beat the Miami Dolphins in the final seconds.
The next week, with a pin sticking out of the tip of his finger, Bledsoe was in the starting lineup against the Bills. For the second week in a row, Bledsoe threw a game-winning score.
Bledsoe's career isn't measured just by accomplishments. There's more to him than four Pro Bowl selections and two AFC Championship wins. How Drew carried himself and served as an example for his teammates truly represents what he was to the Patriots.
Drew made his mark in Patriots history. That mark now is indelible as the fans welcome Bledsoe back home.
Question? Comments? Send to talktome@randolphc.com.