Los Angeles Galaxy vs. Vancouver Whitecaps Live Blog: Play-by-Play Analysis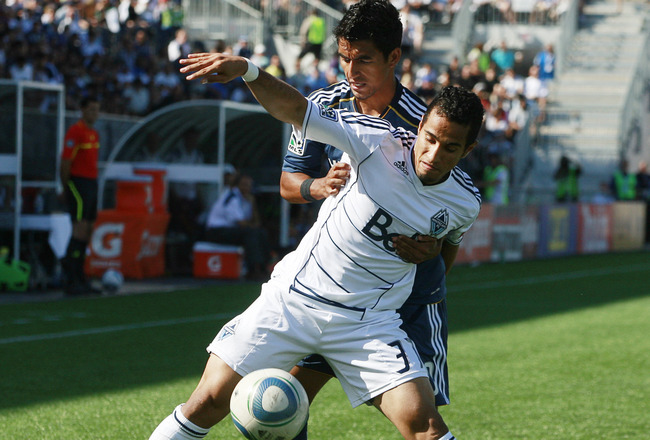 Jeff Vinnick/Getty Images
Bruce Arena's Los Angeles Galaxy continued their 2011 Major League Soccer season when they took on Tom Soehn's Vancouver Whitecaps on Saturday at the Home Depot Center in Carson, California.
Goals from Mike Magee in the 40th and 75th minutes and Robbie Keane in the 64th minutes paced the Galaxy to a 3-0 victory over the Whitecaps.
The Galaxy improve to 16-3-10 (58 points) and remain the league leaders, while Vancouver remain at the bottom of MLS with a record of 4-14-10 (22 points).
Keep it right here on Bleacher Report for continuing coverage of MLS and World Football.
Thank you very much for following this Live Blog on Bleacher Report.
90' + 2' - That's a wrap.
FINAL
LOS ANGELES GALAXY 3
Mike Magee 40', 75'
Robbie Keane 64'
VANCOUVER WHITECAPS FC 0
90' + 1' - Vancouver are a beaten bunch. But they did actually better than the last meeting, when they fell 4-0.
90' - Aside from that, this was a fair match from the refs. How many minutes, Baldomero Toledo?
Two.
89' - Miguel Lopez, and here's Paolo Cardozo! No, offsides. Yeah, these referees were being too sympathetic to these sorry Whitecaps. We all know what's up.
88' - Also realized that the G's were resting Sean Franklin for next week. I only noticed it now. Go figure.
87' - Camilo, and he is challenged by Jordan. Solid performance from Bryan Jordan. One of the best I've seen from this defender.
86' - Magee with the throw. Too long for Michael Stephens.
85' - Here's another goal kick for Saunders. Well, Vancouver tried, but eventually Los Angeles was going to wear them down tonight. Magee brace, Keane insurance, what a show.
84' - And as Saunders collects, the Galaxy get themselves a goal kick.
84' - Substitution Los Angeles Galaxy
IN 25 Miguel Lopez
OUT 14 Robbie Keane
Free kick for Vancouver...punched away by Josh Saunders. Vancouver are no Morelia, that's for sure.
83' - And Dan Keat nearly got his first-ever goal in a Galaxy uniform. Goal kick, Joe Cannon.
82' - Cardozo now, and that was too long for Robbie Keane. Keane gets it back, though. This is trouble. And that will be a corner. Taken short.
81' - Here comes the Caps. Good sweep, but Vancouver get it back.
80' - Omar Gonzalez plays it forward. Harvey with the throw.
79' - Well, it's garbage time for the kids. Can they get the job done? Jordan Harvey redistributes for Vancouver.
78' - Substitutions Los Angeles Galaxy
IN 15 Dan Keat
26 Michael Stephens
OUT 23 David Beckham
10 Landon Donovan
77' - Yep. Now things are getting a bit out of hand for the Caps.
76' - Bryan Jordan is having a great night, with two assists.
Substitution Vancouver Whitecaps FC
IN 12 Jeb Brovsky
OUT 28 Gershon Koffie
Camilo's attempt hits side netting
75' - Gershon Koffie now. And this is Mustapha Jarju with the touch. Mike Magee with the challenge...and the goal!
GOAL! Los Angeles Galaxy 18 Mike Magee
Magee, Magee, Magee is on fire.
74' - Throw-in for the Caps, who are putting in a much better performance. Camilo's attempt was partially blocked by Beckham then collected by Saunders.
73' - Can Jarju get open and make this a game? Not yet, offsides on Vancouver.
72' - Josh Saunders is going to need a little redistribution with the goal kick. Robbie Keane won the ball, but it came off his arm.
Substitution Vancouver Whitecaps FC
IN 7 Mustapha Jarju
OUT 29 Eric Hassli
71' - Jordan is double-marked, and for good reason. 22,959 in attendance tonight. Not a bad turnout. Here's Jordan Harvey again. Salinas looks for help.
70' - Here's Donovan. Now it's Birchall. Decent buildup, but they couldn't find Cardozo. Jordan with the cross? No, plays it to Cardozo. Throw-in, Los Angeles.
This article is
What is the duplicate article?
Why is this article offensive?
Where is this article plagiarized from?
Why is this article poorly edited?