Steven Jackson Injury: Updates on Rams Star's Week 2 Status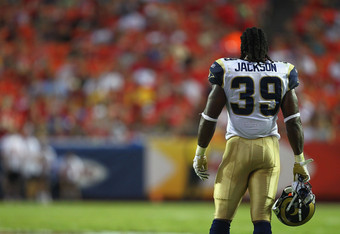 Dilip Vishwanat/Getty Images
St. Louis Rams running back Steven Jackson opened the season in dazzling fashion, rushing for a 47-yard touchdown on the team's first play of the season against the Philadelphia Eagles on Sunday.
Unfortunately for Jackson, that would be the second-to-last carry of the day, as he pulled up lame at the end of the run with a strained quad.
The injury had to be disconcerting for the Rams and their fans, as Jackson, despite his toughness, has a history of getting banged up. Cadillac Williams stepped in and played well in Jackson's absence, but the Rams were clearly affected by the injury, as the Eagles outscored them 31-6 following Jackson's departure.
It was initially believed that Jackson had no chance to play in Week 2 against the New York Giants on Monday night. There have been some positive reports in recent days, however, and Rams owners and Steven Jackson fantasy owners have hope he might play, even though it remains unlikely at this point.
Bleacher Report will keep you updated on Jackson's injury today and throughout the weekend. Whenever a new report comes to light, you'll be able to find it right here.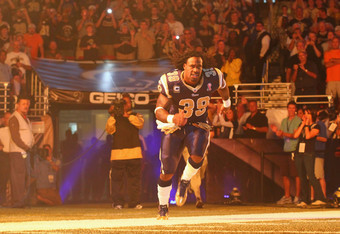 Steven Jackson took to Twitter less than an hour ago to announce that his status remains uncertain for tonight's game.
Not sure if I'm playing tonight. I'm heading to stadium now to see if the quad will allow me to go.
Sounds like Jackson will be testing out his quad just before the game, and will decide from there if he feels good enough to go.
If he feels that he is unable to go, backup running back Cadillac Williams will carry the load against the New York Giants.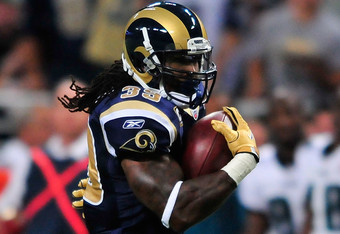 Good news, depending how you look at it, for Steven Jackson's fantasy owners.
The St. Louis Rams' workhorse running back seems determined to play Monday night against the New York Giants.
S-Jax is listed as a game-time decision and continues to work hard to get ready for the all-important matchup.
"GM .. Just leaving a 6:30am acupuncture appt. Love my dr's...

Hard work put in time to head to the airport," Jackson tweeted.
That's the good news.
The bad news is that the game is Monday night and we need to know what to do with our stud now! At this point, fantasy owners need to prepare for life without S-Jax this week. It's just not worth it.
Still, fantasy owners who won't to roll the dice need to be smiling. Jackson is one of the most determined athletes in the NFL and is doing everything in his power to play.
For all we know, S-Jax could land in New York and feel better. It's the highest-risk, highest-reward a fantasy owner can take heading into their matchup.
Tread lightly and let the force be with you...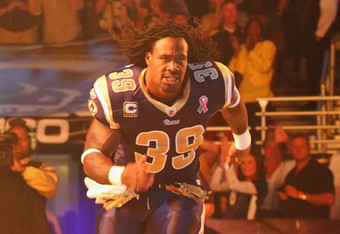 At this point, you would much rather the St. Louis Rams just said RB Steven Jackson (quad) wouldn't play at all.
Instead, S-Jax is the dreaded game-time decision. Even worse, we have to wait until Monday night to see if our workhorse stud will play.
"No updates on RB Steven Jackson. He's still rehabbing and will wait until Monday night to see where he is," according to the St. Louis Rams.
Are you kidding me!?
What's a fantasy owner to do?
Your best bet is to keep him benched. Even if he plays, we don't know how effective he will be. Even worse, we don't know just how much playing time he'll get.
Cadillac Williams looked great against the Philadelphia Eagles and would be able to handle a feature back workload against an injury-depleted New York Giants defense.
S-Jax is better off sitting because the extra rest will help him in Week 3 when they host the Baltimore Ravens.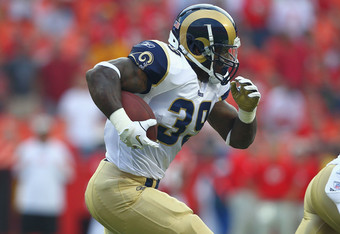 After running through the Philadelphia Eagles weak linebacker group, Rams star running back Steven Jackson had to leave the game with a strain in his quad.
After not practicing all week, St. Louis will look to play it safe and have Jackson sit out at least one game so that he is better for the long haul.
The St. Louis Rams official twitter feed is reporting about Jackson's status for Monday's game:
RB Steven Jackson does have a strained quadriceps. He's likely out this week but will be watched on a day to day basis.
This is a smart move for a team that needs a healthy Jackson to really compete for a chance in the weak NFC West. Expect Jackson back sooner rather than later, though, and a heavy dose of Cadillac Williams in the mean time.
After gashing the Philadelphia Eagles on only a few touches in the St. Louis Rams Week 1 game, the powerful back pulled up lame after a long touchdown run.
ESPN NFL Insider Adam Schefter is reporting about the Rams running back's issues:
RB Steven Jackson has strained quad and not expected to play vs Giants. WR Danny Amendola is out vs. Giants but is considered week to week.
This is not great news for the Rams, and the injury to their slot receiver Danny Amendola and quarterback Sam Bradford only complicates matters even more.
While Bradford will play Sunday, Jackson's absence from the lineup will give way for an increased workload for Cadillac Williams in both the run game and the short pass game.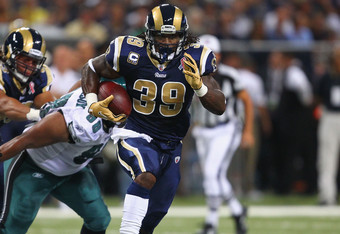 The chances of Steven Jackson playing on Monday night against the Giants don't look good, but no one is ruling it out either.
Jackson himself said he wants to give it a shot if he can, but he also seems realistic. In a story posted on National Football Post, Jackson had the following to say:
"It just kills me to know that my team needs me and I'm not able to be out there and answer the call. But we want to be smart. We know it's early in the season."
Jackson seems to know that the coaches won't push him if they have any questions about his health.
LIFE HURTS. THIS INJURY UPDATE BROUGHT TO YOU DICKIES.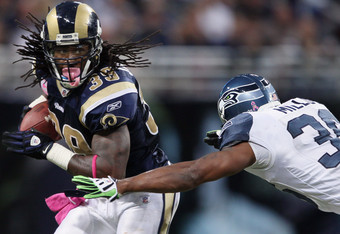 While no official word has been handed down regarding Jackson's status for Monday night, ESPN NFL reporter John Clayton does not believe he will be active against the New York Giants. There is nothing to back his claim up at the moment, so it is simply his opinion.
Early thoughts on injuries. Steven Jackson won't play for Rams. Arian Foster will play but may not start for Texans.
In a recent article by Bill Coats of the St. Louis Post Dispatch, the notion of Jackson possibly being able to play on Monday night is echoed, but it sounds much more likely that Jackson will sit the game out at this point.
Jackson clearly wants to play on the big stage Monday night, but he has been injured enough in the past to know his limitations. Unless Jackson is 100 percent certain he can help the team come Monday, it seems like he'll more than likely take an extra week to heal properly.
"It's being smart enough to know if you're going to hurt your team being on the field and not being a hundred percent," he said. "That's the call I have to comfortably make, and (Spagnuolo has) to be comfortable in making that decision. Me going puts someone else down (inactive), a special-teams guy or someone else. So, my decision trickles down."
Despite initial signs that Jackson could miss multiple weeks with his quad injury, R.B. Fallstrom of the Associated Press is reporting that Jackson has an outside shot at playing in Week 2 when the Rams face the New York Giants on Monday night.
Jackson has yet to practice this week, but sounded fairly optimistic regarding his injury. The odds of him not playing are still probably slim at this point, but Jackson sounded as if he was going to do everything in his power to be ready to play.
"It's all predicated on how I feel on Monday. But definitely shooting to have an outside chance to be able to go," Jackson said. "Luckily we buy an extra day with the Monday night game but we want to be smart. We know it's early in the season."
Even if Jackson can't go on Monday, it has to be encouraging for Rams fans to hear that Jackson is still shooting to play. If the quad continues to heal, then Jackson's chances of playing in Week 3 should increase at the very least.
This article is
What is the duplicate article?
Why is this article offensive?
Where is this article plagiarized from?
Why is this article poorly edited?

St. Louis Rams: Like this team?