Arian Foster Injury: Updates on Texans Star's Week 2 Status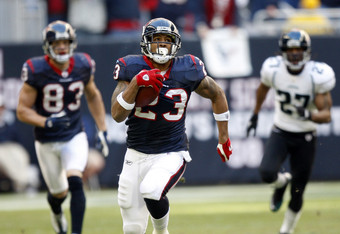 Bob Levey/Getty Images
After coming out of nowhere to lead the NFL in rushing yards (1,616) and rushing touchdowns (16) last season, all eyes were on Houston Texans running back Arian Foster to see if he could turn in a repeat performance in 2011.
A hamstring injury has hampered him, however, and it caused him to miss Houston's Week 1 affair with the Indianapolis Colts.
Due to the tricky nature of hamstring injuries, Foster's status for Sunday's game against the Miami Dolphins is still in question. In Foster's absence, second-year man Ben Tate received the bulk of the carries and rushed for over 100 yards. He figures to get the lion's share of the workload again if Foster is not healthy enough to play.
The Texans were incredibly impressive without Foster in Week 1 and Tate seemed to show that he could excel with extended playing time. There is no doubt that Foster will be the workhorse when he returns, Tate's solid play could be bad news for his impending contract negotiations.
Check back here today and throughout the weekend for further reports on Foster's status. Bleacher Report has you covered with all of the breaking news regarding Foster's injury.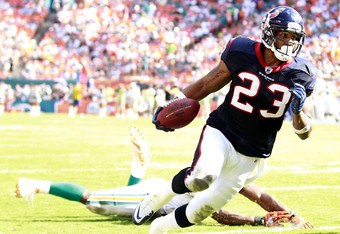 Arian Foster made his season debut against the Miami Dolphins on Sunday but didn't last long enough to see his Houston Texans close out a 23-13 victory in South Florida.
Foster left the game after re-aggravating the gimpy hamstring that kept him out of the Texans' season opener against the Indianapolis Colts. The Pro Bowler and reigning NFL rushing champion managed only 33 yards on 10 carries in the first half and didn't see a single snap once the team emerged from the locker room.
Meanwhile, Ben Tate, Foster's backup, posted his second consecutive 100-yard rushing game , thereby solidifying Houston's ground game amidst Foster's struggles.
No word as yet regarding whether or not Foster will play next week, though the Texans could certainly use his services when they travel to the Louisiana Superdome to take on the New Orleans Saints.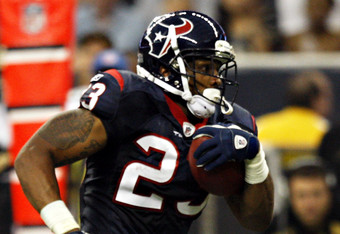 Arian Foster will start and receive the majority of carries, but don't expect backup Ben Tate to go away any time soon.
"Arian Foster's return to the Texans won't mean the end of Ben Tate's role, according to sources.

Foster is set to start on Sunday against the Dolphins, but Houston will watch his hamstring closely and plan to utilize Tate regardless.

The Texans utilized a two-back approach in Week 1 and have no qualms about giving Tate the ball to spell Foster,"according to NFL Network's Jason La Canfora.
It's great news that Foster is already back, but he's not going to be the workhorse all-purpose back many drafted in their top-five. Tate will continue to eat away at Foster's carries all season to ensure that he stays healthy and the Texans win the AFC South.
Tate will prove to be a vital piece to the Texans fulfilling their postseason aspirations. If the Texans jump ahead early against the Dolphins, it isn't inconceivable that Gary Kubiak will use Tate down the stretch of the game to close things out.
Foster is still a fantastic flex play, but don't expect out-of-this-world production.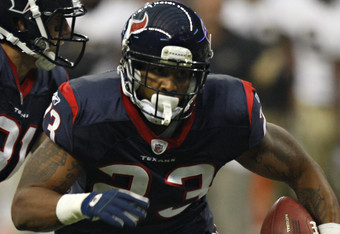 Insert Arian Foster into your fantasy lineup with confidence.
Foster will make his long-awaited 2011 debut against the Miami Dolphins today. The Dolphins are on a short week and are expected to see a heavy dose of Foster, who finally rid his hamstring of "anti-awesomeness."
"Texans are 24-3 under Kubiak when they run at least 30 times. They'd like to get the ball to Foster 20 times and Tate at least 10," according to the Houston Chronicle's John McClain.
I wouldn't expect one of those 222-yard, three-touchdown performances, but he'll still be a great RB2 in his first game back.
More importantly, Foster will quickly derail the Ben Tate train. Nobody wants to see a committee in Houston and Foster starting will help ease the pain.
Miami has a solid defense, but they won't be able to contend with this rushing attack. Expect Foster to help you mightily in your matchup.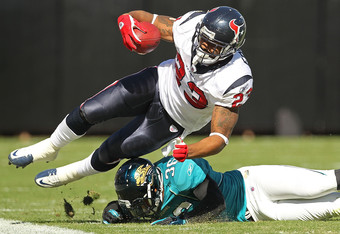 Arian Foster will start Sunday against the Miami Dolphins, and if you have him in a fantasy league, start him with the assurance that he will get the majority of the carries.
The Houston Texans knew what they were facing with the Indianapolis Colts, and they decided to take the precaution of saving Foster until they knew he was as close to 100 percent as they could get him.
John McClain of the Houston Chronicle talked about Foster's injuries and why the team wasn't worried:
Arian Foster starting is no surprise. he could have started against Indy if it had been for the playoffs or a playoff game.
The Texans know they are in control of the AFC South with Peyton Manning on the mend, and they are showing it by resting their running back against a team they used to fear in the Colts. Without Manning, that fear is gone.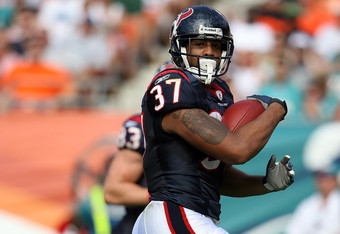 The biggest question around the NFL water cooler will be the availability of Houston Texans running back Arian Foster when the team takes on the Miami Dolphins in Miami.
Foster told Houston Texans writer Nick Scurfield about his plan for Sunday:
Arian Foster expects to play on Sunday at Miami. "That's the plan," he said today in the locker room.
That is great news for both Texans fans and fantasy owners, and it looks like Houston will be make a concerted effort to get Foster involved as much as possible.
Barring a setback, Foster will be on the field Sunday, and he could be a huge key for a Texans victory over the Dolphins.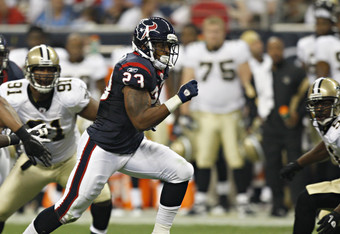 The Texans didn't seem to need him in week 1, but Arian Foster looks to be ready to go in week 2.
Texans' head coach Gary Kubiak said as much. In a story on USAToday.com, Kubiak had the following to say:
"He looks ready to play," Kubiak said after practice Friday. "He's had a good week. I think he'll be fine. As long as there's no setbacks he's ready to go."
If the Texans get up early this week like they did last week, expect Kubiak to rest Foster with all the depth they have behind him at the position.
LIFE HURTS. THIS INJURY UPDATE BROUGHT TO YOU BY DICKIES.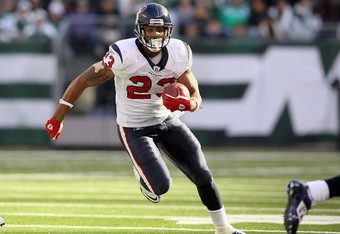 There still hasn't been an official announcement, but it looks like all systems are go for Arian Foster to play and start at running back for the Houston Texans on Sunday. Texans head coach Gary Kubiak seems confident that Foster will play according to an Associated Press report.
"He looks ready to play," Kubiak said after practice Friday. "He's had a good week. I think he'll be fine. As long as there's no setbacks he's ready to go."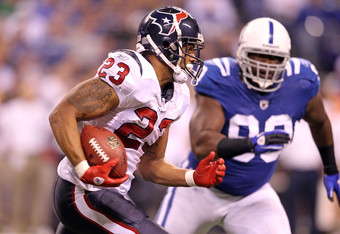 While no official decision has been handed down regarding Foster's availability on Sunday, ESPN NFL reporter John Clayton predicted that Foster would be active against the Miami Dolphins. This is just his opinion, however, so things could certainly play out differently.
Early thoughts on injuries. Steven Jackson won't play for Rams. Arian Foster will play but may not start for Texans.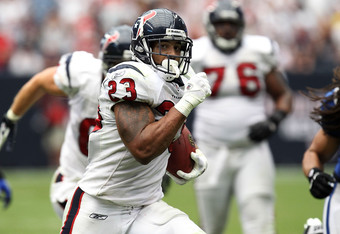 Jeffrey Martin of the Houston Chronicle reported that Foster practiced for the second consecutive day on Thursday and went full bore as he received all of the first-team snaps. Every indication is that Foster will be ready to play Sunday without any limitations.
Texans head coach Gary Kubiak has basically given Foster the green light provided nothing changes in his condition.
"This was our work day, but he looked good," Kubiak said. "As long as everything's smooth (today), it should be ready to go."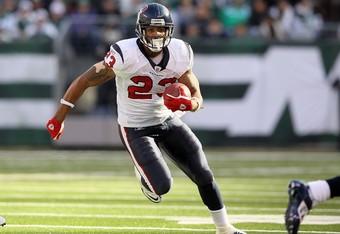 Foster's return to practice Wednesday didn't include simply some light jogging, according to an Associated Press report, Foster took the amount of snaps a starter normally would in practice. Texans head coach Gary Kubiak was happy with the progress that Foster made, but he doesn't want the star back to push himself too far, too soon.
"I think it's about him getting his confidence back and just cutting it loose," he said. "I just told him to be smart today, but he's on top of his stuff."
Like Foster, Kubiak is also taking a day-by-day approach with the injury and wasn't ready to make a decision one way or the other one whether Foster would play Sunday.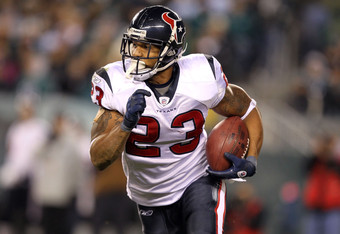 According to Mike Florio of Pro Football Talk, Foster practiced with the team on Wednesday and fully plans to play on Sunday if all goes according to plan. Foster's condition has improved daily, but he is taking a cautious approach with the hamstring.
"It felt good," Foster said, via quotes distributed by the team. "It was pretty fluid, but you got to ease along hamstring injuries, like I've been saying, so I'm just going to take it day-by-day and see how it feels."
While it might be wise to wait until Foster is 100 percent, he could possibly spilt carries with Ben Tate on Sunday if he isn't ready to take on a full allotment of carries.
This article is
What is the duplicate article?
Why is this article offensive?
Where is this article plagiarized from?
Why is this article poorly edited?

Houston Texans: Like this team?