NFL Power Rankings Week 2: 5 Teams That Are the Cream of NFL Crop
September 16, 2011
Mike Ehrmann/Getty Images
Power Rankings this early in the season often seem like a useless exercise. Teammates are still feeling each other out and when it comes right down to it, we still know very little about what these teams are made of.
Just as often as early power rankings mislead us, though, they give us a a good idea of who will be left standing at the end of the season.
The following five teams are tops in the NFL so far this season.
New England Patriots
After Week 1, the Patriots have only solidified their position as AFC favorites. Their offense was running like a well-oiled machine and the defense held the Dolphins in check up until it became garbage time. They have a much stiffer test in the San Diego Chargers ahead of them, but I'm sure New England will be up to the task.
Green Bay Packers
The Packers look like the exact same team they were last season. The offense, led by Aaron Rodgers, puts up points in bunches and the defense, which seems to be devoid of stars, gets the job done. They take on the Panthers in Week 2. That will be a much easier game for Green Bay, but don't expect it to take its foot off the gas.
Philadelphia Eagles
There was significant "upset alert" buzz surrounding the Eagles' game with the Rams in Week 1, but Philadelphia quickly squashed any hopes of that. The Eagles handily beat the young, up-and-coming team.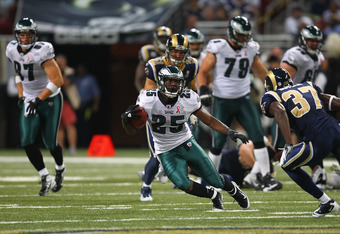 Dilip Vishwanat/Getty Images
In Week 2, the Eagles have a big test on the road against the Falcons. Atlanta is a playoff-caliber team, but it will be the Eagles that come out the victors.
Baltimore Ravens
The Ravens made a huge leap in Week 1 by taking out their rivals, the Pittsburgh Steelers. They will try to take that momentum into their Week 2 game against the Tennessee Titans. Unable to stop Joe Flacco and Ray Rice and unable to overcome the Ravens' physical defense, the Titans will put up little resistance.
Pittsburgh Steelers
The Steelers' 35-7 loss to the Ravens in Week 1 doesn't change anything about their standing as a contender to represent the AFC in the Super Bowl. One bad loss does not a bad season make, and the Steelers will get back to their winning ways against Seattle in week 2.
Joseph Healy's NFL Power Rankings for Week 2
1. New England Patriots
2. Green Bay Packers
3. Philadelphia Eagles
4. Baltimore Ravens
5. Pittsburgh Steelers
6. San Diego Chargers
7. New Orleans Saints
8. Houston Texans

9. New York Jets

10. Atlanta Falcons
11. Chicago Bears
12. Detroit Lions
13. Tampa Bay Buccaneers
14. St. Louis Rams
15. Dallas Cowboys
16. New York Giants
17. Jacksonville Jaguars
18. Arizona Cardinals
19. Minnesota Vikings
20. Indianapolis Colts
21. Buffalo Bills

22. Oakland Raiders

23. Tennessee Titans
24. Kansas City Chiefs

25. Miami Dolphins

26. Washington Redskins

27. San Francisco 49ers

28. Carolina Panthers
29. Cincinnati Bengals
30. Cleveland Browns
31. Seattle Seahawks
32. Denver Broncos