8 NFL Stars Who Would Be Better Off in Other Sports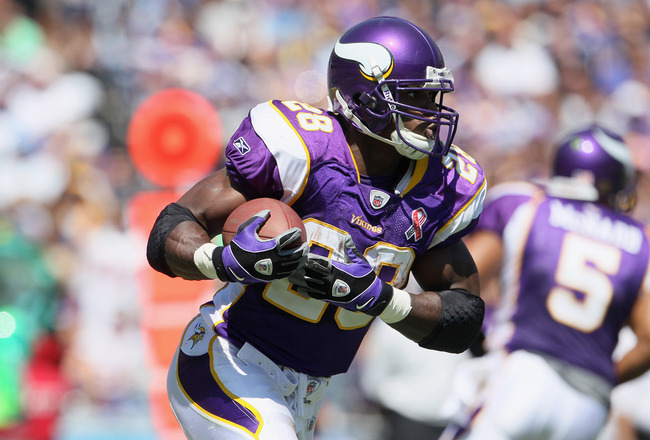 Jeff Gross/Getty Images
Ever wondered what your favorite NFL star would be doing if he weren't playing football on the weekends?
Of course you have. We all want to know what our favorite players are like, what they do for fun and, ultimately, if they're just like the rest of us. Reality TV has spoiled us.
However, what if your favorite superstar were playing a different sport? We don't need reality TV to tell us what other sports he might be good at, we only need our imagination.
Granted, if ESPN were to take an hour-long block once a week and dedicate it to the following guys adapting to their "new sports," I don't think I would mind watching.
Without further ado, here are eight NFL stars who would be better off playing other sports.
Joe Flacco: Javelin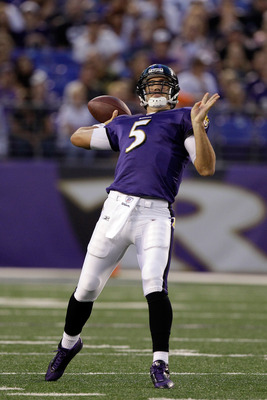 Rob Carr/Getty Images
This is pretty self-explanatory, right? Joe Flacco is one of, if not the best deep-ball throwers in the NFL.
I remember watching the quarterback competitions Flacco participated in right before he was drafted. He absolutely destroyed the long-ball toss, but I don't really remember him winning any other competitions...
Yeah, that sounds about right. Flacco has certainly showcased his arm strength during his stint in the NFL, but that's really about it. He has yet to win very many big games for his team, so maybe it's time for a switch.
The current world record javelin throw is 104.8 meters, which roughly translates to 114 yards. This seems daunting, but with enough practice I think Flacco could top it.
I would definitely love to watch him try.
Tony Romo: Golf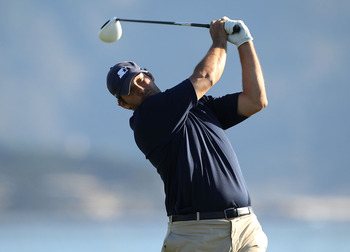 Ezra Shaw/Getty Images
This slide works for both the obvious and humorous reason.
The obvious:
Tony Romo is already an excellent golfer. He spends a lot of his offseason perfecting his game and playing in tournaments. In fact, he almost qualified to play in the U.S. Open.
The humorous:
While Romo has put up better-than-average stats as a quarterback, he isn't exactly known for his ability to lead his team to victory. A good example of this would be the Cowboys' Week 1 loss against the New York Jets. The Jets had to pull off a fourth-quarter comeback to get the victory, but much of the blame for the loss fell on the shoulders of Romo.
Romo just seems to have a knack for falling short. He has brought his golf skills over to the world of football, because he almost always has the lowest score.
Somebody should probably tell him that's not a good thing.
Michael Vick: Ice Skating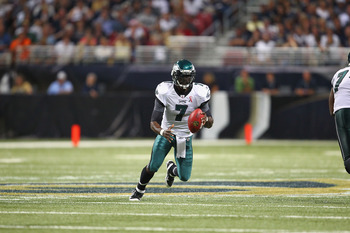 Dilip Vishwanat/Getty Images
Obviously, when you think to yourself, "If there were an NFL star capable of being a great ice skater, who would it be?" the answer is always Michael Vick. Right? No?
Well, you better start thinking that way. Vick is the best candidate to be an ice skater, and here's why:
The guy has the most "moves" of any NFL star. He's fast, elusive and can stop on a dime and change direction. All of these things add up to what it takes to be a great ice skater.
Vick would probably benefit from being a speed skater, but I wouldn't rule out figure skating, either. Maybe his macho appearance and less-than-flattering history wouldn't suggest that Vick would be akin to wearing frilly costumes and ice dancing, but he was made for the spotlight.
His talents need to be seen. He's too big for speed skating.
Mike Tolbert: Sumo Wrestling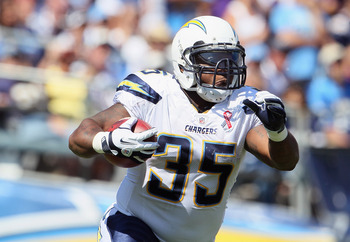 Jeff Gross/Getty Images
When the thought of a football player converting over to the world of sumo wrestling is brought up (and yes, it's brought up a lot), the most obvious candidates are linemen due to their size and strength.
However, what about pudgy running backs? Wouldn't it be a lot more fun to watch our favorite rotund runners get in an oversized diaper and push each other around?
Of course it would, and Mike Tolbert is the best candidate for the job. I would love to watch Tolbert and Maurice Jones-Drew battle it out in the ring.
In fact, I feel like I need to pitch this idea to ESPN. Jerome Bettis could be the lovable ring announcer who sometimes scraps it out with current players.
I'd watch it.
Adrian Peterson: Horse Racing
Jim McIsaac/Getty Images
Adrian Peterson is the best running back in the NFL. Every time I sit down and watch the Vikings, it seems like Peterson is doing something magical.
Whether he's overpowering defenses with his strength, hurdling over would-be tacklers or breaking away from defenders with his ridiculous speed, Peterson is always putting on a show.
That's why horse racing would ultimately be the best sport for Peterson if he weren't in the NFL. No, Peterson wouldn't be the jockey, he would be the horse.
He already possesses the same type of athleticism as horses, and he is literally the workhorse for the Vikings. In their Week 1 loss, Peterson was held just under 100 yards rushing, but he only had 16 carries. QB Donovan McNabb posted stellar numbers, finishing the game with 39 yards passing.
Yeah, I'd say Peterson's their workhorse.
Tom Brady: Chess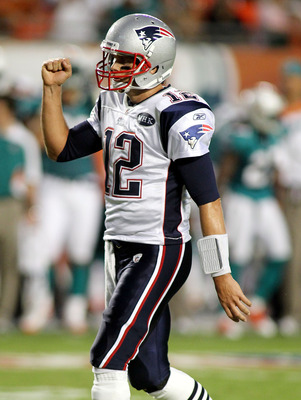 Marc Serota/Getty Images
Even though Tom Brady may be the prettiest NFL star—and yes, I feel more than comfortable saying that—his "best" sport may not reflect that.
While stereotypical pretty-boy sports include surfing, volleyball and polo, Brady would be best as the king of the nerds: chess captain.
In order to be a dynamic chess player, you have to be smart, be able to read your opponent and attack while he's vulnerable.
Brady's characteristics as a quarterback sum up a chess captain's traits quite perfectly.
Brady showed exactly how to dissect a defense and attack its vulnerabilities during the Patriots' Monday night victory over the Miami Dolphins. Brady finished the game with 517 yards passing, which was good enough for the all-time Monday Night Football record for passing yards.
Brian Urlacher: Rugby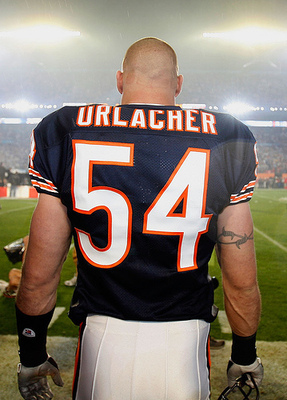 Okay, you caught me, this slide is mostly based on looks. You can't look at Brian Urlacher and tell me he doesn't look like a rugby star, right?
However, I think this comparison runs deeper than looks. In the end, Urlacher has all the skills necessary to be the world's best rugby player.
In order to be a great rugby player, you have to be really strong, and being fast certainly isn't a bad thing. Ultimately, though, you just have to be really crazy.
Urlacher has done a great job showcasing his strength and speed throughout his 12-year career in Chicago. During this time, he has also been one of the most feared defensive players in the league.
He has enough big hit video reels to scare off most who might dare running at him with a football. That's why he's perfect for rugby.
Maybe somebody would be crazy enough to go at him, and maybe that somebody would end up in the hospital.
And maybe I'd want to watch every bit of this.
Larry Fitzgerald: Ultimate Frisbee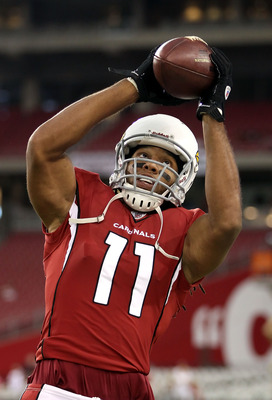 Christian Petersen/Getty Images
Fitzy (what I'm calling him for the purpose of this slide, and maybe for the rest of my life) would be the ultimate ultimate frisbee bro.
Not only does his totally chill hair make him a great candidate, but his ridiculous catches in the NFL would translate perfectly over to ultimate frisbee.
I happened to watch the NCAA Ultimate Frisbee Championship on ESPN 2 awhile back, and needless to say, Fitzy would have killed those bros from Colorado and California.
He would become the best deep threat in every ultimate frisbee game. He has the speed, the jumping ability and the hands to be the best to ever play.
Andre Johnson was a potential candidate for this slide, but his fight last season with Cortland Finnegan made him seem less chill than necessary for ultimate frisbee.
Keep Reading