NFL Predictions Week 2: 6 Running Backs Who Will Implode or Explode
September 16, 2011
Peter Aiken/Getty Images
Running backs are the lifeblood of real-life and fantasy teams. When one goes out injured or struggles, the impact is often dramatic. The same is true when circumstances come together for a dominant rushing performance. 
We all know that matchups are paramount in the NFL, and that the matchup, as opposed to a killer RB, often determines whether a runner will have a good game or not. Even then, it's more of an art than a science, and players don't always perform how they're expected to perform. 
When they do perform, though, it's a good predictor of team success. Not coincidentally, Rashard Mendenhall of Pittsburgh, Peyton Hillis of Cleveland and Chris Johnson of Tennessee all had regrettable performances, and their teams all lost. Being able to predict success in the run game, then, might go a long way in forecasting a game's winner.
Here are three running backs who will pop this week, and three who will flop.
These Backs Will Go Boom
Jamaal Charles, KC vs. DET
The media need to let the Detroit Lions prove their competence before crowning them NFC champions. They played well last week on the road and undoubtedly have a lot of potential to blow up this year.
However, they still have that unsightly run defense, one that Charles could run all over. 
The Lions want to get the ball and score it quickly, which is why head coach Todd Haley will make a concentrated effort toward preventing that. The way he'll do it is by handing off to his superstar in the backfield over and over.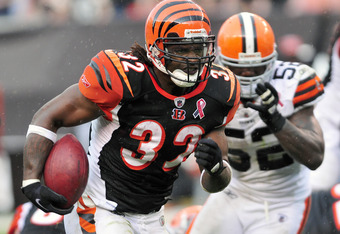 Jason Miller/Getty Images
I think 80 yards and two short-yardage TDs is a reasonable expectation for Charles this week. If the Chiefs get behind early, throw those numbers out the window. 
Peyton Hillis, CLE vs. IND
Last week, Indy's deplorable run defense bent to the will of Houston's Derrick Ward and Ben Tate.
This week, that refrain should echo through the recesses of Lucas Oil Stadium as Hillis bounces back for a big week on the ground.
The Colts offense is so bad without Peyton Manning that I have doubts it can string two first downs together. It had a hard time getting off snaps against the Texans.
Because of this, Cleveland could control possession and give Hillis a lot of chances to steamroll the Colts' front line. I think Hillis is due for a 100-yard game, the likes of which he reached at least every third game last season.
Cedric Benson, CIN vs. DEN
 Is Benson out of jail? He is? Great, that makes this prediction a dead lock.
It's a dead lock because of Benson's opponent, the Denver Broncos, who boast last season's 31st rushing defense and the proud giver of 150 Darren McFadden yards last Monday.
McFadden was slowed by heavy rain on the field, by the way.
There's not a lot left to be said about this matchup, except that I think Benson's 25 carries and 121 yards from last week are a good floor for what he could do this week.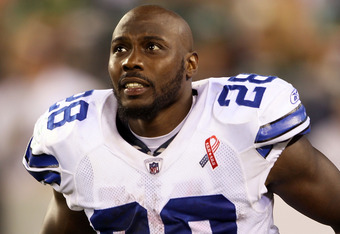 Elsa/Getty Images
These Backs Will Go Bust
Rashard Mendenhall, PIT vs. SEA
This is less a reflection of how I feel about Mendenhall this week and more about what I foresee for Pittsburgh's offense. I think Ben Roethlisberger is ready to conduct a fireworks show through the air against the Seahawk secondary.
Seattle's run defense isn't great, but the pass defense is really awful. Last year, the Seahawks gave up yards and TDs in the bottom 10 in the league.
Here's some simple math: 
An angry and turnover-laden Roethlisberger + a putrid and overwhelmed Seahawk secondary = Pittsburgh passing laser show
Plain and simple, there will be no impetus for Pittsburgh coach Mike Tomlin to give the ball to Mendenhall with his team up by a lot and seeking to redeem last week's performance.
Sixty yards on a half-load of carries, with a short-yardage TD or two, is reasonable for Twitter Public Enemy No. 1.
Felix Jones, DAL vs. SF
The Dallas Cowboys aren't exactly committed to the run game, and playing against one of the league's top run defenses won't convince head coach Jason Garrett to call more handoffs.
Conversely, the Niners' shoddy pass defense should make Tony Romo very comfortable from the shotgun, so why would Dallas hand off to Jones when it can throw to Dez Bryant, Jason Witten and Miles Austin?
The Niners will attempt to eat up the clock by handing to Frank Gore, so the Cowboys will have to make their drives count. They'll do that with the pass.
Fred Jackson, BUF vs. OAK
The Oakland run defense wasn't strong last year, which deviates from the logic I've used thus far. However, after watching the revamped front four against Denver, led by Richard Seymour, I think that the Raiders could boast a sneaky good defense this year. That line controlled the game, frustrating Kyle Orton and Knowshon Moreno into poor games.
I think they do the same this week against the unproven Jackson, who ran all over Kansas City in a garbage-time rout.