Novak Djokovic and the Arbitrary Behavior Guidelines for a World No. 1
September 15, 2011
Mike Stobe/Getty Images
Recently, I have read a few articles and seen a few opinionated view points where Novak Djokovic has been proclaimed to be undeserving of the mantle of the world's No.1 male tennis player.
Why, you might ask, is there such vehemence against his being the new face of tennis? Hasn't he already shown that he is the master of all he surveys? Hasn't he already beaten every single player he has come across this year? Yes, he has lost once to both Federer and Murray, but he has also has a 4-1 overall record against Fed and 2-1 overall record against Murray this year.
A record of 64-2 in any sport in this world would not only guarantee a No. 1 ranking, but it would also win the record-holder many new fans, which has definitely happened in the case of Djokovic. However, there are quite a few dissenting voices being raised through articles, blogs, etc. where he is being deemed undeserving of this No. 1 ranking due to some arbitrary behavioral guidelines that are being set.
Wait, I don't understand. Is this about some sort of contest of personal etiquette being practiced in one's drawing room? Or is it about the passion-filled, emotional rollercoaster world of sport being played at its highest level?
What do people mean when they say that the future of tennis looks bleak in the hands of Djokovic? Is it because they think he is about to embark on a Federer-like run of domination without any real challengers on the horizon, such that the sport may become a one-man show? No, you'd be surprised that they actually call him out for expressing himself and being himself on the courts that he dominates these days.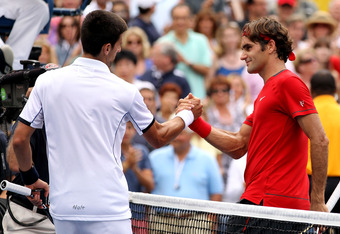 Al Bello/Getty Images
Is it because they have seen Roger Federer and Rafael Nadal show perfect behaviour both on-court and off-court over the last few years? If so, they must have been watching an alternate reality, because as human beings, nobody is perfect.
It is hard to believe someone being upset with aspects of Novak's behavior enough to condemn the sport to hell. Is this all because he likes to play to the gallery and wants a lively crowd? Don't people remember the way Sampras (in his later years) used to look to the crowd for appreciation in a manner very similar to that of Djokovic's "Are You Not Entertained?" hands-in-the-air expression?
Has the Nadal fan-base forgotten that Nadal is one of the world's most gifted users of fist pumps and on-court jumps to express his pleasure at winning crucial points, even against lowly ranked players? Just because Nadal happens to be their favorite player, does this mean that he is absolved of his show-of-emotion during a tennis match?
Has the Federer fan-base forgotten that Federer is one of the sorest losers on the ATP World Tour, who cries in front of the whole world when he loses? One who more often than not, refuses to acknowledge that the other player just might have played better than him on a certain day? Does Roger Federer have some sort of patent or copyright on what 'hard work' entails? Does hard work not entail becoming universally renowned as the best serve-returner seen since the greatest of them all, Andre Agassi?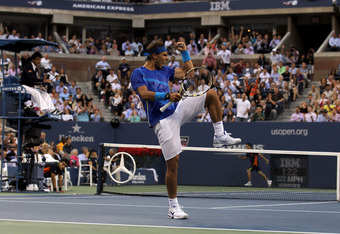 Nick Laham/Getty Images
The way I see it, the loyal fan-base of Federer and Nadal (and probably Federer himself) cannot come to terms with the fact that not only is Novak Djokovic the best tennis player in the world right now, but he is putting up these amazing numbers while seemingly having a bucket-load of fun on the sidelines. Just because Djokovic likes to entertain and does killer impressions of his peers on the tennis circuit, is he supposedly not working hard enough? Does that make him a fly-by-night operator who is not serious about his game? I think not.
If he wasn't serious about ascending to the top, he would not have worked on his serve (cutting down double faults to less than half compared to a year ago), and would not have become more aggressive on-court with his shots, resulting in leadership in return-games won. And who can forget him actually making the effort to sort out his allergies by going gluten-free?
Is it because of Federer's and Nadal's well-to-do backgrounds that they seem more refined in their behavior (read as uptight and without any sense of humor)? Does Novak Djokovic's sense of humor or his ability to charm the media and the crowd with a display of his emotions make him any less of a world No. 1 as compared to Nadal and Federer?
Let's look at how one of the all-time fuddy-duddy sports was radically revolutionized by one person daring to express his emotions and challenge the status quo. Yes, I'm referring to that boring old game of golf where the ascent of Tiger Woods (while difficult for quite a few to digest in the earlier years) with all his emotions laid bare on the course added a breath of fresh air to a sport losing audiences.
Has Usain Bolt not reignited interest in the one-dimensional sport of sprinting? Did Shaquille O'Neal not create his own legacy in the NBA along with his entertaining persona? And finally, is it really some sort of taboo to try and get close to the fans in this sport we call tennis? When NBA and NFL players can high-five the crowd members, why should tennis players remain so aloof and uptight?
Isn't it possible that audiences can relate in the same way to Novak Djokovic, who tends to come across as more 'human' than the current world No. 2 and No. 3? His sense of humor and willingness to try the outrageous might tick some people off, but it certainly makes for compelling, and not to mention, entertaining viewing. It just might be possible that Federer and Nadal fans are unable to accept that Djokovic can actually grow the fanbase for the sport of tennis with a combination of his on-court heroics and off-court "Djoking" around.
As for the argument that he intentionally hindered Federer when he was serving for the match, please refer back to one of the all-time classic Wimbledon finals, i.e. the one from 2001 between Pat Rafter and Goran Ivanisevic. The electric crowd atmosphere and feelers for show of appreciation by the players made it one of the most entertaining Wimbledon finals of all time. And in the end, isn't entertainment what people crave when they buy an expensive ticket for the main show-court at any tennis tournament?
I don't remember people calling out players like Marat Safin, Lleyton Hewitt, and Gustavo Kuerten for playing to the crowd. Is it because these players lost more often than not against the oh-so-holier-than-thou Roger Federer and Rafael Nadal? So it's okay to be entertaining and a show-man as long as you continue to lose against the heroes and put on an imaginary pedestal of 'class'? But the moment one begins to dominate AND have fun doing it, oh the knives are out. What sort of hypocrisy is this?
Another thing I don't ever recall Federer or Nadal doing is actually having the good grace to applaud any sort of extraordinary shot-making by their opponents. On the other hand, Djokovic will go out of his way to applaud any show of brilliance by his opponent, no matter the opponent's rank. Is this not a show of humility and class?
If one takes the example of Djokovic's player-impressions being such an important part of his personality, it is quite evident that corporate sponsors and some open-minded players like Maria Sharapova have actually realized that this is who he is. The recent Head campaign with Djokovic imitating Sharapova would most likely have been impossible with either Federer or Nadal, who see themselves as being above all this behavior.
Let's face it dear reader, an audience would much rather go watch a player with a sense of humor rather than an uptight and unnecessarily wound up player. This especially true if the player with the sense of humor is the better tennis player right now, which I give credit to Rafael Nadal for actually acknowledging, while the great Federer cannot even come to terms with that.
In the end, I would like to suggest, especially to Federer and Nadal fans, to please let the quality of one's tennis do the talking as far as being deserving of world No. 1 status is concerned. We are all different kinds of human beings, and so are tennis players. Roger Federer's serious demeanor is not some sort of benchmark for being considered 'deserving' of being the new face of tennis. As long as Djokovic continues to beat all those he comes up against, there is no reason why he shouldn't be called deserving of the No. 1 rank.