Boston Red Sox: David Ortiz and 5 Players Key to Beating the Rays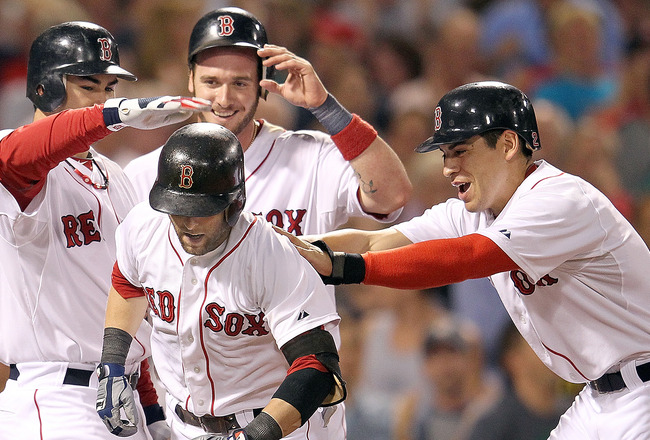 Jim Rogash/Getty Images
It seems like the Red Sox think it is the first week of the season again. Everything is going the wrong way, and they are losing games (not to mention their lead in the AL Wild Card) on what seems to be a nightly basis.
The Sox need to get out of this funk, and they better do it quickly with the Tampa Bay Rays coming to town tonight. Tampa has been on a tear, and now sits only 4.0 games back of Boston in the wild-card race.
What will it take for the Sox to prevail this weekend and hopefully increase their lead in the Wild Card and make up some ground on the Yankees for the division title? A lot of their players will need to perform more than they have, and they need to step up during this pivotal series.
Whether it is their veteran leaders or young guns just coming up, it will take great performances to come out of this series on top. Although I think the entire team needs to play well, there are a few players that need to have a great series in order to give Boston some breathing room for the rest of the season.
Kyle Weiland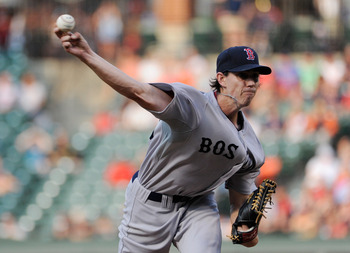 Rob Carr/Getty Images
Although he is not a household name, Kyle Weiland will get the ball in game one of this series. He is only making his fourth start of the year, but the Red Sox need to get a lot out of him because they are facing one of the Ray's best young pitchers in Jeremy Hellickson.
No one expects a complete game shutout from Weiland, but he has to at least give Boston a chance to stay competitive in the game through the first five to six innings. Runs will be tough to come by when the struggling offense faces a dominating pitcher like Hellickson, so they will really lean on Weiland to keep the game at a manageable level.
I think that the Red Sox would be more than happy with their starter going six innings and allowing fewer than three runs. If he does this, it allows Boston to stay within striking distance and hopefully earn a tough win in game one.
David Ortiz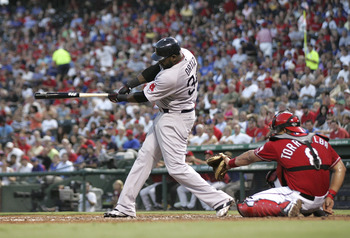 Rick Yeatts/Getty Images
Big Papi has had a great year, and his stats would be even better if he did not have to play against the Rays. This season, Ortiz is batting just .132 against Tampa Bay and has not hit a single home run.
For a player who has an overall average of .313 and 29 dingers, the Sox really need him in the upcoming season to shake off whatever bad mojo the Rays give him.
Ortiz is coming off of an injury to his back, and this hopefully will not hurt his play after a day off Wednesday. He is having a great season not only statistically, but he is a leader of the team and a spark the team needs to play at their highest level.
Papi performs when his team needs him most, just look at his history of playoff and late-inning success throughout his career in Boston. If he is healthy, I expect him to come out guns blazing and have a great series.
Look for his average over the four games to be over .300 and for him to finally hit his first home run against the Rays and his 30th this season.
Josh Beckett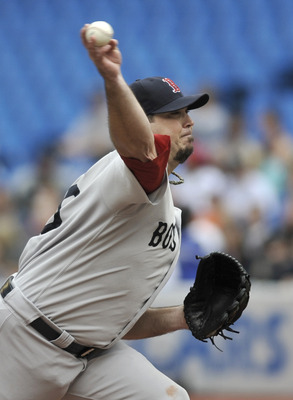 Brad White/Getty Images
Josh Beckett is having a great statistical year again in 2011, but he now has some concern coming off of his ankle injury.
The Red Sox really need the vintage Josh Beckett that they have grown to expect during his time in Beantown, and hopefully he can rise to the occasion as the starter of game two. Unlike Weiland, the Red Sox will expect Beckett to go deep into the game and shut down the Rays (assuming he is healthy).
Boston will lean on Beckett in this game as they're going up against the Ray's ace James Shields. In a low scoring affair, the Sox will look for seven to eight innings out of Beckett and under two runs allowed. I look for the Sox to take this game in a 2-1 campaign.
Adrian Gonzalez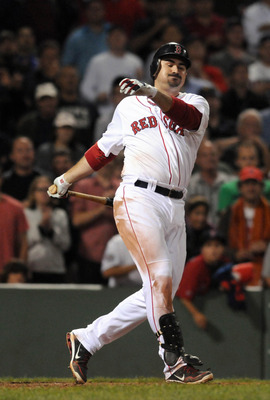 Darren McCollester/Getty Images
Just like his left handed, middle-of-the-order battering mate David Ortiz, Adrian Gonzalez is coming off of injury and struggling mightily against the Rays this season. With a season batting average of .346 this season, it is hard to imagine Gonzalez having a .163 batting average against any team, let alone a division rival like the Tampa Bay Rays.
Gonzalez has reported his injured calf has felt better since leaving the game Wednesday, and I would not be surprised if he was almost fully healthy going into the series. His versatility and ability to not miss a lot of games is one of the reasons the Red Sox were willing to pay so much for his services.
If Boston wants to have any chance in this series, they need a spark from their version of the bash brothers, and I think Gonzalez and Ortiz are both up for the challenge. If Gonzalez has a big series, it is just another reason for Red Sox Nation to love him and praise Theo Epstein for doing what he needed to do in order to get Gonzalez on the club.
Daniel Bard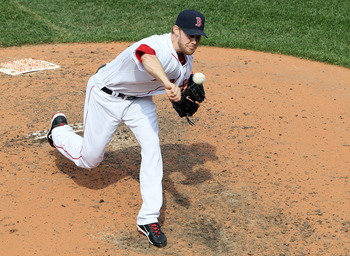 Elsa/Getty Images
Daniel Bard has probably had the roughest month of his baseball career heading into this series, and we are barely two weeks in. Since Sept. 1, Bard has pitched 4.2 innings and given up nine earned runs.
He has seen his ERA jump from 2.03 to 3.11 in his last five appearances, and has shown no real signs of improvement.
This is as big a series for Bard as it is for the Red Sox. He is the set up man and bridge to Jonathan Papelbon, and the Red Sox will need him not only if they make the playoffs but also in their battle to the playoffs.
He has had a great season, but he needs to figure out his problems and hopefully he will be able to do it during this series.
With two of the Red Sox aces in Beckett and Lester going during the series, they will need Bard for the 8th inning after both starters hand them a lead. It will be up to Daniel to hold the lead and give the ball to one of the greatest closers in Red Sox history.
If all these pieces fall into place, I see the Red Sox winning three out of four in the series and giving themselves a little more breathing room atop the AL Wild Card.
Who knows, maybe the Yankees will hit a rough patch and the Red Sox will be able to get back into the division race as well. Here's to a great series and weekend for baseball.
Keep Reading

Boston Red Sox: Like this team?