Week 2 Fantasy RB Rankings: Top-20 Analysis with a Few Stark Surprises
September 15, 2011
Week 2 RB Player Rankings
brought to you by pyromaniac.com
Rankings for QBs, WRs, and TEs
Click here for RBs ranked 21-50
20. Chris Johnson (vs Bal)
 For Chris Johnson's sake, and more importantly, for the sanity of his fantasy owners, I hope Mike Munchak learned his lesson.  I don't care if CJ2K held out until five minutes before game-time before signing his contract—rushing him nine times against that Jacksonville defense is inexcusable and grounds for termination.  I'm expecting at least 20 touches for Johnson against the Ravens this weekend, possibly more, but I can't advocate him as more than a low-end RB2 against this Ravens defense.
19. Mike Tolbert (@ NE)
 I'm not going to say it was a total surprise to see what Tolbert did last Sunday, but three TDs and 93 total yards was certainly better than expected.  Whether this game against the Patriots turns into a shootout or not, I expect Tolbert to get somewhere around 20 touches again either catching balls out of the backfield or pounding it on the ground in an effort to keep the ball away from New England's offense.  Either way, he looks to be a solid play as a RB2 going into this Sunday.
18. Felix Jones (@ SF)
 Felix had himself a tough first weekend, but owners shouldn't be discouraged just yet as the Jets have themselves a pretty formidable D.  Not just that, but for some strange reason, the Cowboys coaching staff kept running Jones into the line instead of getting him the ball out in space where he can do the most damage.  My guess is this doesn't happen again, but I still wouldn't expect too much this weekend against a hard-core 49ers rush D.
17. Tim Hightower (vs Ari)
 It looks like Tim Hightower is a little better of a player than people have given him credit for both fantasy-wise and in reality.  Last week against the Giants, Timmy amassed 97 total yards and one TD on 28 touches, numbers I'm sure any fantasy owner would like to see out of their RB2 slot.  This week Hightower will be facing an Arizona defense that looks pretty beatable on a weekly basis, so don't be afraid to use him as your RB2, especially in PPR leagues.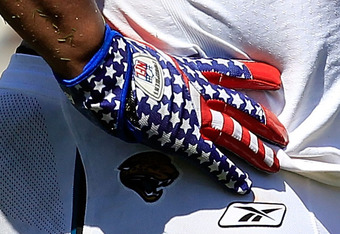 Sam Greenwood/Getty Images
16. Fred Jackson (vs Oak)
 Steady Freddy is one of the more underwhelming starting running backs in the entire league, but plain and simple; the guy performs.  Last week he put up a solid 112 yards on the ground against Kansas City and will have a chance do so again this weekend against the Raiders.  Is he a sure bet to score you fantasy points each week?  Not really, but he could shape up as a solid RB2 play against a middling Oakland D this weekend.
15. Maurice Jones-Drew (@ NYJ)
 Even though he slimmed down 15 pounds this offseason, MJD is still a wrecking ball who can put up some major fantasy points in a hurry.  However, this Jets defense is pretty stingy in every facet of the game, so I'm not expecting too much here.  Playing in New York is pretty tough and the Jets will likely go up early.  If that happens, the Jags will need to throw the ball more in order to stay in the game, thus sapping a bit of Jones-Drew's fantasy potential.
14. Ahmad Bradshaw (vs StL)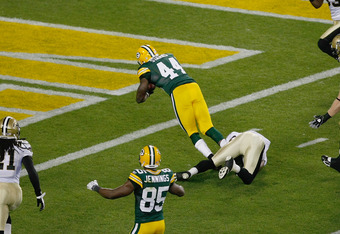 Scott Boehm/Getty Images
 The Giants realize their passing game isn't quite up to snuff yet so in an effort to take the pressure off of Eli Manning, they'll turn to the running game more than usual this weekend against the Rams.  The New Meadowlands Stadium can be a very hostile and inspiring environment, factors which usually get Bradshaw up to play his best games.  If they continue to feed him the ball in most every situation, he could bust out for a top-ten fantasy day this Monday night against a banged up St. Louis D.
13. James Starks (@ Car)
 I have a sneaky suspicion the Packers are going to light the Panthers up early in this one and then turn the game over to James Starks to see what he can do.  After seeing Beanie Wells run roughshod over that Carolina D last weekend, I'm convinced the Packers second-year back will be able to do the same after watching him against the Saints in the season opener.  Anyone who watched that game knows that Starks is already a better option than Ryan Grant; and I believe Green Bay will give him a chance to prove it this weekend.
12. Arian Foster (@ Mia)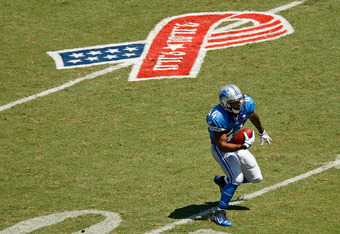 Mike Ehrmann/Getty Images
 Foster came back to practice on Wednesday and looks primed to start the game against the Dolphins this weekend.  How much work he'll get in his first game back remains to be seen, but in this Houston offense, he may only need 15 or so touches to make a fantasy difference for your team.  Don't expect last year's numbers right away, but you can at least feel safe getting him back into your starting fantasy lineup.
11. Jahvid Best (vs KC)
 This could end up one of the more exciting games to watch this weekend with Jahvid Best lining up on one side of the ball and Jamaal Charles on the other.  Add to the electricity the fact that they'll be playing indoors on the Ford Field turf and you've got a scorcher of a match-up to pay attention to.  The Chiefs couldn't stop Fred Jackson from putting up 112 yards on 20 carries last weekend, so Best is a good bet to break at least one long run off and possibly more on Sunday.
10. Cedric Benson (@ Den)
 My disdain for Cedric Benson knows no bounds, but I can't see a way he doesn't put up some nice fantasy numbers against this awful Denver rush D in Week Two.  The Donkeys gave up the most rushing yardage in the NFL last weekend (191 yards) while Benson is nearly a sure bet to see 25 or so carries.  Get him in your lineup if you have him.
9. Michael Turner (vs Phi)
 It's likely the Falcons won't be able to pass the ball effectively against this Eagles secondary on Sunday, and if so, they'll need to turn to "The Centaur" in order to move the chains.  Philly gave up 206 total yards (157 rushing) to the Rams RBs last weekend, a strategy Atlanta may try and copy in an effort to keep the ball out of Michael Vick's hands.  Since coming to Atlanta in 2008, Turner has averaged 97.5 yards rushing at home in the Georgia Dome while putting up 24 TDs in 21 games.  He's definitely a safe bet as an RB1 for your team this week.
8. Matt Forte (@ NO)
 Underrated and underpaid, Forte just keeps on racking up the numbers while driving up his eventual price for the Bears brass.  He looked as healthy and fast as ever against the Falcons in Week One and I suspect will look even quicker on the turf in New Orleans this weekend.  The Bears will need his versatility on Sunday if they want to win the game, so I expect at least 20 touches and some good numbers to come out of it for his efforts.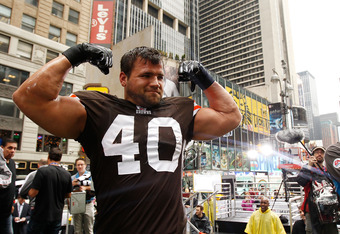 Mike Stobe/Getty Images
7. Rashard Mendenhall (vs Sea)
 Everyone on the Steelers should have a field day against the Seahawks this Sunday, and Mendenhall could be the one leading the pack.  Pittsburgh has to be pretty pissed about that loss to the inter-division Ravens in Week One and I suspect will let loose some anger on Seattle.  Big Ben will have his fantasy fun, as will his receivers, but Mendenhall could see a good 25-30 carries in what should be a blow-out victory for the Steelers.  After putting up a measly 45 yards on 12 carries last week, Rashard is looking for some payback.
6. Peyton Hillis (@ Ind)
 Hillis was a workhorse for the Browns in Week One, receiving 23 touches in their loss to the Bengals.  Don't look for this to change against the Colts this weekend just because the team lost and honestly, I expect his usage to rise.  Indy couldn't stop Houston's backup running backs for a second last Sunday and I can't see their ineptitude changing in one week of practice.  This has the looks of a bang-it-out game which is, of course, the Big Twinkie's strong suit.  Bet on Cleveland's version of Peyton going off this weekend.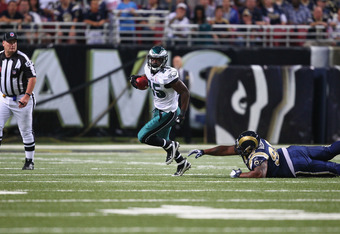 Dilip Vishwanat/Getty Images
5. Jamaal Charles (@ Det)
 From what we saw in their Week One disaster against the Buffalo Bills, the Chiefs may be in a bit of trouble this season, but it's not because of Jamaal Charles.  The kid is still as electrifying as ever and will get to show his stuff indoors against an improved, though not dominant Lions defense.  For the Chiefs, the best way to put a notch in the win column is to get the ball in their best player's hands and let talent rise to the top.  Jamaal Charles will get 20+ touches because of it, which is all he really needs to go ballistic fantasy-wise.
4. LeSean McCoy (@ Atl)
 As we saw last week in St. Louis, LeSean McCoy is every bit as fast as speedsters Chris Johnson and Darren McFadden.  Speed has a tendency to rise to the top when playing in a dome, which is exactly where McCoy will be again this week in Atlanta.  LeSean pretty much matched Ray-Ray's numbers from Week One putting up 137 total yards (122 rushing) and two combined TDs—I expect he'll do the same against a Falcons D that just lost their best defensive tackle in Jonathan Babineaux.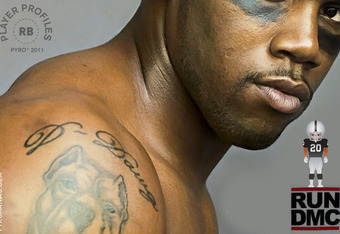 3. Ray Rice (@ Ten)
 No doubt fantasy owners had Ray Rice high on their draft lists before the season started, but who really thought he could have the game he put up against the Steelers last weekend?  149 total yards (107 rushing) and two combined TDs against a top-tier defense like Pittsburgh's is pretty sick and wrong.  With Joe Flacco tossing the ball around to an improved set of receivers, along with fullback Vonta Leach opening holes as his lead back, there's no telling how good Ray-Ray will be this season.  The Titans won't be able to stop him, that's for sure.
2. Darren McFadden (@ Buf)
 If anyone has a chance to put up 2,000 rushing yards this season, it's McFadden (Run DMC2K anyone?).  150 yards in his first game was a good start, but it's possible he does even better against a Bills rush D that could be worse than the Broncos were in Week One.  Oakland doesn't have much in the way of a passing game at this point, so it's a good bet Run DMC touches the ball at least 20-25 times again.  If that happens, it wouldn't surprise me to see over 200 total yards and a TD or two by the end of the game.
1. Adrian Peterson (vs TB)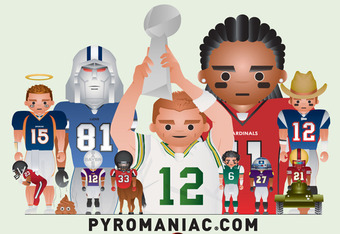 Sunday will be the Vikings first trip back to the Metrodome since the roof collapsed on December 12th of last year, so I expect there will be a little bit of excitement in the air.  Purple Jesus not only thrives on big moments like these, but he's also a fantasy beast at home.  Since joining the league in 2007, Peterson has averaged 106.3 yards rushing while putting up a total of 28 TDs in those 30 home games.  Basically, he's a monster, and against a Tampa Bay defense that ranked in the bottom-five last season in rushing yards allowed per game, he should be able to eclipse those averages once again.
Week Two rankings for QBs, WRs, and TEs
Click here for RBs ranked 21-50
Follow Pyro® on Twitter:  https://twitter.com/pyroman1ac
Follow Pyro® on Facebook:  http://www.facebook.com/pyromaniac