2011 NFL Survivor Pools: Week 2 Picks and Analysis
September 15, 2011
Jared Wickerham/Getty Images
What we learned from week one:
Cam Newton can play. The Chiefs cannot. Tom Brady is filthy. Donovan McNabb is not. The Colts, Giants and Vikings are in for a long season, and the Steelers are vulnerable.
Overall, it was a treacherous opening weekend that saw many people drop like flies from their respective pools. For some, a buyback option will be put to use sooner than expected and for others, see you next year. Many were smart and had a stress free day with the Texans and Patriots. Others, who picked the Chargers or Cardinals, you lucked out, but hey, you can't win this thing without a little bit of luck (cue the lottery guy with the big head from the commercials).
This week there are a few solid choices and a lot of games to stay away from. Do your research, trust your instincts and you will live to see week three.
Week 2 Games I Like:
Steelers over the Seahawks 
Honestly, can it get any worse for Big Ben and company than last weekend's shredding by the Ravens? There is only one place to go, and that is up. Pittsburgh will not turn the ball over seven times this week. They will not allow 141 yards rushing. They will not allow the opposing quarterback to pick them apart. Seattle does not have the firepower that Baltimore did, and if this is truly the decline of the Steel Curtain, take them now against a weak Seattle team before you miss your opportunity.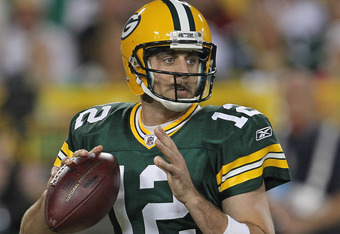 Jonathan Daniel/Getty Images
Packers over the Panthers
We knew Cam Newton can play from his Auburn days, and he proved it to us once again in Week 1. This time, he was allowed to receive monetary compensation for his performance. However, while people were busy basking in his rookie Week 1 passing record of 422 yards, they neglected to realize that his team lost the game. Cam had a chance to tie, or perhaps win the game if they felt so inclined, in the last few minutes and failed. The Panthers had 1st and 10 on the Arizona 11 and Cam threw three incomplete passes. He was given a second chance via a Cardinals penalty and still did not convert. The Packers will not let this happen. They are too strong on both sides of the ball. Cam may put up huge numbers again, but that will only be because GB will be up big and Carolina will throw the ball every down.
Ravens over the Titans
Headline on Wednesday, "Chris Johnson Looking to get in Groove." A quote from Chris Johnson on Wednesday, "You could blame it on the whole offense. We didn't stay out there on the field and do what we were supposed to do and keep the drive going. I'm sure if we had kept the drive going and stayed out there longer I would've had more carries and things like that." Should've gone to training camp. Good luck against the Raven's defense Mr. Moneyball. Ravens take this one comfortably.
Jets over the Jaguars
Mark Sanchez was not at his best on MNF against the Cowboys, but the Jets defense and special teams stepped up to cover him. That's what a good team does, pick up your teammates. Despite his struggles in the fourth quarter, he still ended up with a decent stat line of 355 yards and two touchdowns. Rex Ryan's boys will be at home again, and will have had a week to fix their flaws. Jets win big.
Lions over the Chiefs
Want a risk pick? Here it is. Week 2, and you are feeling lucky. Here it is. Always picking in favor of the home team and a powerful offense? Here it is. With the exception of the shot of Matthew Stafford hobbling off the field last weekend, he looked spectacular, as did Calvin Johnson. The Chiefs on the other hand, well, a lot of people are out of their survivor pools already because of them. Cassel looked slow and unimpressive, Charles wasn't able to break off any big runs and KC's leading receiver had 26 yards. This is not a bad pick. The Lions are for real this year, and will show us again on Sunday.