NFL News: Marques Colston, Arian Foster and the Lastest Injury Updates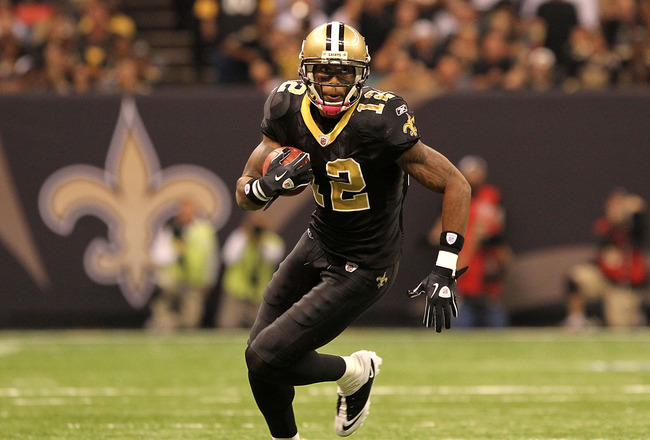 Matthew Sharpe/Getty Images
Week 1 was a phenomenal start to a great season that seems full of promise. Many teams have already been challenged severely due to major injuries, like the New York Giants and the Denver Broncos.
Many analysts predicted that there would be more injuries than usual this season, due to the short time of preparation that players received because of the lockout. For the most part, you can say the amount of injuries are in the same ballpark as recent years. However, there seem to be many more key players that have suffered from injuries than normal. Marques Colston, Arian Foster and Hakeem Nicks just to name a few.
Who hurts the most from these key injuries? Fantasy football owners. The loss of Marques Colston until Week 6 doesn't only hurt FF owners that obtain that player, it also affects owners that have Drew Brees on their team, since Colston is a major contributor to that offense. It's the same issue with Hakeem Nicks and Eli Manning. Having said that, the star wideout is likely to return on Monday for the Giants' Week 2 battle against the St. Louis Rams.
Stay familiar with some of the most recent injury updates surrounding your favorite NFL players.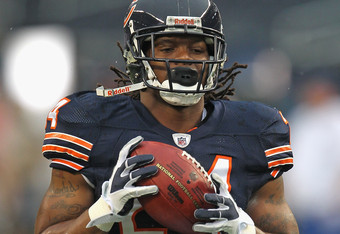 Marion Barber missed Chicago's opening game to recover from a lingering injury. It was thought that he would miss Week 1 and be ready to go against the Saints the following game. Not so fast.
Barber returned to practice on Wednesday, with a limited load, but was held out on Thursday. There has been no official confirmation of Barber missing Week 2, but it is highly likely after his performances in practice.
Although Barber is only owned by 5.4% of ESPN fantasy football owners, this is valuable information because of the fact that Barber may be falling out of his prime and may not be worthy of adding to your squad.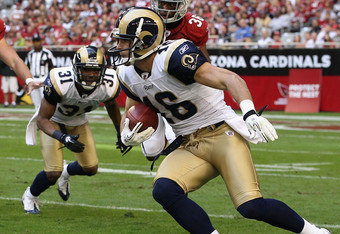 After dislocating his elbow, it was thought that Danny Amendola would be out indefinitely. Not the case. Amendola could be back in action as early as Monday Night for St.Louis' matchup with the New York Giants.
The promising young receiver told reporters, "I've been healing pretty fast, it's just the severity of what happened inside. I'll be back soon enough. I can catch,, I can move it around. It's just a little bit of instability on the sides." Although Amendola didn't say there was a chance he'd play in Week 2, he also didn't rule it out.
If Amendola is on your fantasy roster you should put him on the bench for now, but if news does indeed arise that he'll be playing on Monday Night an immediate change should be made. If he can fully recover and remain healthy Amendola will have a huge season.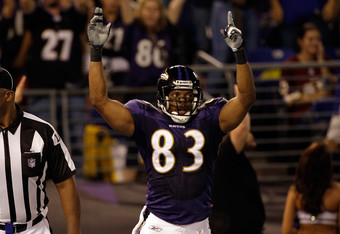 In the season opener, Lee Evans was targeted four times and didn't make one catch. But, there is a reason. Evans seems to still be fighting the ankle injury he sustained in the preseason.
Not only did he miss practice on Wednesday, but he had a protective boot on his left foot. Although he's not ruled out for Week 2, I would begin to replace Evans if he is on your fantasy roster. Nobody on the Ravens is really saying anything about the injury, including Lee, so you can expect him to miss this week's matchup against the Tennessee Titans.
Lee has been beginning to fall out of his prime. If he can't get healthy quickly and return back to his 2006--2008 ways, than Evans' career may be over after this season.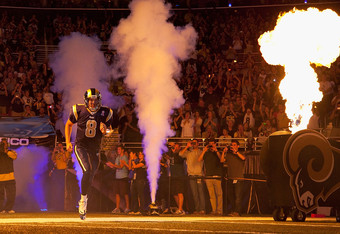 Sam Bradford suffered a small injury to his right index finger this past Sunday, against the Philadelphia Eagles.
X-rays taken of the emerging young quarterback's finger came back negative, and Head Coach Steve Spagnuolo specified the injury as a bruise. WR Mike Sims-Walker was proud to boast about his quarterback's quick recovery on ESPN 101-St. Louis' The Bernie Show, in which he said that Bradford "threw the ball pretty well".
Bradford has told the press that he intends to play on Monday night. Even though Justin Tuck is expected to return for the Giants next week, starting Bradford next week is the smart decision unless you have a quarterback like Tom Brady or Drew Brees. The second year pro had a solid outing against the Eagles, despite earning the loss, so he should be able to handle the injured Giants.
The only problem is that his top playmakers, RB Steven Jackson and WR Danny Amendola, are both expected to be out due to injuries. Still, Bradford will have a stellar game on Monday night. Stay tuned.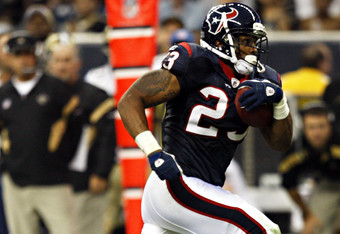 Houston Texans starting runningback Arian Foster returned to practice on Wednesday, taking a full load of workouts. Foster took Week 1 off with a strained hamstring to make sure he returns at full strength.
Even though Ben Tate had an outstanding performance last week against the Indianapolis Colts, you can expect Arian Foster to get his usual number of carries.
Head Coach Gary Kubiak told the press that "Everything was positive", concerning his star runningback. Also, Nick Scurfield, of the Houston Texans official website, wrote "If he [Foster] can play, you play. There won't be 'being careful' with him."
Although many analysts will be sure to critique that decision, fantasy football owners who have Foster on their squad have to be ecstatic.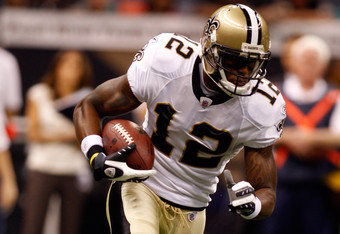 Marques Colston suffered an injury to his collarbone in New Orleans' Week 1 loss to the Green Bay Packers. Before sustaining the injury Colston was having quite a game, making six receptions for 81 yards.
Colston told New Orleans Times-Picayune beat writer, Jeff Duncan, that the injury to his collarbone was a small fracture, and a small plate was inserted during a brief surgery that will help the healing process. Colston is expected to miss the next four weeks of action, with Week 6 as his return point when the Saints will go on the road to take on the Tampa Bay Buccaneers. For fantasy owners that have Colston, it wouldn't be a bad idea to place him on the IR and pick up one of his teammates, such as Devery Henderson or Adrian Arrington.
Henderson has already proven that he can be a dominant force in past performances, while Arrington is a tall, versatile young gun who has a ton of potential. Henderson would be the safe pick-up, but the risk of adding Arrington to your squad for the time being could bring high rewards.