Fantasy Football Week 2 Quarterbacks: Who to Add, Drop and Ignore
September 15, 2011
Christian Petersen/Getty Images
Week 1 is in the books, and I often find quarterbacks to be the most frustrating position in fantasy football.  Everything from the health of the offensive line to the focus of the wide receivers can have a direct effect on the numbers your fantasy QB posts each week.
Best thing to do after one week, however, is not to panic if your planned starter didn't do well.  It's also not time to dust off your trophy case just yet, either, if you have a guy who killed it last week.  
That being said, let's take a look at the quarterbacks that might be on your radar screen going into Week 2.
PICK-UPS (i.e. go get these guys)
Cam Newton (Carolina Panthers)—Let's be realistic.  Yes, Cam Newton was electric in college.  Yes, Cam Newton had a great NFL debut that nobody could predict.  No, he will not do this every week.  There will be some issues against actual NFL defenses (Arizona's secondary doesn't count), and while his scrambling ability could help gain more points for you on the ground, it also puts him in harm's way for injuries.  
Grab him if you can still do so (still on the wire in 28 percent of Yahoo! leagues as of this writing), but don't expect him to be your guy just yet.  Keep an eye on him, however, especially during bye weeks for your planned starter.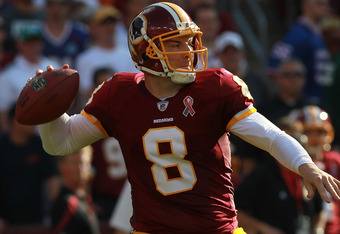 Ronald Martinez/Getty Images
Rex Grossman (Washington Redskins)—Shocking for me to post him here, as I've always been a strong critic of the man.  However, I've liked what I've seen out of Washington in the preseason and now the opening game.  Grossman looked better than ever, and the steady ground game diet of Tim Hightower should keep his receivers open.  If you were a Peyton Manning owner who's been depressed, this might be your guy.
A whopping 84 percent of Yahoo! leagues still have Grossman on the bench.
Ryan Fitzpatrick (Buffalo Bills)—Fitz isn't going to give you four touchdowns week after week, and yes, we are talking about the Buffalo Bills.  Bottom line, however, is that the Bills offense is very fantasy football friendly, and Fitzpatrick is going to be a good unexpected QB to have this year just as he was for much of last year.
He's currently taking a seat in 42 percent of Yahoo! leagues.  Another good choice for Peytonites who need someone.
IGNORES (i.e. don't jump the gun)
Josh Freeman (Tampa Bay Buccaneers)—Freeman didn't light the world on fire in Week 1, but I still like him to be a top 10 quarterback this year.  You should, too.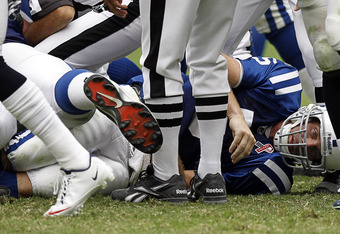 Bob Levey/Getty Images
Chad Henne (Miami Dolphins)—416 yards and three scores Monday night?  Correct.  Now that he's gotten that out of his system, you won't want him to start for you, though maybe he could be your backup since he's capable of doing this once in a while.
DROPS (i.e. send them home)
Kerry Collins (Indianapolis Colts)—Kerry had a pretty bad day.  He didn't look like he had come out of retirement, and he shouldn't be on your roster.  Only a matter of time before he gets hurt or benched playing like that, and defenses are going to do their best to ensure that happens.
Peyton Manning (Indianapolis Colts)—Yes, I am saying this.  Having busted my neck myself, I can assure you that Peyton playing again this season is a long shot, and even if he does, he won't be Peyton Manning.  Best to have a roster spot for someone who will actually help your team in 2011.