College Football Week 3 Preview: Gators, Tigers, Noles and Canes
September 15, 2011
Ronald Martinez/Getty Images
After a fairly nutty second week of the season, where we saw Michigan win in the last second, a wild game in Georgia and Penn State get abused for the second year in a row by Alabama, it's Week 3.
Things start in earnest—as seems the usual these days—on Thursday with LSU's trip to Mississippi State. Then, on Friday, Boise State's BCS hopes travel to Toledo. And Saturday? Florida State plays its biggest game in years at home to No.1 Oklahoma, Ohio State rolls in Miami and then there's that small hate-fest between Tennessee and Florida in Gainesville.  
Anyway, here are our predictions.
Thursday
LSU at Mississippi State 
When the schedule came out, everyone was pretty excited about LSU's trip to Cowbell Country to play Mississippi State, thinking: Upset, upset, upset! Remember, this was the place where LSU pulled off a last-second goal-line stop to end the chances of the Bulldogs a few years ago.
The good news for the Bulldogs is LSU's defense can't play any better than it did against Oregon. Plus, Mississippi State has Vic Ballard, who is still a machine. And, it's going to be noisy as hell in Starkville.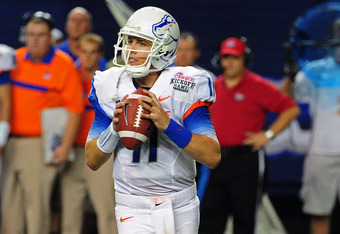 Scott Cunningham/Getty Images
PREDICTION: It's going to be close, but LSU wins by seven.
Friday 
Boise State at Toledo
Toledo isn't a bad team. They really aren't. They frightened the Buckeyes out of Ohio State at the Horseshoe on Saturday, so Boise State had better be afraid as they wander into Bancroft on Friday night.
Boise State will be favoured to win by 17 points, but you can't help but think it's going to be closer. Although, if Kellen Moore has the sort of surgical day he did against Georgia, things might be over by halftime. 
PREDICTION: Boise by 14 in a game closer than people expect.
Saturday
Oklahoma at Florida State
The game of the day sees No.1 Oklahoma traveling to No.5 Florida State for the biggest game in Tallahassee since Miami's visits in the 1990s.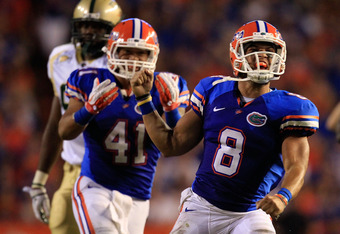 Sam Greenwood/Getty Images
Florida State is the predictable underdog at home (by four points, if you're counting), but people are trusting in E.J. Manual to pull of the upset.
This game's going to be played between two very, very fast teams—although, how will Noles CB Greg Reid be able to combat QB Landry Jones and his incredible wide receiver Ryan Broyles? 
PREDICTION: Oklahoma wins by seven in a classic. 
Tennessee at Florida
Both sets of fans are feeling re-ignited after great starts to the season. Tyler Bray and Justin Hunter are exciting Vols fans, while Florida's Demps-Rainey pairing is causing the Blue and Orange to chomp at the bit.
The atmosphere's going to be awesome in the Swamp for this one and Florida is favored by around 10 points. This is going to be a battle—which is not unusual for SEC country.  
PREDICTION: Florida by 10.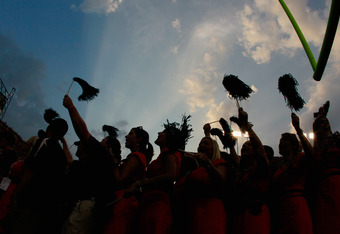 Kevin C. Cox/Getty Images
Michigan State at Notre Dame
Still hurting, Notre Dame? Well, Touchdown Jesus is back on its feet after the most heartbreaking TD for the program in years last week.
Michigan State will come to South Bend as the favorites, bearing in mind the excellence of QB Kirk Cousins and freak-show running backs Edwin Baker and Le'Veon Bell, but Notre Dame—who is a five-point underdog in its own house—should not be overlooked. 
PREDICTION: Notre Dame beats Michigan (State, that is!) by three.
Ohio State at Miami
The NCAA Bowl between these two rivals should be an exciting one to watch now that both sides slowly but surely are bringing players back from the enforced sidelines. Miami was pretty impressive despite having a reserve side out at Maryland, while Ohio State really wasn't in their last game against Toledo.
This should be fun. 
PREDICTION: Ohio State wins by five.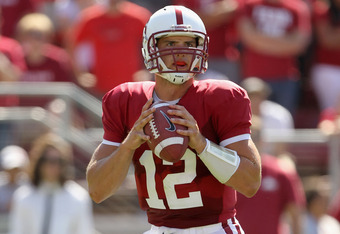 Ezra Shaw/Getty Images
Auburn at Clemson 
Death Valley is going to be a wall of noisy Orange as the No. 21 national champion Tigers roll into town for what everyone hopes will be a replay of the nutty 2010 encounter.
This year Auburn has somehow survived to stay 2-0, while Clemson, a three-point favorite, has equally struggled, barely squeezing past Wofford. There is a ton of speed on both sides—and little defense. 
PREDICTION: Clemson wins by seven in a classic that comes down to the final drive. 
Texas at UCLA
Texas has been a bad 2-0, but the Case McCoy-Jackson Shipley hookups in the BYU victory have given many a Longhorn fan hope for the future. Both players are really rather good. They face a UCLA side that lost at Houston, 38-34, before overcoming San Jose State, so we don't know what to think. 
PREDICTION: Texas wins by 10 to go 3-0, but is anyone convinced?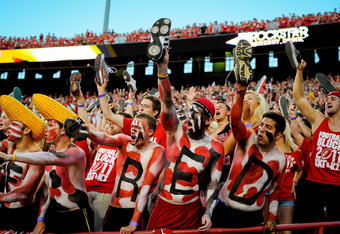 Eric Francis/Getty Images
Stanford at Arizona
Night games in Arizona are the sort of thing that frighten sides, but Stanford—a 10-point favorite—shouldn't be. It's probably because they've got the consensus NFL No.1 draft pick at quarterback in Andrew Luck, and because Arizona's defense was horrific against Oklahoma State.  
PREDICTION: No Luck in this. Stanford rolls by 21. 
Penn State at Temple
Penn State is still in a state of flux. Everyone but Joe Paterno seems to want Rob Bolden to start at quarterback at Temple, yet there seems to be a bit of trust in Matt McGloin from the "very old ball coach."
Frankly, we don't think we'll see a lot of these two, as Silas Redd will get the ball and probably run for 150. 
PREDICTION: Penn State by 21.
Navy at South Carolina
Navy has played nobody and is 2-0, while South Carolina, an 18-point favorite, just got away with victory at Georgia in a 45-42 classic.
South Carolina's defense caused hell on turnovers last week, scoring with a fumble return and interception return, and we don't think Navy will be able to stop Alshon Jeffrey. But one major question is will they be able to stop Navy's triple option?  
PREDICTION: Yes. South Carolina by 21. 
Arizona State at Illinois
After a cathartic victory over Missouri in front of a "black-out" crowd at Sun Devil Stadium, the now-ranked Sun Devils roll into Illinois with the possibility of a letdown on everyone's lips.
Jason Ford and Troy Pollard could cause havoc on the deck for Arizona State, who will be hoping beastly linebacker Vontaze Burfict will be fully okay after having to come off early against Missouri.
The Devils will also have to mature on the penalties side, which extended Missouri's drives all night long.  
PREDICTION: Illinois by three in an upset. 
Washington at Nebraska
This game has been talked about as an exciting prospect, but we don't see any way how Taylor Martinez and Nebraska's offense can be stopped—especially with the mood they're in. The Huskies defense didn't exactly make believers out of us last week after faltering against Fresno State, and Washington in a hostile environment? Puhleeze. 
PREDICTION: Nebraska by 21. 
West Virginia at Maryland
Maryland had ugly uniforms, but played a pretty game against Miami. West Virginia has prettier uniforms, but has played ugly so far this season.
The game's in Maryland, which should be off the hook—despite the fact that it's only a mid-day kick off.
PREDICTION: Maryland pulls off the upset, winning by three.