NFL Predictions Week 1: The Results
September 15, 2011
Doug Pensinger/Getty Images
Atlanta at Chicago
Prediction: Atlanta 21, Chicago 20
Atlanta is favored by two points in this game. I can't really argue with that call, but I don't think you go into another team's home field on opening day and expect an easy game. I will call this one even.
Result: Chicago 30, Atlanta 12
Well, the idea that Atlanta would not have an easy time in the Windy City was correct, but thinking it could win was definitely wrong. I don't get too excited about any team the first week of the season, but what Chicago did was impressive.
Buffalo at Kansas City 
Prediction: Kansas City 24, Buffalo 10
If the Chiefs do not win this game, they should call it a season. It is the first game of the new season and the first home game for the Chiefs. By every standard, the Bills are a sub-par team when compared to the Chiefs. Officially, the Chiefs are six-point favorites.
Result: Buffalo 41, Kansas City 7
As I stated above, I don't get too worked up after the first week of the season, but this was a big disappointment for a team that I expect to repeat as AFC west champs. The loss of Eric Berry does not help, and the defensive squad as a whole is going to have to get its act together in order to keep this game from being a harbinger of bad things to come.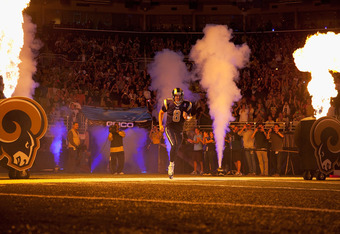 Dilip Vishwanat/Getty Images
Philadelphia at St. Louis 
Prediction: Philadelphia 42, St. Louis 10
The Eagles look like a team that will win every game. The game is in St. Louis, and the Rams were a much better team last season than expected, but it doesn't matter. The Eagles will probably dominate this game to the point that people will start to feel sorry for the Rams. The official line is the Eagles by four. How about the Eagles by 40!
Result: Philadelphia 31, St. Louis 13
Not quite the blowout I predicted, but a blowout the same. This might be the story for every team to have the misfortune to play the Eagles this year.
Indianapolis at Houston
Prediction: Houston 30, Indianapolis 13
The question is simple: Without Peyton Manning, are the Colts still the Colts? The answer is also simple. No! The Colts' first game of the season is on the road against a team (the Texans) that should compete for a playoff spot without their starting QB. The Colts will lose, and lose big.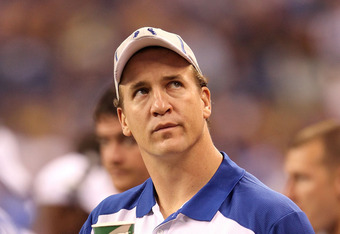 Andy Lyons/Getty Images
Result: Houston 34, Indianapolis 7
I would like to say that I am that good at predicting the NFL. No, the first two prognostications on this list prove that possibility wrong. Yeah, I got the score pretty close, but what I really got right was that the Colts are not a good team without Peyton Manning.
Cincinnati at Cleveland 
Prediction: Cleveland 24, Cincinnati 7
The Bengals might be the disaster team of 2011. Enough said.
Result: Cincinnati 27, Cleveland 17
I still think the Bengals are a disaster, and it will only take a few weeks to see if that prediction is correct. Maybe the Browns are the real disaster, but again, it is only Week 1.
Detroit at Tampa Bay 
Prediction: Tampa Bay 28, Detroit 14
I hear a lot of talk about the Lions this year. There are some teams in the NFL that never seem to be able to put it together. The Lions fit that mold.
The Buccaneers, however, missed the playoffs last year with a 10-6 record. This game is in Tampa Bay. The Bucs are ready to show the league they deserve to be a playoff team. I'm sorry—the Lions are not ready for this matchup.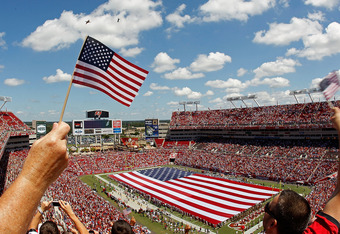 Mike Ehrmann/Getty Images
Result: Detroit 27, Tampa Bay 20
The Lions will have to prove to me they have what it takes to win. They did enough today, didn't they?
Tennessee at Jacksonville 
Prediction: Jacksonville 17, Tennessee 14
I think this game matches up two pretty similar teams that will not be good enough to make it to the postseason. This one goes to the home team.
Result: Jacksonville 16, Tennessee 14
Is it genius or luck? Don't look up, and don't look down...
Pittsburgh at Baltimore 
Prediction: Pittsburgh 31, Baltimore 24
In my mind, this is the best game of the week. Baltimore may have a home-field advantage, but if the Steelers get on any kind of a roll, the crowd will not be able to make up the difference. This should be close, but the Steelers are a better team.
Result: Baltimore 35, Pittsburgh 7
There is one thing that was obvious about this game: The Steelers did not get on any kind of roll.
Carolina at Arizona
Prediction: Arizona 14, Carolina 10
The Panthers are at the bottom of the league; however, the Cardinals are not much better. The Cardinals are at home and the first game of every year has every team full of hope. The Cardinals get this one on home-field emotion only.
Result: Arizona 28, Carolina 21
Looks like I underestimated both teams. I was near perfect, by half.
Minnesota at San Diego 
Prediction:  Minnesota 17, San Diego 10
It is pretty much written in stone that the Chargers will win this game. Minnesota has a pretty good defense and Adrian Peterson, but that is not enough against a team like the Chargers that had the No. 1 defense and the No. 1 offense last year.
Funny thing is, having the No. 1 offense and defense last year did not do the trick. It takes more than numbers to win in the NFL.
Result: San Diego 24, Minnesota 17
I will not comment much during the first couple of weeks of the season, but the Chargers played this game right.
Seattle at San Francisco 
Prediction: Seattle 20, San Francisco 16
Seattle got way more out of a bad record last season than any team should ever get. However, be that as it may, the emotional ride of last year's playoffs may last for several games into this season.
Result: San Francisco 33, Seattle 17
To all the 49ers fans, don't let this one go to your head. On the other hand, it will be easy for any team in this division to get to the post season, again!
NY Giants at Washington 
Prediction: NY Giants 27, Washington 17
The Redskins have too many negatives to believe they can win any game, even a home game. Bad karma is hard to overcome, and what happened with Donovan McNabb last year will stay with this team for a while. Mike Shanahan is not in Denver any longer.
Result: Washington 28, NY Giants 14
First week or not, how can Giants fans feel good about this one?
Dallas at NY Jets 
Prediction: Dallas 24, NY Jets 21
The Cowboys are a good team, and last year was an unfortunate fluke. Can they prove last year was an anomaly and beat the Jets in New York? I think so.
Result: NY Jets 27, Dallas 24
Minus Tony Romo's bad pass at the end, this game was about as I expected. The Jets have to feel lucky.
New England at Miami 
Prediction: New England 34, Miami 10
Larry Johnson would have to pretend he is a Chief again behind one of the best offensive lines in NFL history to even come close to giving the Dolphins a chance of winning this one. Guess what? Those guys that opened those holes for Johnson have retired.
Result: New England 38, Miami 24
Obviously, it did not matter what Larry Johnson did, but the Dolphins did better than I expected.
Oakland at Denver 
Prediction: Oakland 24, Denver 16
The Raiders are too fast for the Broncos. This is a Monday night nationally televised game. Too bad for the Broncos!
Result: Oakland 23, Denver 20
Is Oakland ready to make a run, or is Denver just a bad team? Denver is a bad team. Oakland has to do it outside of the division.
So, after spelling out the results, my record after Week 1 is not so impressive. Six games called right and nine games wrong. Some really good calls and some lousy ones.
To my way of thinking, the Giants, the Bucs and the Chiefs were the teams that were letdowns in this first week. Turn those games around and the record is different story. But, this is the NFL.
I will make the comparisons of my picks with the other "experts" starting in Week 3, after all of us have a record that is starting to mean something.
And the fun begins!