Cleveland Browns Week 2: Time to Start over and Move Ahead
September 16, 2011
Matt Sullivan/Getty Images
"The secret of getting ahead is getting started."
-Mark Twain
I used the same quote to open my season preview column just one week ago. The funny thing is the irony of it, because that's exactly what the Cleveland Browns didn't do in their season opener against the Bengals.
Lackluster play and stupid penalties held the offense back for the first quarter and then an inability to finish in the fourth doomed a game that never should have been close, much less a loss.
Unfortunately, the preseason is only four games long. Evidently, we could have used a fifth.
I could spend more time ranting about this but that won't do anybody any good. It's time to forget that game and move on to Indianapolis. It's not easy, but it has to happen. You need to pretend like the season is starting over again.
Every game is not only a new day, but a single event with no relevance to anything else.
I'm learning this first-hand right now. I'm coaching for the first time as an assistant on a small Division 7 football team. We had a similarly ugly game this past weekend with 12 penalties, six turnovers (two returned for touchdowns), a botched punt, three failed red zone trips (including two dropped passes in the end zone) and ultimately a 33-0 loss.
As a coach you want to be pissed and show the film and yell and scream all week. But you can't. Because we have another game this Friday and what happened in the last game doesn't matter any more.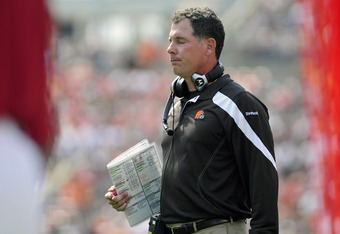 Jason Miller/Getty Images
That's where the Browns are at.
Coach Pat Shurmur talked on Monday about the 24-hour rule. What he's talking about is that you can have 24 hours to obsess over a game, whether good or bad, win or lose. After 24 hours, it's time to forget it and move on.
Fluke plays aside, the Browns have a couple areas that need improvement.
The running game is first and foremost. For whatever reason, Peyton Hillis and Montario Hardesty never seemed to get into the flow of the game. I don't know if that was a play-calling issue, bad line blocking or just bad running. The answer is probably a little of everything.
The West Coast offense may be predicated on the pass, but when you have Hillis and Hardesty you need to incorporate the run as well. Colt McCoy had 40 pass attempts to only 22 combined rushes for the backs. That's not a good ratio.
And we all know from watching Hillis last year that he's a guy who really gets better as the game goes along. He has that physical running that wears on a defense. He makes defensive players wet their pants in despair when they see him take a hand-off because he hits like a truck and is a bear to tackle.
But he needs more than 17 carries to make that happen effectively.
Establishing the run will open up the pass. McCoy is still only in his second year in the league and needs the crutch of that running game to give him more looks at only four defensive backs because there are seven men in the box worried about Hillis. Little things like that will do wonders for the confidence of a young quarterback.
However, confidence or no confidence, McCoy has to play better. The Browns offense needs him to be a playmaker. Late in the game he needs to have more poise in the pocket to find the open man instead of throwing panic dump passes off Alex Mack's face. When the game is on the line the ball is going to be in his hands; he needs to do something positive with it.
Talking about Colt naturally leads me to a discussion about the receivers.
This whole trend of Hillis being the leading receiver was understandable last year, what with a rookie QB and an offense that was just plain dumb. But no more this year. Colt checked down way too often on Sunday. That's either one of two things. Either Colt panics, or the receivers aren't getting open.
I was one of the people before the season saying I was happy with our receiving corps and that they'd be fine. Well, it's time to make me not a liar. They need to step it up. Mohamed Massaquoi was the only guy who really seemed to have a knack for making plays.
The tight ends played well, but we need production from those wide receivers in this offense. Joshua Cribbs, Greg Little, Brian Robiskie and Jordan Norwood combined for only three catches in the game. That can't be.
That group as a whole needs to step it up and produce if we expect the Browns to do anything worth noting this season.
I actually liked how the defense played. 27 points is too many, but when you factor in getting dealt terrible field position, falling for a trick play, and that fluke Cedric Benson run at the end, it wasn't a bad showing at all.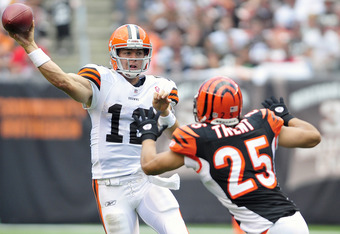 Jason Miller/Getty Images
I throw out that 39-yard Benson TD run at the end because it was a play where the defense was forced to sell out in a make or break situation and they got broken. When you're down and under two minutes remain, those kinds of plays will happen.
But up until that point the Browns defense had done a very good job holding the Bengals running attack to just over three yards per carry. I'll take that any day.
The pass defense was also very good. If you throw out the A.J. Green catch then the Browns only gave up 114 yards passing in the game. That's outstanding! A big part of that was Joe Haden who was playing at a Pro-Bowl level all game.
All in all I'm thrilled with the defense going forward for the rest of this season.
I made the bold prediction that the Browns would start the season 7-0. Obviously that isn't going to happen. And after seeing Miami and Oakland on Monday night, those games don't look quite as easy as I had previously thought.
So I'm done looking ahead beyond this week. (Because it matters whether or not I do such a thing, like it will have an effect on the team's performance.)
This week I believe the Browns have a great chance to get their first win of the season against the staggered and depleted Colts. The Colts did nothing well in their opening game against the Texans.
It's time for the Browns, the offense specifically, to come out and (channelling my inner Denny Green) prove that they are who we thought they were!
Believeland.
You can follow me on Twitter @ ClevelandFlack.