Ricky's Revenge: Toronto Blue Jays' Romero Can Now Beat the Boston Red Sox
September 15, 2011
Darren McCollester/Getty Images
For the past two seasons, Ricky Romero has been a good pitcher, and even occasionally a great pitcher.
After a decent rookie season in 2009, the 26-year-old out of East L.A. has earned his stripes as Toronto's No. 1 pitcher. He earned his first All-Star selection this summer, and he gives Toronto reason to hope, even after trading away Roy Halladay and Shaun Marcum. 
As Romero has grown into a top-of-the-rotation pitcher over the past two seasons, there was one team—and a division rival, at that—that continued to vex the young southpaw.
That was the Boston Red Sox, who, time after time, raked against Romero.
Well, now the tables have been turned. Romero's last two turns have come against Boston and he's beat the Sox both times. 
On Sept. 8, Romero went six and two-thirds innings, allowing three runs on five hits and three walks while striking out seven. 
To put things into context, Romero came into that game with a 8.08 career ERA versus Boston. He had only won twice in 11 career starts against the Red Sox, and he'd been hung for the loss six of those times. At the Rogers Centre he was especially awful: 0-3 in five starts with a ghastly 10.62 ERA.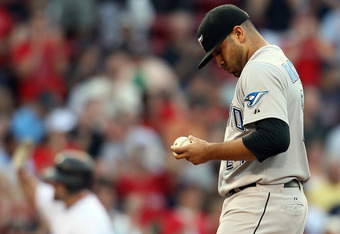 Elsa/Getty Images
Needless to say, Romero didn't need any prodding to reveal his true feelings after his big win. "It feels good to beat those guys," he said. "They've been on me for the past few years. I finally had a good outing against them and it's definitely satisfying."
As impressive as his win on Sept. 8 was, Romero's victory Wednesday night was even more impressive. Romero went eight full, allowing four runs but only one earned. He allowed six hits and a single walk and struck out eight.
Romero had beat the Red Sox, his former nemesis, once again, and he had beat them more soundly than he had previously, he had beat them in their house and he beat them in back-to-back starts.
Pitchers typically figure to get the short end of the stick when they have to face the same team twice in a row, but Romero didn't appear to get that memo.
The Red Sox could always count on a chance to face Romero as a chance to break out the bats and hang some crooked numbers on the scoreboard. Two times out against Boston this year and both times he was chased early, with a stampede of walks, hits and runs nipping at his otherwise excellent statistics.  
For whatever reason, the Red Sox were able to make this young up-and-coming pitcher look like Rookie League mincemeat.
No longer. Romero has now pinned back-to-back Ws on the Red Sox at a time when Boston can hardly afford to lose any more games than they already have. He's reversed his poor luck with great outings.
After getting blasted by the Sox at Fenway in July, in his last start before the All-Star break, Romero couldn't help but look to the promise of the future. "This is not the way I wanted to end the first half, like this," he said. "I know I'm good enough to pitch against any team. I'm looking forward to facing them next time and hopefully I'm successful."
Ricky Romero got his wish. Twice.