College Football Predictions Week 3: Notre Dame Football Will Win Saturday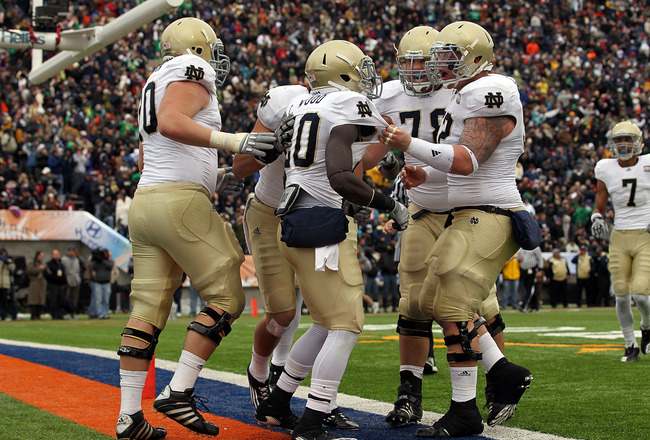 Ronald Martinez/Getty Images
After starting the season 0-2, the Notre Dame Fighting Irish are looking for their first win against Michigan State Saturday. This time, if a win is within their grasp, the Irish won't let it slip away.
After seeing the first two games, is that analysis too optimistic?
Both players and coaches alike know Saturday is the time to stop the bleeding, and you can bet they will be ready to play.
While Brian Kelly has not seen the improvement he would have liked in his second year with the team, it is mistakes that have been Notre Dame's downfall, not a lack of offensive production or a powder-puff defense.
And after the Michigan loss, mental mistakes will no longer be the Irish's Achilles' heel.
Here is a preview of the Notre Dame-Michigan State game, and why the Irish have a good chance of coming out the victors.
Notre Dame Offense vs. Michigan State Defense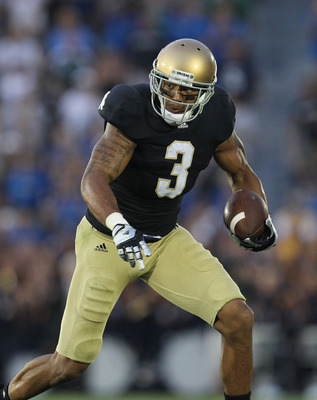 Jonathan Daniel/Getty Images
The Michigan State defense has played lights out against its two opponents so far this season. In points against, the Spartans are currently ranked third of all Division I-A teams, giving up only three points per contest.
There is one problem with giving any credence to that statistic.
The problem? The teams Michigan State has played this season.
Michigan State's two opponents were Youngstown State and Florida Atlantic, and both games were played at home in Spartan Stadium.
Nothing against either offense—Youngstown State did hang 77 on Valparaiso—but neither Youngstown State nor Florida Atlantic have the firepower that Notre Dame does.
That is not assuming that the Michigan State defense isn't good, it is simple pointing out it hasn't been tested.
However, the Spartans will be tested Saturday in South Bend. Notre Dame has one of the best passing attacks in all of college football. The Irish are averaging 353 yards per game, and their air attack is 10th overall in Division I-A, led by an outstanding wide receiver in Michael Floyd.
Floyd is third overall in Division I-A in receiving yard with 313 yards in two games (156.5 yards per game).
While Notre Dame is 57th overall in rushing with a respectable 157.5 yards per game, it is also 10th in total offense, averaging 510.5 yards per game.
Look for Brian Kelly to try to get ahead early by passing before he slows the game down in the second half with the duo of Cierre Wood and Jonas Gray.
Statistics mean very little on game day when anything can happen, but if Notre Dame can avoid turnovers, especially in the red zone, it will put up points against the Spartans.
Michigan State Offense vs. Notre Dame Defense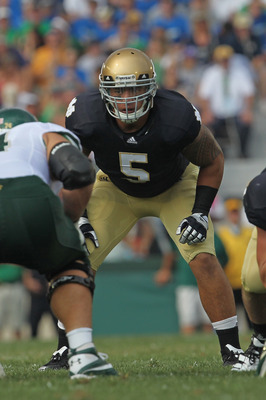 Jonathan Daniel/Getty Images
After giving up 35 points to Michigan last Saturday—28 of which came in the fourth quarter—there aren't too many people excited about what is ahead for the Notre Dame defense.
The Irish secondary needs to work on its deep-ball coverages after getting burned by a few bombs sent from Denard Robinson, but the team won't have many chances to do so against a Michigan State offense that likes to pound the ball on the ground.
Luckily for the Irish, with superb linebacker corps, the ground-and-pound approach plays to Notre Dame's advantage.
And by allowing a dynamic group of freshmen to play extended minutes, Notre Dame will become more explosive, a crucial quality the Irish haven't yet exhibited.
However, stopping the Michigan State offense won't be an easy task. While the Spartans' offensive attack has not been as potent as their top-ranked defense, but the team did return a group of solid veterans, including quarterback Kirk Cousins, who is a high-percentage passer and will test a Notre Dame defense that collapsed late in the game last week in Ann Arbor.
The team's two leading rushers, Edwin Baker and Le'Veon Bell, will carry the Michigan State's ground game, and the two running backs will shoulder a large part of the offensive load.
Michigan State ranks 48th in passing with 241.5 yards per game and 42nd in rushing with 173.5 per contest. While it isn't atop the FBS in offense, Michigan State has enough weapons to hang with Notre Dame.
Notre Dame will have to focus heavily on stopping the run and breaking up short passes underneath. The Irish can't let Michigan State control the clock if they want to undermine the Spartans' game plan.
With a defense embarrassed by a loss in Ann Arbor, and a few game-changing freshmen that will see the field early, the Notre Dame defense will come out of the tunnel energized from the opening snap.
A Notre Dame Victory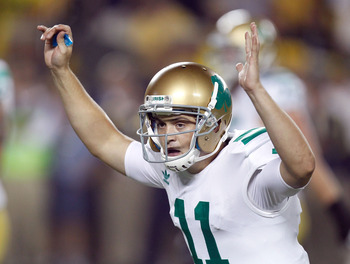 Gregory Shamus/Getty Images
Even after the early season disappointments, Vegas doesn't think the Irish are underdogs at home versus Michigan State, giving Notre Dame a -3.5 advantage.
However, the Irish have been favored in each of their games, and the matchup will likely be won in the fourth quarter.
You can expect the young Tommy Rees—who is still learning the nuances of the quarterback position—to make mistakes, but he will be able to move the ball down the field, and he will be much more conscious of his decisions in the red zone.
Brian Kelly won't be timid, and he is going to stay aggressive on offense against a team that has allowed only 152 passing yards in two games (just 26 yards to Florida Atlantic).
Bob Diaco's defense will look for redemption in front of the home crowd by attacking the Michigan State running game and avoiding giving up big passing plays.
Notre Dame will need to be prepared for a dangerous Michigan State squad that wants to prove it belongs in the top 15, but if the Irish play tough, smart football for all four quarters like they are capable of doing, the team will get its first victory of the season in South Bend on Saturday.
Keep Reading

Notre Dame Football: Like this team?