Remembering Lyman Bostock Nearly 33 Years After His Death
September 14, 2011
Lyman Bostock was a special talent.
The former Twins center fielder had enough power, speed and defensive ability to make any MLB manager drool during his playing days.
By all accounts, he was going to become a star when he signed his big contract with the California Angels in 1978.
When he finished second in the AL batting race to Hall of Famer Rod Carew in 1977, many thought that it would be only a matter of time before Bostock would overtake him.
Sadly, none of this ever happened.
And even worse, Bostock never got his chance to shine after he signed with the Angels in early 1978.
After a late September game against the Chicago White Sox, Bostock left with his uncle to go to Gary, Indiana, where he would later meet up with a childhood friend.
When they all left go into town, Bostock was struck in the head from a gunshot fired by Leonard Smith, who was the estranged husband of the woman that Bostock was visiting that night.
In the blink of an eye, one of baseball's rising stars was gone.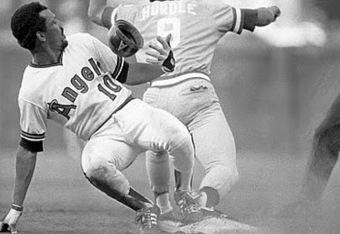 With him, he took a legacy that was still unfulfilled and one that was still fresh in the mind of baseball fans at the time of his death.
The one thing I will always remember Bostock for was his high level of generosity throughout his MLB career and life on earth.
The best story of this was in April 1978, when Lyman decided to give back his entire month's salary to the Angels organization after hitting an anemic .150 for the month.
In the end, the Angels didn't accept this gesture, but Bostock was able to give the money away to charities that would take it.
Lyman Bostock will forever be remembered for the talented outfielder that he was, but he will also go down as one of the most genuine and humble athletes in not only MLB history, but all of American pro sports history as well.
It's just a shame that he never got the chance to be the star that he would have become in the majors.