New York Mets Hat Controversy: MLB Shows It's Still Completely out of Touch
September 14, 2011
Jim McIsaac/Getty Images
Following the tenth anniversary of September 11th, Bud Selig and MLB absolutely butchered the preferred choice of remembrance for the New York Mets.
This example of strict adherence to abstracted rules is just another case of Major League Baseball having next to no idea of how to handle actual issues in the sport.
What could have been an inspiring tribute of New York players honoring the firefighters and policemen that acted as such heroes following the tragic events of September 11th turned into a controversy that involved Bud Selig saying that the New York Mets angered him.
Still, this is an issue bigger than baseball. As a New York Mets fan, it is easy for me to recall the superlatively emotional weeks that followed the date of September 11th, 2001. The world that we lived in had been shattered.
We were attacked and 2,983 innocent American citizens lost their lives, and 2,983 families and individuals had to suffer through the losses of fathers and mothers and friends. No one felt safe. Nothing in New York was normal. Nothing in America was normal.
On the date of the attack, I was just old enough to comprehend that our society had been changed by the events of the day. Baseball felt different. Everything felt different.
When New York City resumed sporting events on Sept. 21st, the game featured one of the most emotional ceremonies America had ever seen. Featured were bagpipes and a stirring rendition of the National Anthem by Marc Anthony.
In a city that had been savaged by terrorism, baseball had returned to bring strength and courage to those that had lost it.
I remember Mike Piazza's home run as vividly as I remember anything in my childhood. "That's why sports can be such a beautiful thing," I learned. It can simulate and inspire the power of the individual in a world where it is all-too-often forgotten.
For the rest of the 2001 season, the New York Mets wore FDNY and NYPD caps. On the 10th anniversary of the events, the 2011 squad looked to do the same.
Yet, for reasons that seem nothing but petty to me, the Mets were told not to wear those hats.
The reason given by MLB Executive VP and former New York Yankees Head Coach Joe Torre was a desire for consistency across the MLB. That, really, is the exact problem with modern baseball. In a world where so many things are changing, MLB stubbornly wishes to stick to its roots tenfold.
I see no reason for such a stubborn attitude. Decisions like these ultimately hurt the game and lose fans. If the 2001 Mets were able to wear the FDNY hats for the rest of the season, why would the Mets not be allowed to honor the men and women that risked their lives to save others?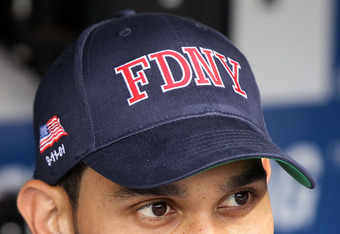 Jim McIsaac/Getty Images
On a 10-year anniversary, it should be obvious that a careful reminder of appreciation to those brave firefighters across the nation should trump anything of consistency. September 11th was anything but consistent, and it's foolish to think otherwise.
Sources say that Bud Selig called the Mets in anger on Sunday night, upset over the fact that the Mets had allowed the story of him not allowing the Mets to wear the FDNY caps become public.
Selig, I have a very simple solution for this issue: let the Mets wear the caps next time. It doesn't hurt anyone, it is a moving tribute, and it is done for a reason. Let the Mets honor these men and women.
For Bud Selig, this is just another example of a commissioner that is out of touch with his fan base. September 11th had inspired Americans across the nation that craved such a tribute. They were denied this because of a controversial decision from Selig.
The other day, a friend and I were driving up to Berkeley and making casual conversation about sports to pass the time. He knew I was a big baseball fan, and he had used me to express his dismay over these juvenile decisions that baseball had made that in turn pushed him to follow the NBA and the NFL religiously, while leaving the sport that he first fell in love with as a child behind.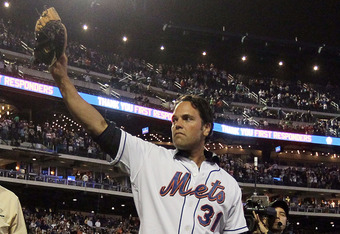 Jim McIsaac/Getty Images
"The game is too slow now," he went on to say, "and they're not doing enough to market the modern fan."
Even though baseball is my favorite sport, I find myself agreeing with him. How can a father of two young children expect to find three and a half hours to watch a baseball game 162 times a year?
The players are allowed too much time in the batters box, the pitchers are allowed too much time between each pitch and the games can drag on until two in the morning. That does not sound like a fan-friendly sport.
They have taken too long to adapt instant replay; this simply makes the game more modern and accurate. My friend and I both agree that it is absolutely ridiculous that MLB did not grant Armando Gallaraga with a perfect game even after umpire Jim Joyce admitted he had blown the call. Instant replay could fix that in a matter of one simple rule change.
The DH rule makes no sense and gives the American League an unfair advantage for pitchers and hitters alike. It's impossible enough as it is to learn to throw a 96-MPH fastball for a strike. When do we expect these pitchers to learn to hit when virtually all of them end the season with a batting average below .100?
The rookie draft is not exciting for the fans, and because of the impossibilities to predict baseball success it becomes increasingly difficult to market these athletes. In the past decade, only Stephen Strasburg has had the same hype that the top players in NBA and NFL drafts get, and once fans committed to him, he was forced to miss the majority of his next season due to injury.
The strict YouTube policies are even more ridiculous. Fans communicate with the game online, and love sending highlights to friends the way I did with Blake Griffin dunks in the NBA season. How does it make any sense to completely ignore social media in a world driven by online production?
Why is there no salary cap in a sport where it's almost inevitability for almost all of the best players to leave town and end up playing for the Yankees or Red Sox? It's a competitive advantage to larger markets that even when small market teams do well using Sabermetrics or other interesting methods of driving success with little revenue, their top players demand salaries that only big markets can afford. 
I don't know what it is about the conservatism stigma that is attached to baseball, but I can guarantee that it is unhealthy for the game. I stick with baseball because watching the games is therapeutic and exciting and artistic for me as a fan. I am joining a minority in this opinion.
Most sports fans are beginning to agree with my friend, allowing baseball to become a secondary sport due to the fact that it is isolating its fan base. The fact that they did not allow the Mets to honor their city on 9/11 is just another example of such.
For me, it's a bigger deal because I'm a lifelong New York Mets fan and my father is from New York. I'm attached to that city by blood, and seeing it under attack ten years ago broke my young heart. Now, it is our duty to give the city tribute.
Baseball, however, felt it would be more important to stick to consistency.