Matt Hardy Formerly of WWE and TNA Arrested for 2nd DWI (Updated w/ Details)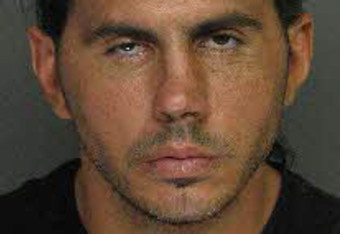 Matt Hardy's mugshot from his previous DWI arrest.

Chris Shore and Jason Powell at ProWrestling.net are reporting that Matt Hardy has been arrested on another DWI charge, this time in Raleigh, North Carolina.
Right now, there isn't really any information available other than that his court date is November 30th, according to the North Carolina State Court System Calendar (refresh the page if you have trouble viewing).
Hardy was previously arrested on August 20th in Moore County, where his hometown of Cameron is located. TNA fired him within hours. He had reportedly been under suspension for refusing to go to rehab.
The full details came out a couple of days later. Hardy was driving his 2009 Corvette, ran off the road and hit both a tree and drainage pipe. He passed a breathalyzer test, but the arresting trooper felt that he "appeared to have taken some type of impairing substance."
Several days after the arrest, Hardy was rushed to the hospital after falling down the stairs. It appeared that he had gone on some kind of bender that included dropping his cellphone in a hot tub, tearing his house apart and recording a cryptic YouTube video.
More recently, he created a furor after posting a fake suicide note on YouTube that has since been deleted.
I am awaiting a call back from the North Carolina State Highway Patrol Trooper who was at the scene and will post an update after I hear from him.
TMZ posted Matt Hardy's mugshot from his Monday DUI arrest about an hour and a half ago. I will try to get a non-watermarked version tomorrow.
Between the suddenly greying hair, whatever impaired him making his eyes look so lifeless, and the giant welt in the center of his forehead (from his fall down the stairs?), he doesn't look good at all. The new beard isn't helping, as it makes him look more unkempt.
This article is
What is the duplicate article?
Why is this article offensive?
Where is this article plagiarized from?
Why is this article poorly edited?
On Monday, Matt Hardy's girlfriend Reby Sky checked in on FourSquare at Hartsfield-Jackson Atlanta International Airport with the note "Cameron bound," as she lives in Cameron, North Carolina with Hardy. The message was automatically posted to her Twitter account, where it was later followed up with a message that simply said "F*ck this."
Unfortunately, Twitter doesn't include more specific time stamps after a day has passed, but this makes a lot more sense after reading the police report for Hardy's DUI arrest that day: He was held by police at the airport for over three hours.
Depending on when her flight arrived, she may have stuck with him in a while. In addition, she may have been frustrated by his actions, but it's been hard to tell just where she stands on Hardy's issues based on her Tweets, FormSpring replies, and other Internet posts. At any rate, she's still with him and he's not getting treatment, so...yeah.
Meanwhile, the next day, Hardy Tweeted about being framed while cryptically referring to his 0.00% blood alcohol content.
Twice.
See, Matt seemed unaware that the Twitter client he was using on his phone, TweetDeck, allows him to Tweet more than 140 characters at a time. On Twitter.com and in most clients, this is done by linking the full message after the beginning of the tweet.
However, TweetDeck users automatically see extended tweets posted by themselves and other TweetDeck users in their entirety. It looks like Hardy was unaware of this, and since he was confused by the results, re-posted it in modified form without the deleting the original.
The two Tweets were:
"For the first time in my life, I was framed.. 0, 0, and O.. I'm truly appalled. This will not go down without a fight! Looks like I've got a bull's eye on my head." (163 characters, in case you were wondering, which you probably weren't)
"For the first time in my life, I've been gotten! WOW!! 0, 0, and 0.. I'm truly appalled. This will not go down without a fight!" (127 characters!)
At first, I'm sure everyone figured that the tweets were about his August 20th arrest, not something new. In light of today reports about Monday's arrest, it's obvious that he was referring to that.
Oh well, maybe negotiating TweetDeck should be added to the list of Standard Field Sobriety Tests.
This article is
What is the duplicate article?
Why is this article offensive?
Where is this article plagiarized from?
Why is this article poorly edited?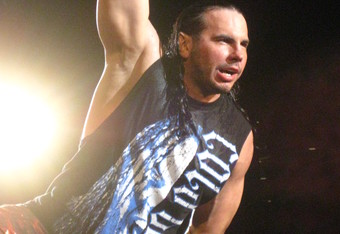 TMZ has posted an article about Matt Hardy's latest arrest for driving while impaired that includes a link to the full police report as a PDF/Adobe Reader file (with the usual TMZ watermark).
RDU Airport Police Sgt. M.L. Larson was sent out on a call about a "possible drunk driver" who was "all over the road" and barely missed hitting two drivers three different times She spotted Hardy's car, turned on his flashing lights, and pulled Hardy over. As Hardy made a left turn in the process of pulling over where he was directed, "his vehicle swerved into the curb and back into the road before stopping in the service court."
When Sgt. Larson asked Hardy how he was doing, he "mumbled" the word "alright." Hardy said that he was there "to pick up [his] girlfriend" after being asked what he was doing there. Larson noted that "Mr. Hardy's speech was very slurred and he made a concentrated effort to speak 'normally.'"
In addition, Larson wrote that "Mr. Hardy's appearance was neat, but his speech was very slow and slurred, and he had trouble focusing on me while I was speaking to him. He was able to answer questions after hesitating and slurring his speech." Hardy denied drinking and answered in the affirmative when "asked if he was okay."
When Larson asked Hardy to get out of the car, he started to open the door, but the car started to roll, so Larson "yelled for him to put the vehicle in park." Yes, Matt Hardy was so out of it that he didn't shift his car into park when he pulled over, instead keeping his foot on the brakes the whole time and then forgot that he hadn't shifted into park when he had to get out. Wow.
When Hardy got out, Larson turned the traffic stop over to Officer C. Smith-Wynter (referred to as Officer Smith in text of the report). Smith observed that "Hardy had slow and slurred speech, sleepy eyes and a very lackadaisical manner."
Smith conducted the standard feld sobriety tests (SFSTs), starting with the Walk-and-Turn test. This consists of nine heel to toe steps, turning around, and repeating the steps.
Hardy "mis-stepped" after four steps, but was allowed to restart the test. He.completed the initial leg of nine steps, turned, and then "after taking two steps, Mr. Hardy lost his balance and failed to stay on the line." When asked to continue, he took three steps before failing.
After Smith "explained and demonstrated the test to Mr. Hardy again," he was only able to take "two or three steps" before losing his balance. Smith then stopped the test.
The next SFST was the Horizontal Gaze Nystagmus test, which looks for a specific type of "involuntary jerking of the eye" that is "exaggerated" when someone is impaired by alcohol. Hardy tested negative. Portable Breathalyzer tests conducted at both 2:15 PM & 2:21 PM local time registered 0.00% blood alcohol content.
The last SFST was was the One-Leg Stand Test, in which "the suspect is instructed to stand with one foot approximately six inches off the ground and count aloud by thousands (One thousand-one, one thousand-two, etc.) until told to put the foot down." In both attempts, Hardy was "unable to hold his leg up past 1 second."
At 5:30 PM, Trooper H.C. Ellefson arrived on the scene and evaluated Hardy, performing "a battery" of SFSTs before Smith arrested Hardy for Driving Under the Influence. Please don't ask me what the difference between Driving Under the Influence and Driving While Impaired/Intoxicated is, if there is one.
Hardy's car, a 2011 Camaro, was driven home by his girlfriend, Rebecca "Reby Sky" Reyes. His blood was drawn at Wake County Jail, with the specimen being secured and entered into an evidence locker at the RDU Airport Police department.
For what it's worth, since I forgot to mention it earlier, Hardy also has a charge pending for Reckless Driving in Wanton Disregard. The court date on that charge is October 11th.
Thankfully he hasn't hurt anyone else yet. Hopefully, this series of charges serves as a blessing in disguise and leads to him being forced into an inpatient drug rehabilitation program. He's not going to get better any other way, and there's no way he's going on his own.
This article is
What is the duplicate article?
Why is this article offensive?
Where is this article plagiarized from?
Why is this article poorly edited?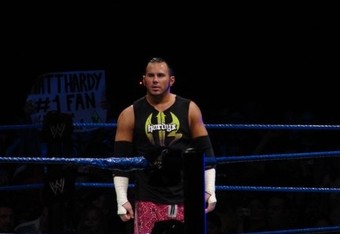 A few minutes ago, I finished speaking to North Carolina State Highway Patrol Trooper H.C. Ellefson, who was at the scene of Matt Hardy's latest arrest for driving while impaired. He provided me with a lot more information about the arrest, which is Hardy's second DWI in less then a month.
Hardy was arrested this past Monday, September 12th, at Raleigh-Durham International Airport (RDU). Hardy was driving into the terminal to pick up his girlfriend (Reby Sky) when he was stopped by the RDU International Airport Police Department.
Going by Sky's Formspring account, she was returning from a photo shoot in Atlanta, Georgia. When a fan asked Sky on Monday if she "expect[s} anybody to take [her] answers to questions seriously when [she] claim[s] that Matt doesn't do drugs?," she replied with "Do you want me to give a detailed medical history ?"
As was the case with his last DWI, Hardy's breathalyzer test for blood alcohol content came up clean. Trooper Ellefson was called to RDU to do a Drug Evaluation and Classification Program evaluation on Hardy, as he is a certified Drug Recognition Expert Officer. He noted that "drug" is an umbrella term here, used to refer to any intoxicant, whether it's alcohol, over the counter drugs, prescription drugs, or inhalants like model airplane glue.
DRE Officers are used in cases like this: The stopped driver isn't drunk, but appeared to be impaired, and the officers who stopped him were unable to determine what was responsible.
Ellefson evaluated Hardy and determined that he was impaired by a central nervous system (CNS) depressant, so the RDU Police arrested him. Wikipedia has a good list of what falls under the CNS depressant classification while the National Institute on Drug Abuse has a good guide to them as well that is more narrow in what types of drugs it lists.
Again, as with Hardy's other pending DWI case, blood was drawn for tests. There are no results available as of yet, but Ellefson recognized that Hardy had was not on model airplane glue or any other inhalant, as abuse of them tend to display visible warning signs.
Since he did not witness Hardy's driving himself, Trooper Ellefson felt that it was best that he not give secondhand information about what led to the stop. By the time I called the RDU Police to get information from them and was directed to their media relations representative, she had left work for the day.
...and now I see that TMZ has posted the police report, so allow me to post this and go do another update about the information contained within.
This article is
What is the duplicate article?
Why is this article offensive?
Where is this article plagiarized from?
Why is this article poorly edited?