Toronto Maple Leafs: 7 Reasons for Leaf Fans to Be Excited for This Season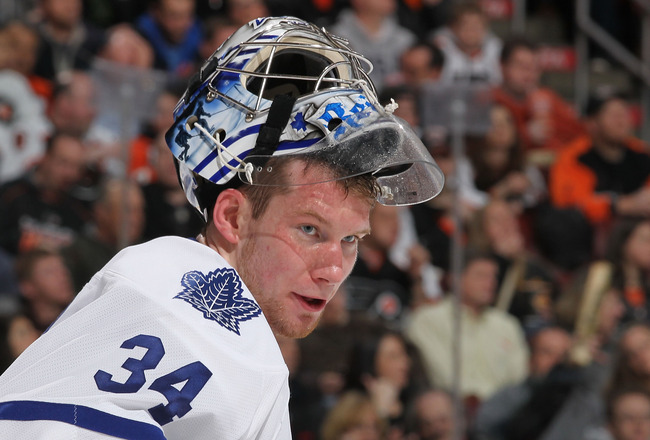 Al Bello/Getty Images
Leaf fans have numerous reasons to be excited for the 2011-12 season, and I wouldn't dare trying to list them all.
As anyone who's watched the recent rookie tournament will tell you, the future is extremely bright. In fact, one could easily make a slideshow about the Leaf rookies entitled something like this:
"Toronto Maple Leafs: 7 Reasons for Leaf Fans to be Excited about the 2013-14 Season."
I purposefully left out any mention of any of the rookies at that tournament (with the exception of Matt Frattin) because I wanted to focus on the big club.
Of course, the reasons I'll be presenting may not apply to all Leaf fans, and that's OK. What matters is that none of us can wait for the season to begin.
So, in no particular order, here are seven reasons why Leaf fans can legitimately be excited for this upcoming season.
Honourable Mentions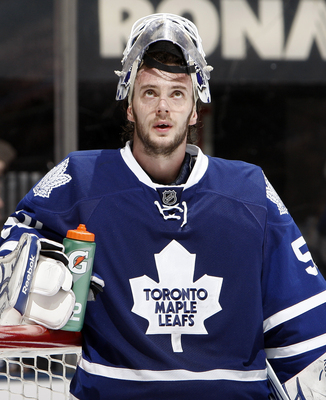 Abelimages/Getty Images
The reason why I have an honourable mentions list is because these are things that I'm not entirely sure are exciting or not. Judge for yourself:
Goaltending battle
We've got two young and inexperienced goalies in James Reimer and Jonas Gustavsson. Although Reimer enters training camp at the top of Toronto's goaltending depth chart, Gustavsson will be given every chance to wrest that spot from Reimer.
Ideally, there will be a friendly but fierce battle between Gustavsson and Reimer for the starting position; that would probably be a good thing if it did happen.
I'm not so sure that will happen, however, since I believe Reimer is a far better player than Gustavsson. But you never know...
Better options on the PP
Some of the new Leafs are apparently great on the powerplay: Cody Franson, John-Michael Liles and Tim Connolly (who's able to play point).
When new players are billed as PP or PK specialists, I take it with a grain of salt. Then again, if they live up to their reputations, perhaps I won't have to groan every time the Leafs go on the man advantage.
Better options on the PK
Connolly and Philippe Dupuis are supposed to be good penalty killers. Fredrik Sjostrom was supposed to be a good penalty killer as well, but look how that turned out.
If both the PP and PK improve considerably, I'll be super excited. But for now, I'm on the fence.
Potential MLSE sale?
It's no secret that the Ontario Teachers' Pension Plan wants to sell their majority stake in Maple Leaf Sports & Entertainment. I, for one, would welcome a new overlord.
Imagine if the Leafs were to have an owner who loved hockey, loved the Leafs, and loved their fans. Imagine if you could send a personal email to the owner to express your (dis)pleasure and get a meaningful response.
Owners like Ted Leonsis, Jeff Vinik and Terry Pegula have done wonders for their respective clubs, and it is my wish that the Leafs find such owners.
All that said, I'm not so sure a sale will take place anytime soon. I don't pretend to be an insider, but there have been no new reports about any potential sale in months.
Competition for the Third-Line Winger Position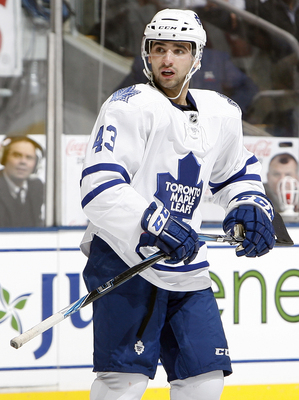 Abelimages/Getty Images
According to Leafs GM Brian Burke, there is one roster spot still open: the third-line LW position.
He named three potential candidates for that spot: Nazem Kadri, Joe Colborne and Matt Frattin.
Of those three, I personally think Frattin has the least chance of making the cut, partly because of his lack of experience at the professional level. It might do him some good to spend at least part of the upcoming season in the AHL.
Colborne has a bit of professional experience, but it might not hurt to have him play some big minutes down with the Marlies this season. I would certainly not complain if he were to make the Leafs right out of the gate, as he possesses the size (6'5", 213 lbs.) the Leafs so desperately need up front.
Kadri is a bit on the small side (6'0", 188 lbs.), but what he lacks in size he makes up for in skill. In 44 games with the Marlies last year, he was almost a point-per-game player with 41 points (17 of them goals).
In 29 games with the Leafs, Kadri had 12 points (three of them goals). He showed himself to be a decent playmaker and showcased his nifty mittens with a brilliant shootout winner against Tim Thomas.
Kadri seems to be the favourite right now to snag the last roster spot, but I wouldn't discount Frattin or Colborne at this point.
I just worry about how much these guys have left to prove at the AHL level.
A Full Season from Players Looking to Prove Injuries Are Behind Them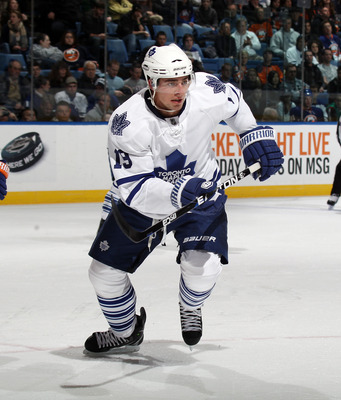 Bruce Bennett/Getty Images
The Ducks may have given up on Joffrey Lupul too soon. He's now fully healthy again, possibly feeling better than he's felt in years.
The last time he played anywhere near a full season was in 2008-09 when he put up 25 goals and 25 assists for 50 points. His career-high in points is 53, posted in 2005-06.
If he stays healthy, and on the top line for most of the year, he should easily surpass his career-high point total.
Meanwhile, the Sabres organization and its fans seemed to have lost patience with Tim Connolly. He has managed to play 73 or more games once (2009-10) since 2002-03, when he played 80. Everybody knows he's got great playmaking ability, but nobody's seen too much of it lately.
If Connolly stays more or less healthy this year, I would not be surprised at all if he were to put up career-highs in goals and assists.
And last season, poor Matthew Lombardi only played two games for the Nashville Predators before getting sidelined with a concussion. The Preds didn't like the risks involved with keeping him, so they dealt him to the Leafs.
He's apparently symptom-free, so it'll be very interesting to see where he'll fit in the lineup, and what changes will need to be made to accommodate him.
Full Season of Reimer in Net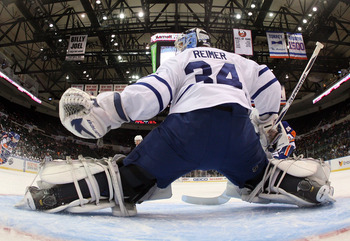 Bruce Bennett/Getty Images
Would it be an exaggeration to say that the Leafs' playoff hopes for the 2011-12 season rest on James Reimer's shoulders?
I don't think so.
He was 20-10-5 for the Leafs last season and will need to duplicate that success this coming season in order for the Leafs to have any chance of making the postseason.
Was last season a fluke, or is Reimer legit?
Burke is confident that Reimer is the real deal, and so am I, actually. I believe Reimer has the mental and physical strength to last an entire NHL season and then some.
He's always smiling during interviews. He always has good things to say about everyone and everything. He doesn't let anything, not even goals-against, faze him.
He may be young and relatively inexperienced, but he's the best goalie the Leafs have had in years.
Bozak Drops to Third Line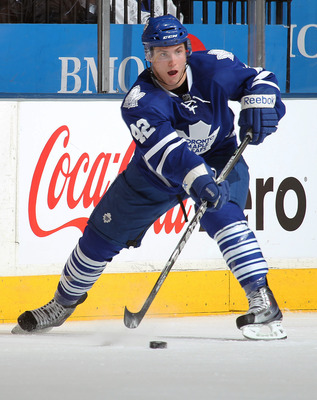 Claus Andersen/Getty Images
I like Tyler Bozak, but boy am I glad he isn't the Leafs' first-line centre anymore. He will most likely centre the third line and provide some welcome secondary scoring from there.
Tim Connolly may or may not be a legitimate top line centreman, but his presence on that line will only boost Phil Kessel's production.
If Kessel can pot 32 goals with Bozak beside him for much of last season, it's quite realistic to expect him to pot a couple more this season.
A third line comprised of Bozak, Armstrong and Kadri/Colborne/Frattin will be a nice mix of nastiness, skill and speed.
Bozak is too skilled a player to play on the fourth line, so despite some potential competition from Lombardi (or even Colborne), I think he will be perfect for the third-line centre position.
A quick return by Lombardi, however, would complicate things. Of course, that only adds to my anticipation for the season.
An Abundance of Centremen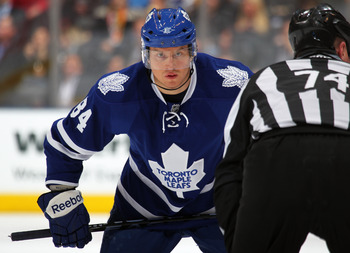 Claus Andersen/Getty Images
The Leafs have got Connolly, Mikhail Grabovski, Lombardi, Bozak, Dupuis, Darryl Boyce, even Mike Zigomanis and Joe Colborne at the centre position.
Even if Zigomanis and Colborne end up with the Marlies to begin the season, that's still six centremen.
Even if one of Boyce or Dupuis gets scratched, that's still five.
I can't see Bozak playing on the fourth line, but I can't see him being traded either, since he signed a two-year contract in July. He would have to seriously underperform, in my opinion, to get himself booted off the team.
I am honestly having a hard time seeing the Leafs make any kind of trade involving one of their centres, and yet it seems inevitable something will happen.
Connolly, Lombardi and Dupuis just arrived, so it's unlikely they're going anywhere.
Grabovski has relatively high trade value right now, but he is a huge part of the Leafs' second line. That second line was one of the few bright spots of last season, and that's not something you take apart without good reason.
I suppose the problem could be solved if Bozak played on the fourth line and a couple guys got sent down to the AHL, but again, I can't see a skilled guy like Bozak playing on the fourth line alongside a couple of energy guys.
I'm excited about the Leafs' glut of centremen because we could see some interesting roster moves as a result.
An Abundance of Defensemen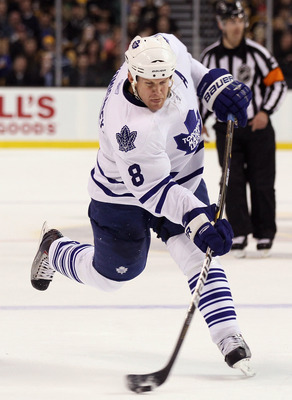 Elsa/Getty Images
Here's what I think the Leafs' defensive lineup might look like to start the season:
Phaneuf - Aulie
Schenn - Liles
Franson - ?
That leaves Gunnarsson, Mike Komisarek and Matt Lashoff to fight for the sixth spot.
Regardless of whether Komisarek is good enough for that sixth spot, $4.5M is way too much for a third-pairing guy. The cap hit on Schenn's upcoming contract might not even be that high.
I don't think anyone wants him (though I'm hoping someone does), so I have a feeling he'll fill that sixth spot while Gunnarsson will be the seventh D-man—at least to start the season—simply because it looks bad when you scratch that much salary.
That to me is a crying shame because Gunnarsson is smooth-skating, relatively sound defensively, and is much less of a liability than Komisarek.
Oh, and Gunnarsson's cap hit is only $1.325M.
Something's gotta give because Gunnarsson does not belong in the box upstairs, and I think management knows that.
I don't know about you, but the idea of a trade involving Mike Komisarek gets me pretty pumped up.
Only 7 Playoff Spots Are Considered Locked Up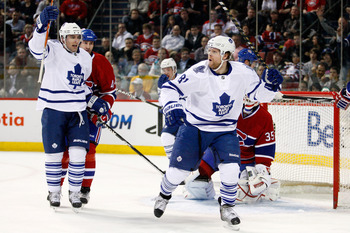 Richard Wolowicz/Getty Images
The top seven spots in the Eastern Conference will be held by—in no particular order—Pittsburgh, Tampa, Boston, Washington, NY Rangers, Buffalo and Philadelphia.
The leaves one spot to be fought for.
After having read a bunch of articles and comments on B/R, it seems that most people think it will be a fight between the Habs, Leafs, Devils and Hurricanes.
Regarding the Devils, I think last season's miracle run was a bit of a fluke. Yes, Zach Parise's back, but aside from him and Ilya Kovalchuk, who have they got? A 35-year-old Elias, a 39-year-old Martin Brodeur, a 38-year-old Johan Hedberg, and an 18-year-old Adam Larsson. Sorry, but that is not a scary lineup at all.
Regarding the Canes, the entire team revolves around Cam Ward, Eric Staal and Jeff Skinner. The loss of Erik Cole was significant while the additions of Alexei Ponikarovsky and Tomas Kaberle were relatively insignificant.
But hey, what do I know? I'm neither a Canes fan nor a Canes expert. I am somewhat familiar with Poni and Kaberle, however, and these are not guys that push your team to the next level. Much as I like Kaberle, it seemed like he was actually holding the Leafs back last year.
To me, it will be a bitter dogfight between the Canadiens and the Leafs for the eighth and final playoff spot; Montreal's goaltending is far stronger than that of the Leafs.
The Leafs' D situation is looking a little better however—especially with the Canadiens' health concerns.
I personally think the Leafs' group of forwards is better than theirs, but the Habs forwards are extremely annoying to play against, and they have a lot of playoff experience (not to mention some success).
Of course, plenty of people will disagree with me on some of these points, but I truly believe the Leafs have got a chance at making the playoffs, and that's exciting for me.
Burst my bubble if you must, but do it gently.
Keep Reading

Toronto Maple Leafs: Like this team?