UCLA Football: Why Rick Neuheisel Deserves a Break
September 14, 2011
Jeff Gross/Getty Images
Before I go on with this article, I would like to emphasize something:
I like UCLA football coach Rick Neuheisel.
Very much.
His passion for his alma mater (class of '84) and their football team is pronounced, and if there's anyone who wants the Bruins to be among college football's elite more than he does, competing for Pac-12 titles and national championships year in and year out, I'd like to meet him.
Plus, he's a great guy—having met him, I know that from personal experience.
Having said that, I'm not trying to be an apologist here.
I fully acknowledge Neuheisel's shortcomings as the Bruins' head coach. His 16-23 record, including 4-14 on the road, is not good by any standard.
And I know all too well that he's on the hot seat.
But in reading some of UCLA's fan forum sites, it has annoyed me to see all the doomsday downers and negative nellies who rail against Neuheisel day in and day out.
These are the people who want the man fired as soon as possible due to their belief that he's the worst thing that's come to Westwood since the end of Steve Lavin's tenure as basketball coach in 2003, when UCLA finished with its first losing record since 1948.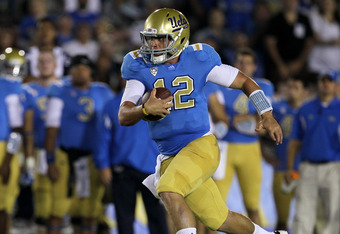 Stephen Dunn/Getty Images
Now, don't get me wrong; am I happy with how the Bruins have done in the Neuheisel era? No way!
Am I frustrated? Darn right, I am!
But I dare say this:
Unless UCLA completely goes into the tank, firing Neuheisel may cause more problems than it solves, at least in the short and medium term.
Here are my reasons why:
For starters, this futility is not completely Neuheisel's fault, and never was as he's had to deal with key injuries and the cupboard being more or less bare when he arrived.
One has to keep in mind that he had to use a third string quarterback, Kevin Craft, in 2008 because Ben Olsen and Patrick Cowan suffered season-ending injuries on the first day of fall camp. And he lost key defensive lineman Datone Jones and center Kai Maiava for all of 2010.
Neuheisel and his staff have worked very hard in recruiting, signing classes ranked in the top 15 for three years in a row. As far as stockpiling talent, he's done a very good job.
Second, for the sake of argument, if the Bruins do tank and Neuheisel is let go, that won't necessarily make things better. At least, not right away.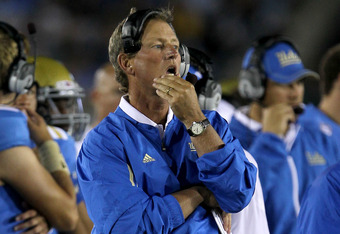 Stephen Dunn/Getty Images
That is, if the Bruins want to win now.
Because if such is the case, the ideal candidate to be the next UCLA football coach needs these qualifications:
1. He has to be an experienced head coach and a proven winner in the Football Bowl Subdivision, if not the BCS, because anyone who's not will have to be given time to develop, time that these naysayers are too impatient to give.

2. He should have West Coast ties if not Southern California ties, so he would have credibility among the local high schools, which is essential for recruiting.

3. He has to not mind being paid less than market value, as UCLA has never paid more than $1.2 million for a football coach, and never will.
That's why big names such as Urban Meyer, who have the ability to turn things around right away, will never think of coming to Westwood, for this simple reason: The Bruins will never, ever pay $4 million to $5 million for a coach.
Which brings us to this next reason:
As long as the UCLA Athletic Department is what it is, considering what has happened, or about to happen, to programs like Miami, Ohio State and crosstown rival USC, they are not willing to risk embarrassment and scandal to win a BCS championship.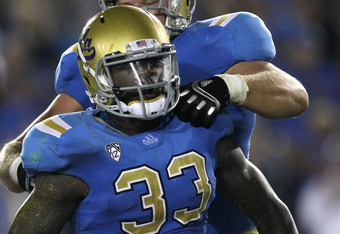 Stephen Dunn/Getty Images
And they never will, as athletic director Dan Guerrero and his staff much prefer to emphasize a well-rounded excellence among all of UCLA's teams, namely its Olympic sports like softball and women's gymnastics, rather than focus on just football and men's basketball.
That is not something that a top-notch football coach who is used to powerful programs, unlimited funding and winning is willing to fit into.
4. The next Bruin football coach has to be willing to deal with UCLA's very high admissions standards, which has kept many top players from coming to Westwood.
I once talked to someone from athletics who mentioned that he knew a lot of blue chip athletes who dearly wanted to become Bruins their whole lives.
But when it came time for recruitment, they were turned down because their grades and/or test scores weren't high enough, sending them to other schools where they became stars.
I know, some will mention Stanford as a place where high academics and admission standards hasn't hurt them on the gridiron, especially considering their recent success.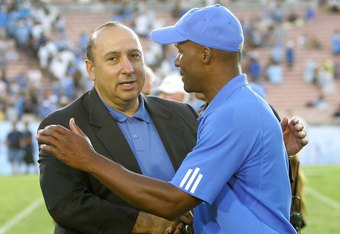 Kevin Terrell/Getty Images
But coach Jim Harbaugh, the No. 1 reason for that success due to his hard-nosed enthusiasm, has gone to the NFL.
And as soon as quarterback Andrew Luck, another significant factor for the Cardinal's resurgence, leaves, they will slip in stature and will likely be mediocre again because it will be too difficult to replace him; mark my words.
5. He must be willing to accept a lower standard of living in Los Angeles than he would in, say, the state of Alabama, where the last two national champions in college football reside, as it's a heck of a lot more expensive to live in L.A. than in Tuscaloosa, or Norman, OK, or Boise, ID.
That was likely a factor in Boise State coach Chris Peterson turning down the UCLA job after Karl Dorrell was fired in 2007.
The fourth reason why getting rid of Neuheisel may not be the immediate cure-all for the Bruins is the fact that it will reflect just as badly on Guerrero, as it would mark the third football coach that he's had to relieve of his duties.
One important thing that people need to realize is that this is the Bruin athletic director's first job at a major school with a football team.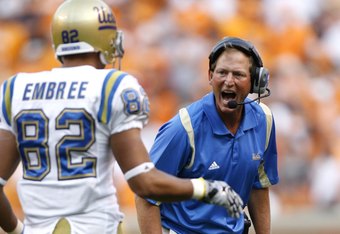 Joe Murphy/Getty Images
His previous two AD gigs were at places without football programs: U.C. Irvine, a mid-major school with good basketball and baseball teams, and Cal State Dominguez Hills, a small commuter school in Carson, CA.
So while Guerrero is a UCLA alumnus (class of '74), I'm not sure he completely understands what it takes to be an elite football power year in and year out.
Or if he does, I don't think he's willing to do what's needed to permanently put the Bruins up there with the Crimson Tide, the Buckeyes, the Sooners and even the Trojans.
Plus, if he fires Neuheisel after this season, he has to eat his contract and pay the coach the rest of the money owed him over his five-year, $1.2 million-per-year deal; Neuheisel is currently in year four.
Considering the economy and the financial struggles of UCLA and the rest of California's public universities, what with raising tuition and cutting classes, that's money that I'm sure the Bruins are not willing to part with.
Yes, they paid Norm Chow $500,000 in letting him go as offensive coordinator, but half a million dollars is not $1.2 million. Not even close.
The bottom line here, what I'm trying to get at, is this:
Unless this season is a total disaster, I think that Neuheisel will be kept on and allowed to finish his five years before any decision on his future is made.
In my view, Guerrero's way of thinking will be, 
"No one else who's proven and will make an immediate impact, which is what we will need, will want the job because they haven't wanted it before, so I might as well keep Rick on."
In the meantime, as a UCLA alum (class of '91), a loyal Bruin football fan and a fervent member of Bruin Nation, I'm praying that things work out for Neuheisel and his team so the prospect of firing him will be a moot issue.
But I also feel that, because of the university's overall attitude concerning football, Neuheisel's dismissal will neither solve the team's problems nor end its mediocrity.
So, unless the Bruins go 4-8, 3-9, or worse, he might as well stay.