SEC Football: Thursday Night Showdown Between LSU and Mississippi State
September 14, 2011
Rick Dole/Getty Images
After losing a heartbreaker at Auburn just a few days ago, Mississippi State must now turn around and play LSU, ranked third in the nation, on Thursday night.
The good news for the Bulldogs is that it gives them less time to dwell on their recent loss. Not to mention the fact that a win could get their season back on track and put them back in the Top 25.
However, the bad news is a loss could shipwreck their season and have them sitting with a disappointing 1-2 record.
That is where desperation comes in.
Mississippi State players, coaches and fans do not want to be 1-2, especially after having such high expectations in the preseason.
Look for a focused and hungry Bulldog team early in Thursday's game and for the home crowd to be loud and rowdy.
While this game may look to be a sure LSU victory to some, desperation can do funny things to a team and an outcome.
For LSU, the Oregon win, a Top five ranking and a 2-0 record have them flying high.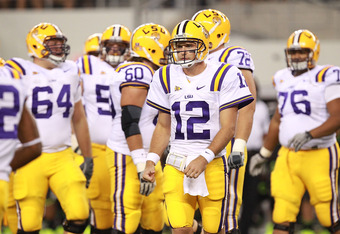 Ronald Martinez/Getty Images
The only risk here is that they could be reading too many headlines and come out flat. They cannot afford to overlook Mississippi State on any level.
It isn't likely that Les Miles and his staff will let that happen; but if it does, the matchup of a desperate Mississippi State team versus a flat LSU team could make for a close battle in Starkville.
Here is how I see it panning out and who I think will be victorious:
Game Info: Sept. 15, 8 p.m. ET (ESPN)

Key for Mississippi State: Stop the run. The scary thing for Mississippi State is that in just two games they have given up right at 400 rushing yards to opposing offenses. Even worse, is the poor Memphis team that ran for 164 yards versus the Bulldogs in Week 1, only ran for 82 yards in Week 2 against Arkansas State. There are definite issues in the run defense for Mississippi State and they must be fixed quickly if they hope to slow down a LSU running game that racked up 175 rushing yards against Top Five ranked Oregon earlier this season.
Key for LSU: Stop the run. Mississippi State has a strong running game and will pound strong running back Vick Ballard, the leading rusher in the SEC, and big quarterback Chris Relf at the Tigers defense all night. The Bulldog runners have tallied an impressive 642 rushing yards over the first two weeks. If the LSU defense can slow that run attack down, it will be hard for Mississippi State to stay in the game. If not, it could get interesting.

Predicted MVP: LSU DL Sam Montgomery - the talented sophomore Tiger has 10 tackles, including 2.5 tackles for a loss, a sack and a forced fumble this young football season. Look for his big plays to make a difference in slowing down the Bulldogs' attack on Thursday night.

Bottom Line: Mississippi State, like I said above, will come out on fire behind a supportive crowd and the hype of an ESPN night game. The Bulldogs should be able to stay close in the first half and make a game of it. However, Look for LSU's defense to lock in in the second half and take over the game. The Tigers will then run the ball on offense, manage the clock and leave Starkville with a nice road win.

Predicted Score: LSU 31, Mississippi State 20 (line: LSU -3.5)