Fantasy Football Week 2, WRs and TEs: Who To Add, Drop and Ignore
September 14, 2011
Elsa/Getty Images
It's time to set up your teams for Week 2. After a wild first week of surprises, insane passing yard totals and notable injuries, it can be tempting to switch up your lineup a lot at this time.  
Don't. Not yet.
Year after year, I see people panic after Week 1 and sometimes make snap decisions that can end up biting them for the rest of the year. Keep your moves low right now until we have a better idea of who's who and what's what.
Each week I'll do Add/Drop columns, just like this one, to try and help alleviate the panic. Running backs, usually the most important fantasy position, will come each Tuesday. Wide receivers and tight ends come along on Wednesdays and quarterbacks on Thursdays. Be sure to subscribe to see them all each week.
Today, we hit Week 2 WR and TE choices you might already find yourself mulling over.
PICKUPS (I.E., Go Get These Guys!)
Jordy Nelson (Green Bay Packers)—With a metric ton of offensive weapons, the Packers still fed the ball to Nelson often in the season opener. He grabbed six catches on eight targets for 77 yards and a touchdown. Defenses will be too stretched with everyone to keep him bottled up and it's clear he'll move into an even stronger role as the injury-bug bites. He's a good guy to have and he's still out there in almost 30 percent of Yahoo! leagues as of this writing.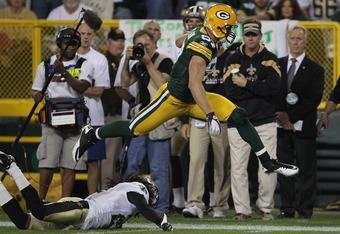 Jonathan Daniel/Getty Images
Devery Henderson & Robert Meachem (New Orleans Saints)—With Marques Colston and Lance Moore hurt, these guys become targets for Drew Brees. He's a pretty good quarterback, don't you know? Henderson is still out there in a whopping 65 percent of Yahoo! leagues and Meachem is still riding the pine in 40 percent of them.
Ed Dickson (Baltimore Ravens)—The Ravens look more explosive than ever. Dickson filled in well as Todd Heap's replacement, catching five passes. You can get him in over 95 percent of Yahoo! leagues as of this writing.
IGNORES (I.E., Don't Get So Excited Yet)
Scott Chandler (Buffalo Bills)—He's everyone's favorite waiver-wire tight end right now, but one killer week isn't enough to make me turn backflips yet, especially from a Buffalo Bill. He's worth a grab and stash right now if you have room, but don't drop anyone established to do it.
Randall Cobb (Green Bay Packers)—The 108-yard kick return was awesome, as was his Madden NFL 12 dive for his offensive touchdown. Unless you are thin in a league that gives return points, however, don't jump just yet. He's pretty far down that depth chart. You may be able to get value out of him in trade, though, to an owner putting too much stock into Week 1.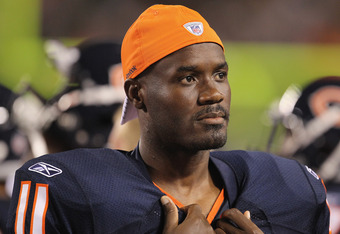 Jonathan Daniel/Getty Images
Mike Sims-Walker (St. Louis Rams)—For goodness sake, hold on to this guy. While his opening week stats weren't exactly anything to tell Grandma about, his stock actually rises with the Danny Amendola injury. The only concern here would be if Sam Bradford misses time due to injury.
DROPS (I.E., Dump These Guys!)
Danny Amendola (St. Louis Rams)—The best-case scenario sees him back in five to six weeks, while other reports have him out for far longer. Uncertain timetables for returns always make me nervous and the last thing you want when trying to cover bye weeks is a guy who might or might not be around.
Roy Williams (Chicago Bears)—So, you were one of those guys who thought Roy Williams would suddenly spring to life this year? Really? He couldn't catch a cold in a Cialis commercial filmed in Antarctica and left the game Sunday with a groin injury. He'll be a pain to you somewhere too, if you keep him around.
Subscribe today to ensure you catch tomorrow's quarterbacks list and each week's lists from here on out.