College Football Rankings 2011: 3 Teams with Toughest Road to BCS Berths
September 14, 2011
Christian Petersen/Getty Images
At the end of every college football season, several deserving teams are left wanting and disappointed at missing out on a BCS berth. These teams sit high in the rankings all year long, win quality games and have the resumes of BCS-caliber teams, but routinely fall through to pre-New Year's bowl games.
The sad reality for these teams is that they are victims of their own conference schedules, the likes of which are nightmarish. The 2010 LSU, Alabama and Missouri teams, with their devilish schedules, could verify that for you. Talented beyond belief and capable of winning a BCS game, these teams had BCS berths vultured by juiced-up schedules that they didn't control.
Countless teams since the BCS's inception 12 years ago have sung the same chorus.
This year, some top-ranked teams are undoubtedly headed for that same fate, but which teams will it be?
Here are three unfortunate candidates with near-impossible schedules.

1. No. 1 Oklahoma Sooners
 The Sooners ganged up on Tulsa at home, then took a bye week. Upon looking at the upcoming schedule, one can understand why: after visiting No. 5 Florida State this weekend, Missouri comes to town. Down the road, Bob Stoops' bunch faces off against No. 23 Texas, then No. 9 Texas A&M, at No. 19 Baylor and at No. 8 Oklahoma State in three of the last four weeks.
For those keeping track at home, that's three games against current top 10 teams, two of them on the road. To weather that storm, it is imperative that the Sooners stay healthy, especially at the skill positions.
Looking good for Stoops is that his team has as much depth and defensive strength as it has in the past five years.
Everyone will be gunning for the top-ranked Sooners, who seem equipped and ready to withstand all challengers.
The schedule will tell if they are up to that task. It all starts on Saturday against FSU in Tallahassee.

2. No. 14 Arkansas Razorbacks
With apologies to other SEC teams, I consider this schedule the toughest in the league, excepting the Florida Gators. By virtue of my disbelief in LSU and Mississippi State, both of whom Arkansas plays to end the season, Alabama and South Carolina are the best SEC teams by default. Arkansas has both of them on the docket, too.
I think Arkansas is talented enough to make the BCS, but they are certainly not expected or favored to. In the likeliest of realities, they'll fall short because of how rugged the schedule is through the middle: at Alabama, Texas A&M and Auburn consecutively.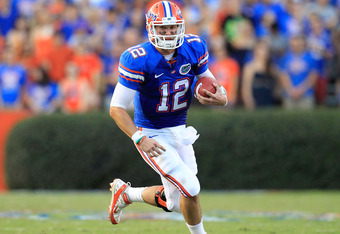 Sam Greenwood/Getty Images
Still, with how many strong teams play in this conference, anyone can beat anyone else on any given day, which we've seen for years. Arkansas doesn't have the most talent or experience, but has a better shot at a championship game than most other teams that are considered fifth-best in their league. 
If the Hogs win at Alabama on September 24, keep one on them for the rest of the year until they lose. You might be surprised at what you see.

3. No. 17 Florida Gators
The annual non-conference tilt with No. 5 Florida State puts this schedule over the top as the nation's toughest in my mind. I have doubts that the 2011 Gators are ready to traverse an SEC schedule, but those doubts won't stop that schedule from crashing in on them anyway. 
In four consecutive weeks, the Gators go No. 2 Alabama, at No. 3 LSU, at No. 21 Auburn and then to a neutral site against Georgia. Two weeks after that, they travel to Columbia to clash with No. 10 South Carolina for what will probably determine the SEC East's conference championship representative. To close the season, Florida State arrives for what promises to be the most competitive game in this series in a handful of years.
New coach Will Muschamp has his work cut out for him, but the key to keeping it all together will be that South Carolina game. If they play average in the SEC, but win that game, they'll have a good shot at still making the SEC Championship. The same goes for South Carolina.
Bonus schedule: No. 9 Texas A&M
A rough four-week stretch kicks off on September 24 for the Aggies, with a home showdown with Oklahoma State. That game has huge BCS implications that might not be evident so early in the season.
Following the Cowboys' visit is another home game against No. 14 Arkansas from the SEC. This game has no effect on A&M's conference fate, but big non-conference wins mean a lot in the BCS equation.
Two weeks later, No. 19 Baylor and the magnificent Robert Griffin III come to town in what promises to be a patented Big 12 shootout.
In three of the last five weeks, the Aggies play back-to-backs with Missouri and at No. 1 Oklahoma, then finish the season at No. 23 Texas.
What makes this schedule a little more favorable is all the home games: five of the six toughest games are all at Kyle Field in College Station, which offers one of the best home field advantages in the NCAA.
All four of these teams are BCS worthy, but you will not be surprised if and when they falter in games they are expected to win. The rigors of a brutal schedule don't always surface at the most difficult point; a college football season is a war of attrition, and any opponent—especially in the SEC and Big 12—can take down a favorite on any night.