College Football Rankings 2011: 3 Teams with Best Chance To Boost BCS Resume
September 14, 2011
Christian Petersen/Getty Images
Week 3 is very early in the college football season to begin discussing the BCS. However, a BCS profile isn't authored at the end of the schedule; it is the result of a season-long body of work that, consequently, draws largely on the seemingly pointless early season.
Some teams blow their one chance at a BCS bid early on with a loss, while some ride the wave of a monumental win to BCS berths they couldn't earn otherwise.
This season, as always, there are more hopefuls than bids, so some will be left out. Which teams that are currently on track could really boost their chances at a BCS bid with big wins in September and October?


1. Wisconsin Badgers
Last year's Rose Bowl bid was the culmination of a fantastic season for Bret Bielema's group, though a 21-19 loss to TCU left a sour taste in everyone's mouth.
This year, the Badgers are without some of last year's key contributors like DE J.J. Watt, but return twin killers at RB Montee Ball and James White and gain transfer QB Russell Wilson.
Already ranked eighth in the coaches' poll, Wisconsin could cement itself in the top 10 and atop the Big Ten with a perfect October. This is when the schedule turns as cold as the Madison weather with No. 11 Nebraska visiting October 1, then back-to-back roadies at No. 15 Michigan State and No. 17 Ohio State that will likely flesh out the conference pecking order.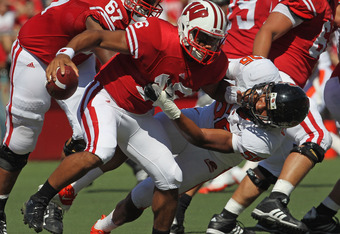 Jonathan Daniel/Getty Images
Running that gauntlet won't be easy, especially without stud CB Devin Smith, who is out for the season after left foot surgery, writes Adam Rittenberg of ESPN.com. But if Wisconsin can win out of October, they've got a great shot at an undefeated season, a surefire BCS bid and outside shot at the BCS National Championship.


2. Arizona State Sun Devils
The Sun Devils have three major things in their favor. First, they are experienced, with a shocking 20 returning starters from last year. Second, they play in a realigned conference, a weak division and the ability to control their own destiny into the BCS. Finally, they enjoy an easy schedule that is just challenging enough to be considered legitimate by humans and computers alike.
Dennis Erickson's squad already survived what will be its second biggest challenge: a 37-30 OT win over Missouri last week. With only one ranked team, Oregon, remaining on the schedule, ASU could earn the Pac-12 South title with relative ease.
The likely biggest South division test comes early, when the Sun Devils welcome USC to Tempe on September 24. Even if they lose that game to the Trojans, USC's postseason ban gives whoever wins the South division a one-game grace, meaning that if the Trojans win the division, the second place team will receive the chance to play in the conference championship game because of USC's disqualification.
That team is likely to be Arizona State. With all those returning starters—most notably QB Brock Osweiler and LB Vontaze Burfict—and a palatable schedule, things are looking up for the Sun Devils, even if they lose to Oregon on October 15.


3. South Florida Bulls
This might sound crazy, but South Florida, with a few wins taken for granted, is one win away from clinching a BCS berth. Already possessing a flattering win at No. 16 Notre Dame, the 22nd-ranked Bulls are staring down a breezy schedule for the next nine weeks, with Pittsburgh and Miami (non-conference) as the biggest challenges. The big hurdle to the Big East BCS bid comes in the season finale, when No. 18 West Virginia visits. 
The West Virginia game will probably decide the Big East. With a win against West Virginia, and barring any hiccups early on, South Florida could march into the BCS with a perfect conference record and a top-10 ranking. 
Veteran QB B.J. Daniels, who led USF to a 5-2 finish last year, has the experience to take the Bulls to the top of the Big East this year. 
The time has never been better for the Bulls, and for Wisconsin and Arizona State, to crash the BCS with unexpected invites.