Denver Broncos: It's Tebow Time for Week 2
September 14, 2011
Doug Pensinger/Getty Images
Let me be straightforward and say that this article is not a call for Tim Tebow to be the starting quarterback for the Denver Broncos.
Yes, it's Tebow time in Denver; just not in the way that all the boo-birds in Mile High are asking for.
On Monday night, Broncos fans witnessed the culmination of sloppy play, poor decisions and an all-around lack of discipline by almost every player on the Broncos' squad. Few players successfully completed their duties for Denver during an agonizing loss to their division rival, the Oakland Raiders.
By the third quarter of Monday night's contest, the Tebow-maniacs were back at it again. Cheers had transformed into boos, smiles into scowls, and all that could be heard from the crowd was a steady chant for the Broncos' third-string quarterback.
The chants were warranted to some degree, as starting QB Kyle Orton was piloting Denver's offense through a very turbulent game.
However, Orton was only one of the players that deserves a slap on the wrist and an extra day of practice this week. The punishment shouldn't end there.
Head Coach John Fox needs a serious wake-up call as well.
By no means should Tim Tebow be thrown into the game next week as Orton's replacement, but he absolutely needs to be a bigger part of the offense. On Monday night, Tebow made zero appearances, when he should have had many.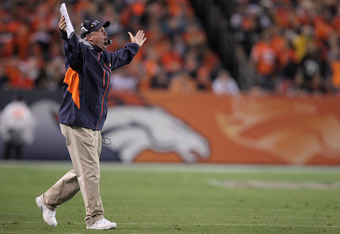 Doug Pensinger/Getty Images
Rain, penalties and turnovers: All of these were detrimental to Denver's predicted success against Oakland.
What does a team need to do when momentum is constantly slipping through their fingers? They need a spark, they need electricity, and they certainly need some positive yards.
Tebow could have provided the spark needed for Denver's offense on Monday.
The conditions were poor, and the fastest players on the field had trouble staying on their feet. So why not do exactly what the opposition is successfully doing against you?
Oakland used their best playmaker, Darren McFadden, to do just what he's meant to do: make plays.
Denver needs to answer for the slop they produced on Monday night with some type of positive play. To do that, they needed, and will need, to put Tebow in for some of the special package plays that we saw him excel with in 2010.
No, Tebow should not be the Denver Broncos' starting quarterback.
Yes, Tebow should be on the field to help turn around a game that gets farther away from the Broncos after every turnover and penalty.
Most NFL viewers, analysts and critics alike are fairly certain that Tebow does not currently possess the skills to run an NFL offense consistently. However, everyone knows the kid can make plays when he needs to, and he definitely needed to on Monday night.
Would bringing in Tebow have saved the game? Maybe, maybe not. It's impossible to say for sure, but we can say that it would have given Denver a better chance than they had as they continued to play ugly football in the rain.
John Fox made it clear in the preseason that it would be a competitive disadvantage to announce a back-up quarterback at game time. By saying this, he implied that he did have plans to use Tebow as he was used last year. John Fox just did not deliver in the first week.
With any luck, the Broncos won't have to play in the conditions they played in on Monday when they face the Bengals in Week 2. But if the game starts to head in the same direction, Denver fans should expect to catch a Tebow cameo. Fox would be smart to use one of his best playmakers if this next game gets out of hand.