NFL Week 1 Power Rankings: Patriots and Packers Live Up to Hype, Ravens Rise
September 15, 2011
Marc Serota/Getty Images
1. New England Patriots (1-0): The defense started off, but it recovered, and Tom Brady and company torched a decent Miami defense. They've got the best coach in football.
2. Green Bay Packers (1-0): A well-rounded team with incredible depth, their offense was very impressive. The defense was up against Brees' Saints, but they could improve next week.
3. Baltimore Ravens (1-0): Baltimore came and made a statement on both sides of the ball, besting their bitter rival in a dominating fashion. No one had a better defense this week.
4. Philadelphia Eagles (1-0): The Dream Team had a solid win against a promising young team. They're loaded pretty much everywhere except for O-Line and LB. Great teams might expose that.
5. Chicago Bears (1-0): Their defense showed that it's one of the best in football, handling a very good Atlanta offense. The offense also showed promise, seeming better than last year.
6. New Orleans Saints (0-1): Their defense got torched, but that's against the defending champs. Drew Brees was the best NFC Quarterback this week.
7. New York Jets (1-0): They've got some issues to work out, but they found a way to win against the odds in a game that meant a lot to NY. If they play every quarter like the fourth, they are set.
8. Pittsburgh Steelers (0-1): Although they had a very disappointing loss, they still have the players and coaching to be elite. Expecting a turnaround isn't foolish.
9. San Diego Chargers (1-0): This team's record didn't indicate their talent last year. Not their best game against Minnesota, but this team will be good.
10. Atlanta Falcons (0-1): A surprising blowout leaves a playoff contender with some questions. They faced a good defense, but their offense was off-sync. Their defense must play better.
11. Detroit Lions (1-0): Detroit has drafted solidly for years, and has acquired enough talent to be a serious playoff competitor in the NFC. With a healthy Stafford, they showed they can do it.
12. Houston Texans (1-0): They've been waiting for Peyton Manning to not be behind center, and their new defense and explosive offense didn't let the opportunity get past them.
13. Tampa Bay Buccaneers (0-1): The loss to Detroit is disappointing, but this team still has a lot of prowess in the NFC. They must be happy with the play of the embattled CB Aqib Talib.
14. Dallas Cowboys (0-1): It was a disappointing loss for Dallas, but they won three quarters against the Jets. They suffered defensive injuries, undermining the impressive Ryan defense. Must be clutch.
15. Jacksonville Jaguars (1-0): The Jags defense looks new and improved, significantly improving the defensive backfield and linebacker positions. With Jones-Drew, they've got a chance at the division. 
16. Tennessee Titans (0-1): In a close loss to the Jaguars, the Titans can hope that their offense gets back on track with Johnson getting in shape after the holdout and that Hasselbeck gets used to the offense.
17. San Francisco 49ers (1-0): The Jim Harbaugh era started pretty well, but the offense looked stagnant at times. However, Harbaugh seems like he'll be a fine NFL Head Coach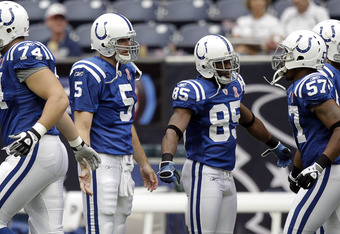 Bob Levey/Getty Images
18. Minnesota Vikings (0-1): The Vikings played well against a good team, and must hope for better play from QB Donovan McNabb. The defense held the Chargers decently, and they got Peterson.
19. Kansas City Chiefs (0-1): The most disappointing team of Week 1, they got trampled on both sides of the ball by Buffalo, a 4-12 team last year. They should be very concerned.
20. New York Giants (0-1): If they were healthy, they would have likely beat Washington and been higher on this list. However, a disappointing performance on 9/11.
21. St. Louis Rams (0-1): The Rams played admirably against a great team, but will have to make up for RB Stephen Jackson's injury in coming weeks. A playoff contender.
22. Seattle Seahawks (0-1): The defending NFC West Champs have a new QB, and they will have to play better. However, they still got some playoff potential.
23. Buffalo Bills (1-0): Stunning win against KC brings up questions about a team who was supposed to be in the Luck sweepstakes. They had close games last year. Can they compete?
24. Washington Redskins (1-0): This team looked much better than advertised, especially Grossman and the defense. However, they beat a team pounded with injuries.
25. Miami Dolphins (0-1): There is no shame in losing to the Patriots, but their defense disappointed. Davis and Smith, the self-proclaimed best CB tandem, couldn't stop Brady getting over 500 yards.
26. Oakland Raiders (1-0): The no-Nnamdi era started good. Darren McFadden is a beast, he's even better than I thought. Denver's not a great team though.
27. Arizona Cardinals (1-0): They got the win, but the Cardinals should be worried. Their pass defense is going to suffer for a while without Rodgers-Cromartie, even with Peterson. Kolb was good, not great.
28. Cincinnati Bengals (1-0): They'll have to do more to beat teams that aren't Cleveland, but a great job winning their first game without Carson Palmer in Cincy.
29. Indianapolis Colts (0-1): When the best player in the league gets healthy, they will win games. The reason they're not No. 32 is that the Manning-less Colts hope to get Manning back soon.
30. Carolina Panthers (0-1): A disappointing loss to another rebuilding team, but Cam Newton looked like a guy who can lead a franchise. They do have some good players in Carolina.
31. Cleveland Browns (0-1): The took a loss in a rivalry game to a team that seemed to be in chaos this offseason. They're missing Rob Ryan and his defensive mind right now.
32. Denver Broncos (0-1): There seems no clear No. 32 at this point, but Denver suffered a disappointing loss and their offense is cause for concern. The run defense also remained weak.