4 New York Giants Who Must Step Up in Week 2 or Risk Being Benched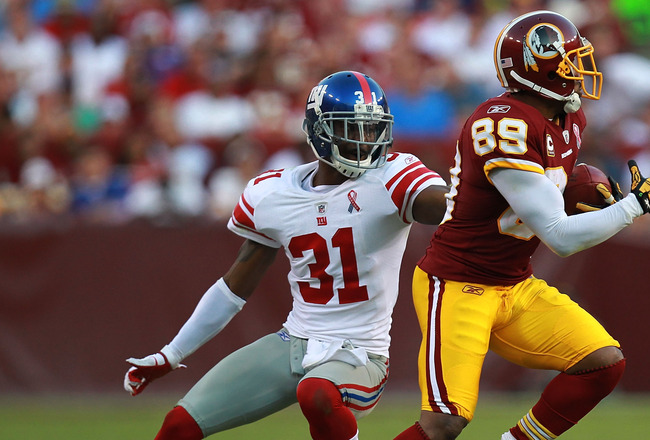 Ronald Martinez/Getty Images
This weekend's contest against the Washington Redskins was not a pretty site for the New York Giants, and now they get to turn around and play a Monday night game against the upstart St. Louis Rams.
There are a few players who just had awful games on Sunday, and if they don't pick it up quickly, they could find themselves riding the pine.
Anyone who watched the game immediately thinks of the man pictured above, but there are a few others I'm thinking of as well.
Let's take a look at who could be benched with a bad performance in Week 2.
David Diehl, LG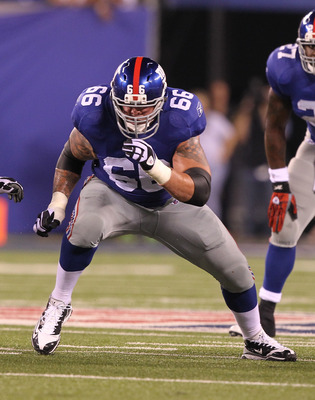 Al Bello/Getty Images
If it was possible to have a worse game than Aaron Ross, David Diehl definitely pushed for that "award." He was thrown around like a rag doll by Barry Cofield and rookie Chris Neild.
Diehl came out of the game momentarily and was replaced by Kevin Boothe because of a cleat issue. If Diehl doesn't step up, that could become a long-term solution.
Victor Cruz, WR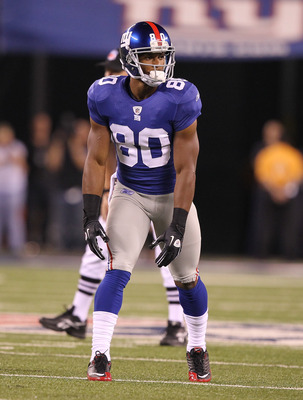 Al Bello/Getty Images
I don't know that benched is the right word, because technically he's not a starter, but Victor Cruz was the first option as the slot wide receiver yesterday and dropped a crucial third-down pass on their first drive.
He didn't see much of the field after that, and Domenik Hixon has been the better option in my mind all along. If Cruz has another bad game, Hixon could replace him.
Greg Jones, MLB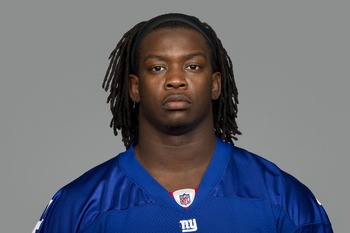 Handout/Getty Images
This has absolutely nothing to do with Greg Jones' play on Sunday and just the fact that the Giants might want to sign a veteran guy this week or next week. So Jones needs to show consistency for the Giants to be able to trust him.
They already took him out for a ton of plays on Sunday, going to their three-safety look and leaving Kiwanuka and Boley in the game as the two linebackers.
I imagine the Giants want to let Kiwanuka put his hand in the dirt more on passing downs, so signing a veteran linebacker with some coverage skills could allow that to happen.
Or Jones could show the Giants they don't need anyone with a good performance this Monday night.
Aaron Ross, CB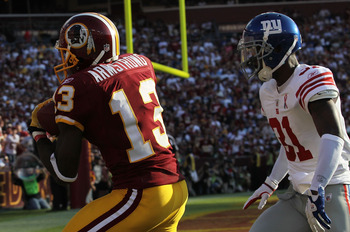 Aaron Ross after getting abused by Anthony Armstrong
Ronald Martinez/Getty Images
Aaron Ross had an absolutely terrible game, and the worst part is, I don't know if the Giants have someone behind him on the depth chart that is any better.
What might end up happening is them benching Ross and having Antrel Rolle play cornerback more. Rolle used to be a corner, so it shouldn't be too tough of a transition. But at the same time, he's a Pro Bowl safety so the Giants just hope Ross gets his you-know-what together.
Losing Terrell Thomas was killer, but hopefully the return of Justin Tuck will be able to mask some of the problems in the secondary.
Keep Reading

New York Giants: Like this team?