2012 NFL Draft: Indianapolis Colts Continue Quest for New Man(ning) at QB?
September 16, 2011
Doug Benc/Getty Images
This past weekend, it was reported that former Indianapolis Colts general manager and current vice chairman Bill Polian attended the Stanford-Duke game to scout Stanford quarterback Andrew Luck.
And now, Bill Polian and his son Chris Polian, who succeeded him as Vice President and General Manager, are expected to attend the Michigan State-Notre Dame game on Saturday, according to a source.
The three-hour drive from Indianapolis to South Bend appears to be a part of the Colts due diligence in finding a potential successor for future Hall of Fame quarterback Peyton Manning, who had a potential career altering neck surgery prior to the season.
The likely target for the Polians in this weekend's game is Michigan State quarterback Kirk Cousins, who attended the Manning Passing Academy over the summer and received advice and instruction from Peyton himself.
While Luck is recognized as the No. 1 draft-eligible quarterback in the country and the undeniable favorite to be the first overall pick in 2012, the 6'3", 205-pound Cousins, in some scouting circles, is considered to be the No. 1 senior quarterback in the nation and a likely high second-round prospect.
Despite facing mediocre competition (Youngstown State and Florida Atlantic) during the first two weeks of the season, Cousins is off to a fast start and has led the 15th ranked Spartans to a 2–0 record, as he's completed 79.1 percent of his passes for 405 yards and three touchdowns.
There's no debate that Luck is the ultimate prize in next April's draft, and all signs point towards him declaring for the NFL's spring spectacle. But, he's only a junior, and although he's scheduled to graduate with a degree in architectural design next spring, he could, although unlikely, decide to stay for his senior season.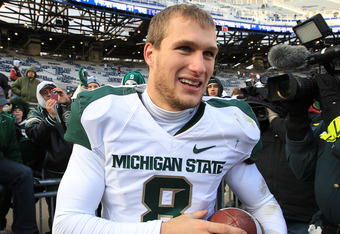 Hunter Martin/Getty Images
Regardless, the Colts will have to continue on the anemic path they went down on Sunday when they were humiliated by the Houston Texans and lost 34–7 to have a realistic chance of drafting Luck next year, which I projected in my debut 2012 Mock Draft last weekend.
Another angle for the Colts brass visit to South Bend on Saturday could be to keep their eyes on Notre Dame wide receiver Michael Floyd. The Colts face a number of decisions at the wide receiver position next year, as Reggie Wayne, Pierre Garcon and Anthony Gonzalez are all scheduled to be free agents.
If the Colts decide that it's time for a youth movement at the skill positions on offense, Floyd could be the centerpiece of it all.
The Irish suffered two consecutive heartbreaking losses to South Florida and Michigan, but the lone bright spot in defeat has been Floyd. He's dominated the competition and has amassed 25 receptions for 313 yards and two touchdowns.
During the offseason, Floyd was recognized as the No. 1 senior wide receiver by National Football Scouting, (NFS) where he received a grade of 6.50 out of 9.0 (nine being the highest and one being the lowest grade for prospects), which translates into a second-round grade. If Floyd continues his recent production throughout the year, there's no question he will ascend into the first-round.
Even though the dream scenario for the Colts would be to replace Manning with Luck, which is a possibility if they continue to play like a team in disarray, a more realistic approach could be to draft Floyd in the first-round and Cousins in the second-round.
One thing that's certain, the Colts are going through changes.

Chris Steuber is the NFL Draft Featured Columnist for Bleacher Report. In addition to his role with Bleacher Report, Steuber serves as Director of Player Personnel for the Georgia Force of the Arena Football League. He's previously served as NFL Draft Analyst for Scout.com and Fox Sports, as well as NFLDraftScout.com in conjunction with CBS Sports. Follow him on Twitter  @ChrisSteuber.