Losing to the New England Patriots Is Exactly What the Miami Dolphins Needed
September 13, 2011
Mike Ehrmann/Getty Images
Last night the Dolphins got torched by Tom Brady and the New England Patriots. People are already second-guessing the 'Fins, and wondering if they will be as good as expected. I think this is a great time to lose, and a great team to do it to.
Miami's defense was downright terrible. They were expected to be a strength of the team this season, and I'm sure they will bounce back.
I believe that the defensive unit was coming into this game with too much confidence, and too much swagger. Their ego's were out of check, and they needed to be knocked down.
Vontae Davis proclaimed that he and Sean Smith would be the best cornerback tandem in the NFL. They could be, but that statement is way too premature. Getting torched for 500+ yards will show them that they need to keep working, and be aggressive to earn that title.
The entire defense will play this season with a chip on their shoulders, and make sure that a bad outing like this doesn't ever happen again.
The question marks for Miami coming into this season was Chad Henne, and the Dolphins offense. People were also wondering how new offensive coordinator Brian Daboll would fare. They answered those questions tonight.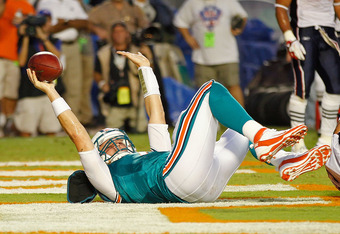 Mike Ehrmann/Getty Images
I could have not been more happy with the way that Chad Henne played. If somebody changed the name on the back of his jersey and told me it was someone else, I would have believed it.
He threw for over 400 yards, and threw two touchdown passes. He was comfortable in the pocket, and more than proved he is capable of getting the ball downfield.
Henne also ran the ball seven times for 59 yards and a touchdown. This is something that would have never happened last season.
I was also very pleased to see Brandon Marshall getting many opportunities. He caught seven passes for 139 yards. He didn't find the end-zone, but will definitely get there many times this season.
The main negative for this offense was the lack of a dominant running game. Reggie Bush carried most of the load, but was not the superstar fans were hoping for tonight.
I will give Reggie some credit though, he has been a great pass-catching back, and he proved it once again. He caught nine passes for 62 yards, and a touchdown.
Some things need to be fixed, and some things need to stay the same. I think that the players who needed a confidence boost got it, and the guys who needed a reality check got it as well.
The loss was against a Super Bowl favorite team; if you are going to lose to anybody, it might as well be the Patriots.
The Dolphins will take a lot from this defeat, and will work harder than ever to make sure it doesn't happen again.