WWE State of the Universe Address: Top 10 Things to Currently Love About the WWE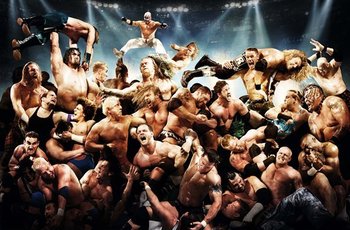 Love is a force more formidable than any other. It is invisible; it cannot be seen or measured, yet it is powerful enough to transform you in a moment, and offer you more joy than any material possession could.
- Barbara de Angelis
Let me be the first to say that I love the WWE, professional wrestling, sports entertainment, sports theater, or whatever the kids are calling it these days. I love it all!
There is no denying the pure joy that can arise from something a simple as your favorite superstar cutting a killer promo or the sound of a live crowd turning into a frenzy of energy that seeps into every man, woman and child watching at home.
The joy that comes from watching a person "fly" as he crashes himself and his opponent through two tables, and the smile that creeps across one's face as a wrestler removes his arm pad, lofts it into the crowd, and kicks his leg out before delivering a devastating elbow.
We all love the WWE... It's OK to admit it.
While it's great to proclaim love and affection towards the WWE; we must also remember that these feelings also breed hate and resentment. It's no secret that just months ago we were all having a tough time defending our love for the WWE. The once-proud product had begun to "let itself go."
They, the "suits" running the show, knew we loved it and took advantage of our undying, unconditional love and used it against us. We witnessed the second coming of the "Super" wrestler, saw the deconstruction of tag teams, saw all of the prestige lost from nearly every single title, and were mired in the self complacency of a company that had lost all interest in being creative. All this changed with the rebirth of...
(my friend shaking his head as he reads my rough draft)
"Dude, I'm not gonna lie to you. Whenever I read things labeled "top 10 anything" I don't even read the intro slide. I flip through the top ten and look at the pictures... You might want to dumb this thing down. Someone should get a prize for making it this far as it is...
... We get it. The WWE sucked. It's better now. Yay! CM Punk and Boo! John Cena... let's move on to the top 10 for god's sake."
2nd Draft

I love WWE!
Ten reasons why you should too... starting now.
10. John Cena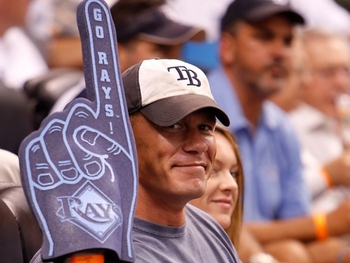 Let's get this out of the way right now. I actually like John Cena... and his current gimmick.
I also hate John Cena... and his current gimmick.
It's a fickle world we live in.
However, I find myself more and more entertained by him as each week goes by...
I've also gained a lot of respect for the man in the past two months. He is equally beloved as much as he is hated. With that being said, I can't help but like him for keeping true to himself and his true fans.
There's no denying that he is an unbelievable talent and commodity for the WWE. We don't need to go into detail about everything he's done to help promote, establish, and expand the WWE Universe; all you need to know is that he's done a lot.
His hard work, dedication to his craft, charity work, loyalty, and virtues are something to be taught and promoted to younger generations around the world.
I truly feel as though John Cena could run for president and win.
While I do find myself rolling my eyes more than I should whenever he tries to insult someone during a promo, he still manages to make me laugh.. albeit unintentionally, but I'm still laughing....
... And isn't that the only thing that matters?
I blame CM Punk for my newfound love of John Cena. Punk brought out the best work in Cena I've seen in years. The promos were decent, and the wrestling was five-star quality. His match at Money in the Bank with Punk was the greatest match I've seen since a certain match at Wrestlemania 25.
Side Note: If you listen really closely, you can hear the sound of my friend swearing profusely at the picture I used for this slide. We live outside of Boston and John Cena is a Boston native, and self proclaimed Red Sox fan... perhaps we need to take loyalty out of his set of virtues, but either way, this photo cracks me up.

9. Cody Rhodes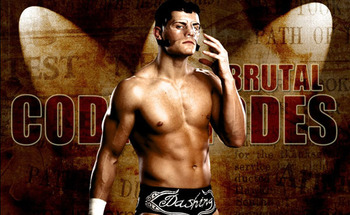 I'm setting the odds of Cody Rhodes winning a world title by WrestleMania 28 at 3:1....
Any takers?
With the lack of "main event" level talent populating the current roster, it is only a matter of time before Rhodes gets the "green light" and is pushed into the stratosphere. He already receives immense heat for a heel persona that was old the day after it began, and his potential in-ring ability has yet to be fully untapped.
He is a future star that will one day (I'll pump the brakes and say in five years) outshine everyone... That includes everyone's favorite ROH legend, CM Punk.
I would like to also start an official petition to the WWE to have the "Dashing" Cody Rhodes make a comeback. I know wrestling is fake, but I'm pretty positive that his face should have healed by now.
I think Rhodes needs some friends; because any good friend would have said by now "Uh, hey, Cody... you know you're being a drama queen, and you look pretty dumb."
Let's lose the mask and bring back the smile!
Because we all know: "Once you lose the Gimmick, You Win the Gold"
8. Monday Night Raw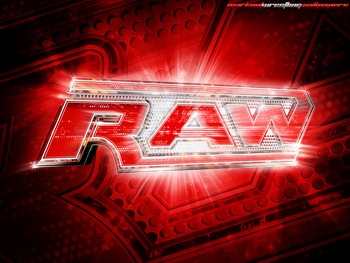 While I will admit that my attention has moved to Monday Night Football, my DVR still burns with passion for Monday Night Raw.
Nothing can match the excitement of the live crowd. The energy, the passion, the spectacle that Raw brings to us each and every week. Raw has once again become must-see television to the WWE universe.
From the opening song, (Not a huge Nickelback fan, but the song fits well enough) to the fireworks that explode around the stage, the live crowd feeding off each other, weaving into a riot of waving signs and screams... It's all part of the show I love.
If you're not a fan of Monday Night Raw, then you really have no business being a fan of the WWE. It's the bread and butter of the company, and as of recently, has once again established itself where it was back in heyday of the "attitude era"...
However, if we keep looking into the past hoping Raw will ever be as good as it was when Stone Cold was spilling perfectly good beer, the Rock was an elbow-dropping machine, and HHH was "that damn good," then we might as well stop watching the WWE. We may all have nostalgia, but that's just another reason to love Raw as it is now...
... We are forever evolving as fans with the show, its storylines, wrestlers and themes.
Sadly, not making this list is Smackdown... for obvious reasons I won't bore you with.
P.S. God, I love watching Raw without commercials! Long live DVR!
7. Money in the Bank Matches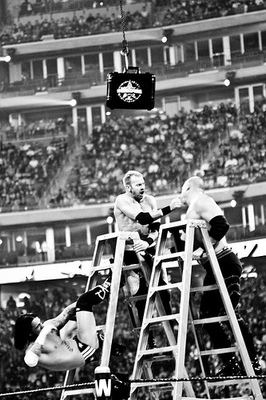 Here's a quick math equation:
Ladder matches > Regular Matches
8 person Ladder Match > Ladder Match
8 Person Ladder Match = Greatest matches of all time.... on an entertainment level.
The creativity, the excitement, the frenzy, the spots, the bumps, creativity, the story-telling, the multiple dimensions of feuds.... did I mention creativity? All of these things are captured within 20 minutes.
Side note: As an inside joke whenever one of my friends can't unhook, unlock, or fumbles with opening anything, we call it a Jack Swagger moment.
While a Ladder match will never duplicate the emotion and intensity that a great one on one match can produce; it makes up for it in terms of spectacle and defining moments. Each and every year, I look forward to the event.
Whoever came up with the idea for this match and concept should wake up and give themselves a self high-five every morning for being awesome.
Best match concept ever... oh wait! I almost forgot about the....
6. The Royal Rumble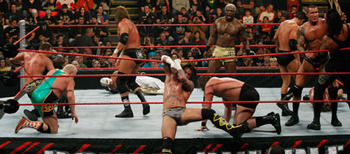 I had the privilege of attending this year's Royal Rumble in Boston, and suffice it to say I had a wonderful time. If there is ever a pay-per-view you attend, not named WrestleMania, then this is the one to attend.
Nothing can be compared to the Royal Rumble match; it is truly a sight to behold. It is the the ultimate story-telling device for the WWE.
My Top 5 Favorite Royal Rumble Moments:
5. CM Punk hitting Zach Ryder with a microphone
4. Kane eliminating 11 people
3. Shawn Michaels going coast to coast
2. Austin/McMahon rivalry and the epic story-telling throughout the Rumble Match
1. Drew Carey eliminating himself after trying to bribe Kane with cash.. watch it! It's hilarious!
It is the most entertaining, hour long, star studded, crowd pleasing, gasp extracting spectacle the WWE has going for it at the moment. We shouldn't all act surprised when the Royal Rumble pay-per-view becomes bigger then WrestleMania...
... I take that back; that's probably going overboard, but it's getting pretty close.
Please note that WrestleMania is not a part of this list.
Why? Because it's to obvious and would have taken the next slide off the list, and I just couldn't bring myself to do it.
P.S. If Santino ended up winning the 2011 Royal Rumble, the Boston Garden roof would've exploded, and the happiest mass riot in history would have ensued. Sure we would have woken up the next day, hungover thinking "You know what? That was actually pretty dumb on the part of WWE," but it would have been a special night in the city of Boston.
5. Michael Cole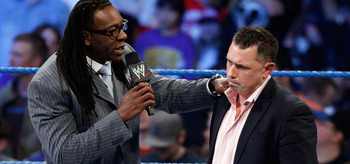 Is he annoying? Yeah, I guess so.
Does he have no business being in the ring? I would agree with that.
Is he the funniest person on television? I think so.
Michael Cole brings something to the WWE announcing team that has been sorely missing ever since Jerry Lawler woke up one morning and seemingly lost his sense of humor. The man is comedy gold.
Whether he's rolling his eyes and making condescending remarks towards Booker T., laughing at J.R., or making fun of the match taking place; Michael Cole is a breath of fresh air.
I will agree that prior to WrestleMania he dove off the deep end into ridiculous and annoying, but since his beatdown at Extreme Rules, he's been nothing short of entertaining. The looks that he can display on his face are priceless sometimes.
I will also agree that during certain pay-per-view matches, and Raw segments, there needs to be a serious tone to the show. Cole is also great at this as well.
With WWE soon opening their own network, I would love to see Michael Cole and Booker T star together in an Odd Couple remake... here's a scene I wrote in hopes it gets picked up:
Cole: Booker! Why can't I come home to a clean house? I have to deal with King and J.R. all night, and this is what I come home to? Why is Josh Matthews using my towel, and how the hell does he know where we live?
Booker: Oh C'mon Cole, you know how I roll. Shucky ducky, quack, quack... he's in my fab five!
Cole: Everyone is in your fab five!
Booker looks on in silence with a crazed look in his face. Gives Cole the Bookend. Spinarooni while credits roll across screen.... pan over to Cole lying on floor...
Cole (looking up at Booker from the floor): Vintage Booker T.
...The End
4. CM Punk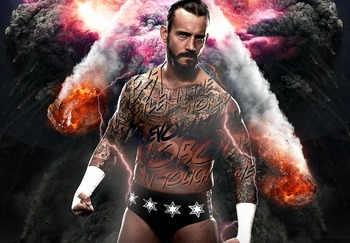 I can hear it now...
"What! CM Punk is only No. 4! He single-handedly saved wrestling...This list is garbage, I'm out!"
Without a doubt CM Punk is the biggest and brightest star currently in the universe... we all know this so we won't recap, rehash, or detail the Punk saga anymore then we have to.
What is important to know is that the WWE has a new "legend" now. Someone to finally compete with the likes of Cena and Orton for supremacy, fan support, and multiple world titles....
What worries me most about Punk is how quickly everyone wants him to be handed the WWE Championship again. I hope it doesn't happen for a long time... because when it does happen again (and don't worry, it will... multiple times) it will be another great moment in WWE history. Punk has more important things to worry about...
... Like carrying the main story-arc that doesn't involve the WWE championship, competing on the same level as HHH night in and night out, and trying to find the balance of confident revolutionary leader without becoming repetitive and annoying.
The interesting thing about Punk's new character is that I don't even think Punk, himself, believes or even knows who this new character is. He seems out of place sometimes as a face, but all that doesn't really matter once the bell rings..
Simply put... CM Punk is the best wrestler in the game right now and his true character, style, and presence shine through his ring work. It's easy to agree that CM Punk is also one of the best on the microphone, but it's less easier to agree that perhaps his time has come to stop talking.... and take action.
CM Punk is everything that is right, and a little wrong with the current state of the WWE....
...Take a moment to think about that.
3. The Return of HHH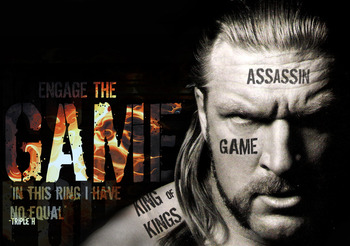 - Queue HHH theme song -
While no one should be overly shocked that HHH is back wrestling in the WWE, it was pretty shocking to see him lace up the boots with CM Punk so quickly. I'm not complaining; I think it's great for business and everyone involved. This Sunday should be an absolute bloodbath... oh, wait! I forgot about the whole PG thing...
...I'm rooting for one head shot with a chair. Is that to much to ask?
Well anyways, it should be a good show.
For those of you not privileged enough to grow up during the "Attitude Era" where HHH reigned supreme along with wife Stephanie McMahon then I feel sorry for you. HHH is a living legend, and is one of the best ever. Whenever HHH steps into the ring, good things usually follow. I have no doubt that HHH will deliver on Sunday and for the foreseeable future.
I'm going to state something that is not going to be popular...
I hope that HHH slaughters Punk on Sunday. Not because I dislike Punk, but because Punk is knee-deep in his revolution at the moment. It would be a nice change of pace to see him struggle for change; It's how the real world works, and when push comes to shove, I'm rooting for the "Attitude Era" any day of the week.
Some Questions for you to Ponder
Why not have Punk have some tough competition with HHH for now?
What good is it to dethrone HHH as King of WWE so quickly?
Wouldn't this kill their story if Punk goes over HHH so easily?
Is HHH's sole purpose of coming back to put Punk over?
Does Punk know something about this Sunday that we don't?
Have we seen the last of Nash, not to mention other conspirators?
Side Note: The fact that we're even discussing HHH Vs. CM Punk is a testament to how far the WWE has come in a year. We are just removed from Punk Vs. Cena, and about six months away from Cena Vs. The Rock. That's not even mentioning future feuds involving HHH, Punk, Cena, or Del Rio... Good times are ahead!
2. The Live Experience
There is simply nothing quite like it.
The energy and passion that flows through the crowd is something that every professional wrestling fan must partake in at some point in their lives. It is something special to be a part of.
From the moment you walk into the arena your mind will be blown, and for just a split second you'll feel like you're 12 years old again; giddy with anticipation, emotion, and memories.
If you're a fan of wrestling, it is truly the ultimate live experience filled with moments you'll always remember.
People will always remember the night Shawn Michaels won his first championship, the night Hulk Hogan squared off against Andre the Giant, and the night Mick Foley threw himself off the top of a cage through a table below, and the night The Rock returned to WrestleMania....
Moments that define generations and live on in infamy and lore.
I will no doubt tell my kids about the history of the WWE, it's moments, defining wrestlers, and the different eras.... but I will talk mostly about my moments that I shared with the live universe.
I'll tell them about the time I saw Jeff Hardy take on the Undertaker in a Ladder match, the time I witnessed a Royal Rumble match, my father taking me to King of the Ring, and being a part of one of the greatest crowd chants in the last decade...
"We Want Ice Cream!"....
These are the moments that you'll remember... Do yourself a favor and create your own moments.
1. You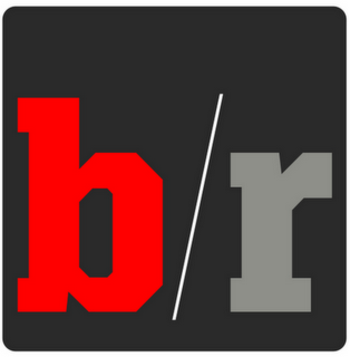 Without a doubt the No. 1 reason to be excited about the WWE currently is you, the fan. The ones that appreciate the art of wrestling, scan the Internet for latest news, write on sites such as Bleacher Report, and discuss anything and everything WWE-related with whoever will listen.
You should all be proud to be fans of the WWE... It's not always an easy task.
There's always someone there to tell you "It's fake, and dumb" or "you watch that garbage, watch a real sport." The road is not a smooth as we'd all like it to be, but you all show dedication and passion. We are some of the most passionate fans in the sports world. Believe that.
Whenever I watch a boring episode of Smackdown or Raw, I turn to Bleacher Report to get my wrestling needs met. I am always thoroughly entertained by the articles, comment sections, pictures, slide shows, and videos I see on not only this site, but many others.
While we are all evolving with each passing month and pay-per-view; some of us growing away from the sport while new generations are just learning who John Cena is, it is important to remember that we are the blood that pumps through the veins of the WWE. Without us, there is no them.
We suffered through the drought together and discovered the spring on together. We are now in great times and our passion, knowledge, and desire for more is abundant in every corner of the media.
We even passed over a line many people thought was impossible... we have influenced the direction of the company. We wanted CM Punk in the spotlight, Zach Ryder on television, a better tag team division, and for Raw to be must-see television again... we have been delivered all of this, and more. Even if our influence runs only 1 percent, that's more then it's ever been before.
You should all be proud for the passion you display on a daily basis. The company will never be lost or in trouble without you...
We now have a voice!
Keep Reading